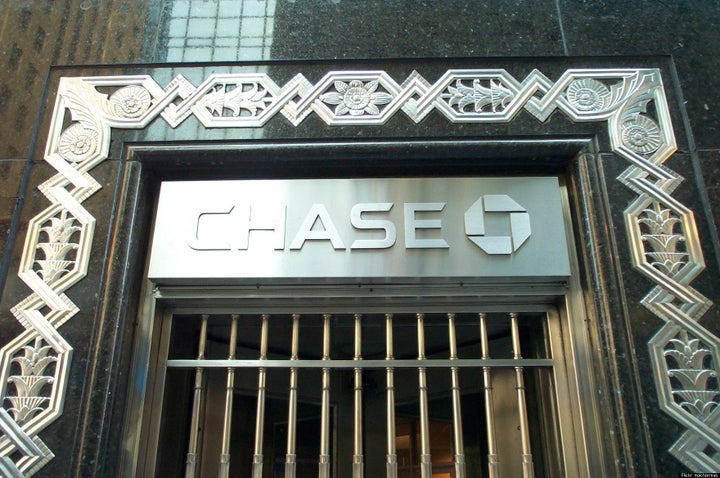 Washington-- Flanked by a crowd of fellow protesters, New York City Councilman Jumaane Williams marched into a Park Avenue Chase bank Wednesday morning to take out his money and voice his disapproval of the bank's dismal record of helping homeowners avoid foreclosure.
After denouncing the bank to a cheering crowd and calling its executives "bloodsuckers" for accepting bailout money and refusing to help the suffering homeowners they "preyed on," Williams was stopped by security guards at the door and told the branch was closed. The mob then chanted "open the door" until Williams was let in, at which point he closed his account.
Williams told HuffPost that when campaigning in New York City, he met at least two people on every block with mortgage troubles. He said he doesn't want the bank to use his money to "further deteriorate the community" he represents, especially in light of chief executive Jamie Dimon's recent $17 million bonus.
"It's incredible what these banks are making people go through," he said. "It's disgusting. They're like bloodsuckers, just sucking the lifeblood out of communities and refusing to help out. I understand that people need to get paid to get the best and brightest and these bonuses help with that, but you can't do that and then not assist the community and then get a taxpayer bailout to the tune of billions of dollars. That's just greed at its worst."
Tom Kelly, a spokesperson for Chase, insisted the bank is doing everything possible to help homeowners. "We have helped avoid 487,294 foreclosures since 2009, avoiding
foreclosure twice as often as we have had to foreclose," he said. "We have opened five centers in the New York metro area--in Flushing, Brooklyn and the Bronx as well as Jersey City and Paramus, New Jersey--to provide face-to-face counseling to homeowners, and have met with 9,298 borrowers through the end of 2010."
According to a recent study by New York Communities for Change, only six percent of New York homeowners who sought mortgage help from JP Morgan Chase have received a loan modification in the past year. The remaining 96 percent were either denied help or are still in limbo.
Nearly one in every four U.S. homeowners with mortgages--or 10.8 million people--currently owe more on their home than it's worth. The Williams incident kicks off a new campaign by the NYCC to convince J.P. Morgan to change its mortgage policies and address the nationwide effects of a prolonged foreclosure crisis.
Williams told HuffPost he hopes Chase bank realizes that the message he sent to them on Wednesday morning was "not an empty threat."
"The message is that people are serious," he said. "We're not just asking--we're gonna try to force you to do what's right, or you're not gonna have our money and you won't be able to do business. My money is just a drop in the bucket. We're trying to take the bucket out too."
Related
Popular in the Community