 By Julie Shapiro, Jill Colvin
NEW YORK CITY — Voters reelected President Barack Obama to the White House Tuesday after a hotly contested campaign against Republican Gov. Mitt Romney.
At Londel's in Harlem, the crowd broke into dancing and cheers when Obama was announced the winner. "Ain't No Stopping Us Now" played as people danced and hugged one another.
"Four years is not enough," said Christine Staggers, a 36-year-old paralegal. "To make a difference you need 8 years."
Hundreds celebrated in Times Square late Tuesday night, chanting, "Obama! Four more years!"
"It's a triumph of the people," said James Lauala, 42, a Hell's Kitchen resident who is originally from Liberia and made phone calls for Obama on Election Day. "It's a triumph of the soul of everyone who has worked hard to make this country what it is."
Obama supporters on the Lower East Side also erupted when the race was called.
"I'm feeling amazing. I was so stressed and so tense," said Raj Malhota, 39, from Brooklyn, who said he supports Obama for ending the war in Iraq and for his tax policies. "It's so important that he won."
Emma Ensign, 24, who watched the results come in at a viewing party at Culturefix bar on the Lower East Side, said she was still processing the news of Obama's victory.
"I'm so happy — I'm so relieved," she said. "I can't really believe it.... One second he was behind and the next second he was elected."
Polls closed in New York at 9 p.m., and within seconds, the Associated Press declared the state and its 29 Electoral College votes for the president. It also declared Sen. Kirsten Gillibrand as the winner of her Senate seat.
"I can't thank you enough for the honor and privilege of continuing to serve this state," Gillibrand told supporters at a victory party in Midtown, where the devastation of Hurricane Sandy weighed heavily on the celebration. "Rather than focusing on politics tonight, I really want to focus on the New York that I've seen visiting New Yorkers recovering from Hurricane Sandy." Gillibrand defeated Republican challenger Wendy Long, who came out swinging during the pair's first and only debate, but ultimately failed to sell a majority-Democratic state on her conservative stance on government spending and desire to overturn Roe v. Wade.
The senator also noted with pride that her race against Long was the first time in the state's history that two women had faced off for a Senate seat.
In addition to choosing between Obama and Romney, New Yorkers still recovering from Hurricane Sandy also cast ballots in a range of local races. Some of the most hotly contested spanned the most devastated sections of the city, including Staten Island and the Rockaways.
Many voters found chaos at the polls, ranging from long lines and broken voting machines to widespread confusion over relocated polling sites in the wake of the hurricane.
"You can't build a house without a strong foundation. And I have a great foundation from my family," said Addabbo, surrounded by more than 50 supporters at the Woodhaven House restaurant.
In devastated Staten Island, Republican Rep. Michael Grimm beat his Democratic challenger, Mark Murphy, despite a bizarre series of events, including an FBI investigation into Grimm's campaign fundraising and allegations that his campaign headquarters had been vandalized in a "politically motivated crime" — which turned out to have been committed by a 14-year-old kid.
Across the city, many other Democrats easily defended their seats.
Rep. Charles Rangel earned a 22nd term in Congress. Reps. Nydia Velazquez, Jerrold Nadler, Yvette Clarke and Carolyn
Maloney will also return to represent New York in Washington, along with several rising stars.
In Brooklyn, popular Assemblyman Hakeem Jeffries declared victory Tuesday evening over Republican Alan S. Bellone in the race for the 8th District Congressional seat.
In the State Senate, Daniel Squadron, Liz Krueger, Jose Serrano, Ruben Diaz, Gustavo Rivera, Eric Adams and Bill Perkins all won reelection, as did Brad Hoylman, the former Community Board 2 chairman who will take over from retiring Tom Duane.
State Sen. Kevin Parker also managed to pull off a win against "magenta yenta" Mindy Meyer, whose sparkly website and pink clothing were enough to make her an Internet sensation — but not the "Diva of the District," as she'd hoped.
In the Assembly, Sheldon Silver, Karim Camara, Linda Rosenthal, Micah Kellner, and Carl Heastie all sailed to victory, as did Keith Wright, Deborah Glick and Herman Farrell Jr., Brian Kavanagh and Richard Gottfried, who ran unopposed.
"With the backdrop of so much loss in our neighborhoods and with so many people in need, thank you all for the victory and the trust you've placed in me," said Meng, speaking surrounded by her family at the Sheraton LaGuardia East Hotel in Flushing.
"We have a lot of work to do on behalf of the people who have suffered from Hurricane Sandy and on behalf of the people of New York and America," Meng continued. "God bless you, God bless America, let's get to work."
With reporting by Paul DeBenedetto, Sonja Sharp and Jeanmarie Evelly.
Before You Go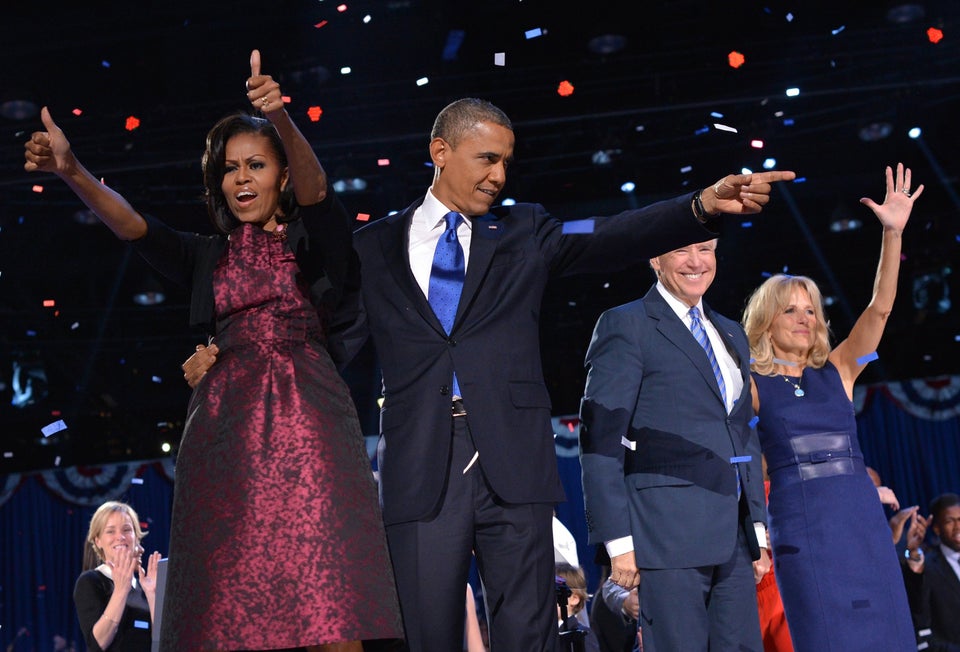 Election Night Celebrations
Popular in the Community