By Joann Lo, Food Chain Workers Alliance, and Katia Chapman, Rural and Migrant Ministry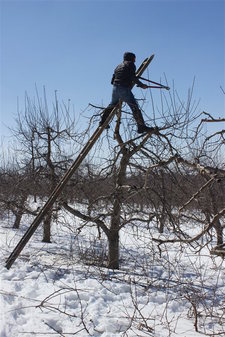 There are few consumer opportunities to consider the origin story of an apple. As a consumer, we typically scan the bins in the grocery store, maybe look for a local or organic label, and select a few apples that simply have the right look. We don't smell it like we might a summer melon for ripeness, or give it a squeeze like an avocado; it feels instinctual.
That apple did not arrive to the store alone, and its look is not primal. The apple trees were bred and planted just so and pruned by workers in the snow. The apples were picked and placed in bins gently so as not to bruise, stored in temperature and Nitrogen-controlled environments for months, passed or discarded according to blemish, then sorted by size and color, cleaned, packaged, shipped, and put on display for sale.
Agriculture is a multibillion-dollar economy in New York State. Wayne County, New York, is the second-highest apple-producing county in the United States. In 2012, farms reported a total of $5.4 billion in sales, a 22% increase from sales in 2007. Including agricultural commodities (like wine, the highest value product in the state), New York benefited from an estimated $37.6 billion in sales.

Roughly 60,000 farmworkers contribute to the agricultural success of New York. Their slice of agricultural sales in 2015? A median annual wage of $21,760.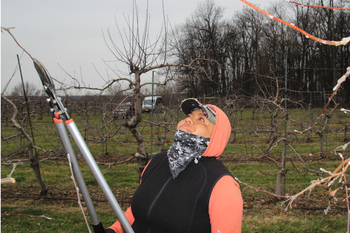 Dolores, a farmworker in Wayne County who has worked in apple orchards for the past four years, says, "There is nothing easy about farm work. For example, when you are picking apples, you have to carry the bushel with you; you can't toss apples down from the ladder because their skin is very sensitive."
When asked how much she earned in 2015, she estimated $20,000 and was quick to add "before, of course, it was less," in reference to the incremental minimum wage increases in New York over the past few years.
This May 15 through June 1, a coalition of farmworkers and allies in New York is marching to draw attention to the unequal standing of farmworkers under labor law. While workers in all industries currently face more barriers than ever in realizing their labor rights, farmworkers have less recourse under the law. In the 1930s when the Fair Labor Standards Act passed into Law, farmworkers and domestic workers were left behind. Their exclusion was not an accident. Senators and Congressmen, mostly Democrats from the South, spoke openly on the floor about not wanting the two industries primarily composed of the children and grandchildren of slaves to have the same rights as white workers. To this day, the majority of states have not passed laws to remove exclusions, which include the rights for overtime pay, a day of rest, and collective bargaining.
The 200-mile March for Farmworker Justice from the east end of Long Island to Albany supports the passage of the Farmworker Fair Labor Practices Act (A4762/S1291) in New York State. The March will amplify the voices of farmworkers who want equal treatment under the law. The Justice for Farmworkers Coalition has fought for these changes for 20 years, ever since our last victories in the 1990s when New York passed legislation to include farmworkers in the minimum wage and to mandate that farms with at least 5 employees provide clean water and bathrooms in the fields.
Teresa, a farmworker in the Hudson Valley, says, "I think that it's not fair because we all work and us, the people who work in the fields, are the ones who work the hardest... I have worked from 70 to 75 hours a week... I would ask [Senators] for more support for us, the people who work in the fields."
Katia Chapman is Education Coordinator for the Rural & Migrant Ministry which is organizing the March for Farmworker Justice.
Popular in the Community