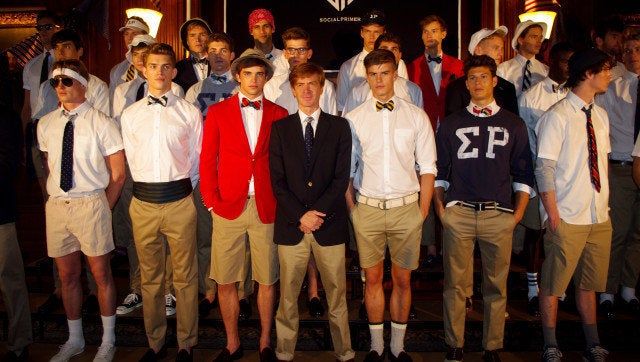 NEW YORK -- With two days before K. Cooper Ray's debut at last fall's New York Fashion Week, he'd been kicked out of his rented rehearsal space. A woman was angry because she had a 7 o'clock reservation to use the room, and it was a quarter past the hour. Ray, a blogger-turned-menswear designer known for his Brooks Brothers collaborations, was awash with anxiety. He retreated to the building's managerial offices with his team to make the final casting decisions, while male models waited in the hallway.
"I can't believe how rude she was!" said Ray. "Does she not realize how much I have on the line?"
Ray had rented the studio for just one day to reduce costs, using a portion of the $25,000 he had raised through Kickstarter and from personal savings. Normally, designers spend a day working with a stylist to select the outfits and another day to cast the models. But because Ray couldn't afford to rent the space for two days, he wanted to condense everything into one.
Struggles like these are not uncommon at New York Fashion Week, where up-and-coming designers scramble to afford presentations that cost thousands of dollars and come with no guarantee of success. It's an onerous expense most designers deem de rigueur because it gives them exposure to press and buyers who are eager to stay connected with each season's trends. This issue is not limited New York City -- rookie designers experience these exigencies at similar events in London, Milan and Paris.
"All of the editors and merchants will be here in one room -- instead of going to each of their offices, they'll come to me," Ray said in his University Club hotel room, where he'd also rented a space for his presentation. "The worst thing that can happen is to be ignored."
Though the cost of a presentation is high, especially with no guarantee of any return on investment, there are myriad examples of nascent designers getting a Fashion Week bump.
Raleigh, a North Carolina-based clothing company, debuted last winter at New York Fashion Week. Victor Lytvinenko and his wife spent around $40,000 on the presentation, which represented all of their savings.
"The night before it, we were lying in bed shaking," said Lytvinenko, remembering the experience.
But it paid off. Four weeks after the show, sales were up by 50 percent.
"We were poised for growth because we had just built a new factory," said Lytvinenko, 32, who started the company in 2007. "That, balanced with the presentation, equaled a tremendous increase in sales."
Those sales correlated to the amount of press the show received. Lytvinenko thinks Raleigh quickly became a Fashion Week darling because of the company's backstory: He uses Prohibition-era looms and techniques he learned from North Carolinians who worked in pre-NAFTA Levis factories to create garments.
"I think that people -- and editors -- crave authenticity," said Lytvinenko. "Those clips led to more exposure, which helped perpetuate orders."
Ray, a long-time denizen of the fashion industry, has colleagues who offered to work for free to make his presentation more affordable. His old friend Bruce Pask, men's fashion director at T: The New York Times Style Magazine, offered to be his stylist. The day of the rehearsal, Pask fastidiously created each of the 24 different looks and, when the models came in to audition, helped decide who looked best in each outfit.
"Having a debut is a struggle; like any business, it's hard when you start," said Pask. "But it's worth it because a well-articulated, well-orchestrated presentation is one way to be taken seriously in the fashion community."
Ray also has an established relationship with Brooks Brothers, for which he designs a line of reversible bowties under his label, Social Primer. He recently designed a collection of two-tone neckties (in which the knot has a different design than the tie) and peak-lapel blazers to present as part of his first personal collection. He says it wouldn't have been financially possible if his colleagues hadn't let him make the clothing in the Brooks Brothers factory.
To help talented designers successfully start their careers, the Council of Fashion Designers of America began an incubator program in 2010. The participating brands have access to a subsidized workspace in the Garment District, a team of industry professionals, and opportunities for design work with major companies.

Dao-Yi Chow, a 38-year-old who co-founded the menswear line Public School with Maxwell Osborne, was in the program's inaugural class. After graduating in 2012, Chow and Osborne decided to pool their savings to debut at last winter's New York Fashion Week. Though their presentation cost around $20,000, their nominal CDFA endorsement helped them acquire enough sponsors to cover half of it.
"In order for us to make money, we have to sell to the stores, and then the stores have to sell to the customers," Chow said. "All of that is a linear progression: We present; we get press; the buzz starts; the buyers come; and then hopefully the customers buy the clothes. All of that starts with the presentation."
In the month's following Public School's debut, a number of stores, including Bloomingdales, bought the entire collection. But Chow says a big chunk of that profit went to pay for the following season's Fashion Week presentation.
Besides crowd-sourced capital from Kickstarter, using hype to acquire big-name sponsors, and using an incubator programs' resources, there is another way rookie designers afford debuts. Jenny Lai graduated from the Rhode Island School of Design in 2010 with a degree in apparel design and launched her own clothing line. At 24 years old, she was one of the youngest designers to debut last fall, with a $15,000 presentation made possible predominantly through an investment from her family.
"It's important to create buzz and excitement around your brand," said Lai. "People aren't thinking about you if they're not hearing, seeing and reading about you, and I think my parents understand that I need to be here for those things to happen."
Ray chose to present at the University Club because he wanted a venue that embodied his brand's preppy ethos. His clothing is inspired by the milieu of cotillion-trained Southerners with penchants for hunting, debutantes and country music. In this spirit, he wanted his presentation to look like a fraternity party. Set amidst the University Club's mahogany walls, models wore Greek lettered T-shirts, blazers and his neckwear, the trappings of a faux pledge class.
"When I send a tie to an individual editor or a store, all they see is the tie," said Ray. "But here they see my world: It's a rendering of my vision and my culture."
Ray's presentation was covered in The New York Times, Women's Wear Daily, and the Los Angeles Times. Over the five months that have past since the show, various Southern menswear stores have purchased Ray's line, and he's had a successful sales season. He's also been asked to be a featured designer at Charleston Fashion Week in March. But instead of using Kickstarter, Ray thinks money he's recently received from investors will be enough to cover the $20,000 cost.
Though Lai's debut received media coverage, the exposure didn't give her an increase in sales. Her line was different from previous collections in its appeal to a younger clientele, and buyers are looking for brand consistency, she says. Though she was disappointed stores didn't buy her line, she says she still values the recognition her debut gave her.
"I'm a traditionalist," said Ray. "If you're going to ask a girl to marry you, you should talk to her father first, and if you're going to enter the fashion industry, you should show at New York Fashion Week. Whether or not you're appreciated is out of your control."
Disclosure: The author of the article has written previously about fashion for K. Cooper Ray's personal blog, The Social Primer.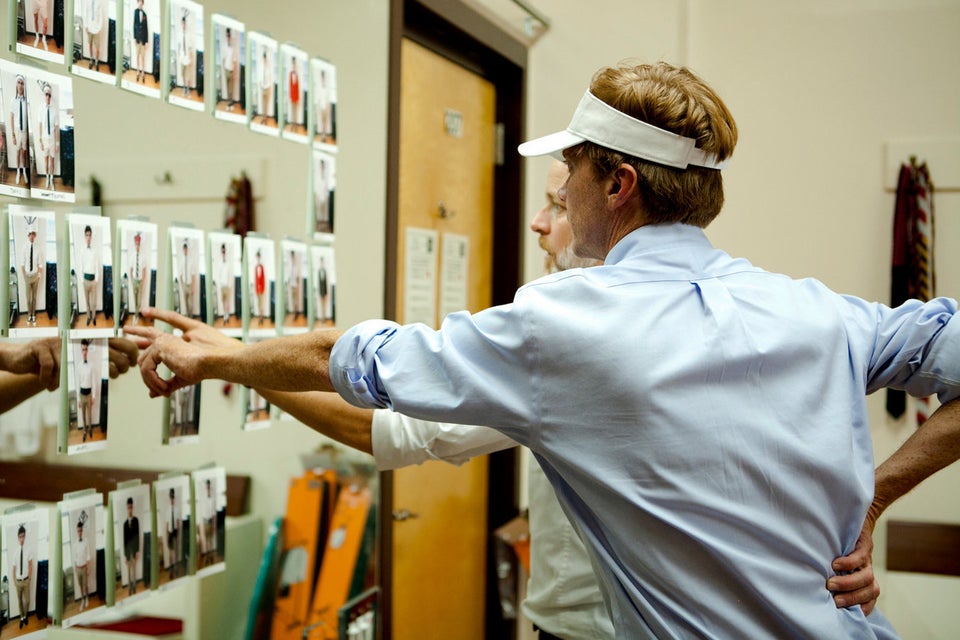 Debuting At New York Fashion Week