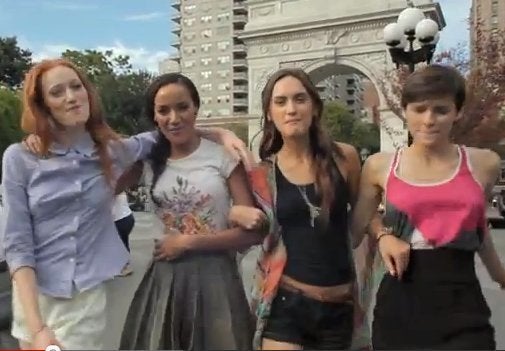 Jay-Z's lifestyle magazine, Life + Times, celebrated fashion week in New York by recruiting 30 runway models to lip-dub Jay-Z's very own 2009 smash hit with Alicia Keys, "Empire State of Mind".
The New York Observer says it best:
"We're not sure exactly what this video is promoting (Fashion Week? Life + Times? New York? Pretty woman?) but that's what it makes it perfect: if it's selling us something, we can't tell what it is."
This isn't the first time director Justin Wu has taken a cue from George Michael and made a fashionable lip-dub . He's previously had Victoria's Secret models lip-synching to "Girls Just Wanna Have Fun" and male models dancing around Paris and Milan to "Bohemian Like You". For our money though, this one is probably his best.
So without further ado, some of the world's prettiest people lip-synching while prancing around our fair "concrete jungle where dreams are made of." Enjoy.
Popular in the Community