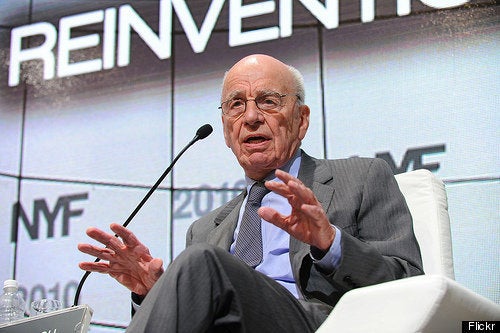 The New York Forum — billed as a new, more focused Davos by the man who for 13 years produced it — opened last night at the Grand Hyatt with a panel discussion led by CNBC's Maria Bartiromo, and featuring Rupert Murdoch.
The plenary session, which also included Hearst's Cathleen Black, Philippe Camus of Alcatel-Lucent, and Jerry Speyer, the real estate mogul, touched broadly on what the Forum's host, Richard Attias, called the "one area of human behavior that is suffering," which is, he said, the global economy.
Beginning today, and through Wednesday, the Forum will call on city luminaries and international experts to lead panel discussions on variations of the economic theme. This morning, Arthur Sulzberger, Jr., publisher of the New York Times, spoke before the summit with Mayor Michael Bloomberg. And later this afternoon, smaller sessions will consider such questions as, "Can we restore confidence in Wall Street?" and "Climate change and the corporation."
For the panel assembled last night, the antidote to our economic woes was clear: smaller government, lower taxes and decreased regulation.
Speaking to the latter condition, Speyer warned that "people vote with their feet."
"We're going to see an exit if we over-regulate our banks and other industries," Speyer continued, raising the specter of an exodus from Wall Street to the freer markets of Shanghai, Hong Kong and Geneva.
"Less government, less taxes," Murdoch agreed.
When searching for a word to describe the Obama Administration, Murdoch allowed that, "I shouldn't say corrupt," at which point the audience tittered and Sulzberger rolled his eyes.
Murdoch also inveighed against the teacher's union ("they're turning out illiterate people"), proponents of off-shore drilling ("we didn't buy Alaska to look after the moose") and believers in climate change, which Murdoch said "has a lot more to do with the activities of the sun" than man-made contributions.
The panelists also considered the future of journalism and publishing.
"There are days when I feel like my hair is on fire," said Black, who argued that "we already have a paid model." Online advertising, she said, will probably never account for the robust profits that print advertising once, and to a lesser degree still generates. In Russia, Black pointed out, Hearst still sells more than a million issues of Cosmo every month.
Murdoch, the owner of the New York Post and Wall Street Journal, acknowledged that "news for nothing was a mistake. No one is getting rich on it and no one will get rich that way." The challenge for news outlets, he said, was one of transition, and he hailed the iPad as a possible solution.

It was Murdoch who spoke most forcefully, and also the most throughout the evening, at one point chiding himself for talking too much. Indeed, one of the few times he yielded the stage was when asked by an audience member about what makes for a good leader. At which point Murdoch turned across the platform to Speyer.
Calling all HuffPost superfans!
Sign up for membership to become a founding member and help shape HuffPost's next chapter