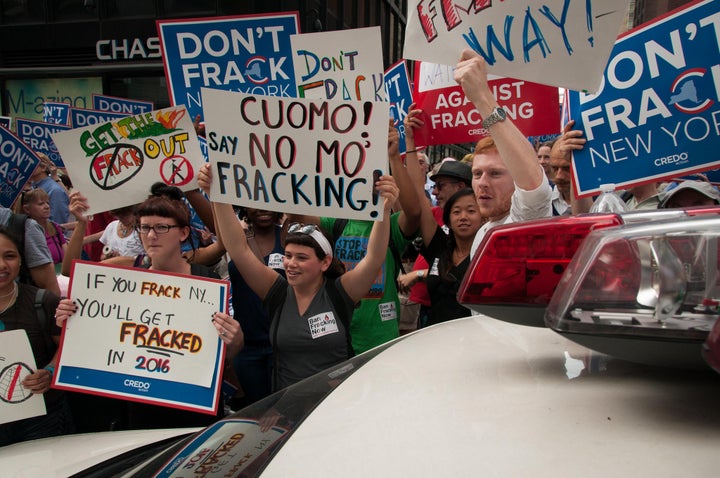 The rally, a joint effort organized by CREDO Action and New Yorkers Against Fracking, hopes to sway the governor from going forward with the practice (better known as fracking) because of the irreparable environmental damages drilling may cause.
Fracking involves drilling toxic chemicals deep into the earth in order to extract natural resources and poses serious risks to water contamination.
Politically, many protestors say fracking also carries the potential to smear Cuomo's reputation as New York governor and even affect voters' decisions if he were to ever run for president, as has been widely speculated.
Zack Malitz of CREDO told HuffPost, "We are here to send a message, don't frack New York. His political legacy is riding on this. He could go down in history as the governor who poisoned New York state's water supply."
78-year old Joy Garland shared similar sentiments and warned the governor, "If he's considering a run for president in 2016, we will look at his record on the environment and that will make up our decision."
Proponents of fracking, understandably absent from Wednesday's protest, believe otherwise, citing the economic benefits drilling can bring to economically distressed areas, particularly on New York farms.
In May, one upstate New York landowner expressed his desire to see a 2008 instated moratorium on fracking lifted. "I go over the border and see people planting orchards, buying tractors, putting money back in their land," he said. "We'd like to do that too, but instead we struggle to pay the taxes and to hang onto our farms."
Pennsylvania dairy farmers Carol French and Carolyn Knapp travel to other shale gas states giving talks on gas drilling. They tell of methane-contaminated wells; contractors destroying valuable timber for access roads; pipelines making cropland inaccessible; years of agricultural production lost and uncompensated; road damage that isolates families for weeks.
Susan VanDolsen, a mother from Rye, was present at Wednesday's rally and pointed to Pennsylvania as an example of what can go wrong. "The farmers that say [fracking is a good idea] should talk to the farmers in Pennsylvania," she said. "It's a predatory situation. The gas company landmen promise things to these farmers, knowing that these places are under economic distress and take advantage...If you're going to lease your land to a gas company that promises you a Beverly Hillbillies situation, remember that often times you end up loosing the entire value of the land when insurance companies, who acknowledge fracking is risky, don't cover the damages that you think you will be covered for."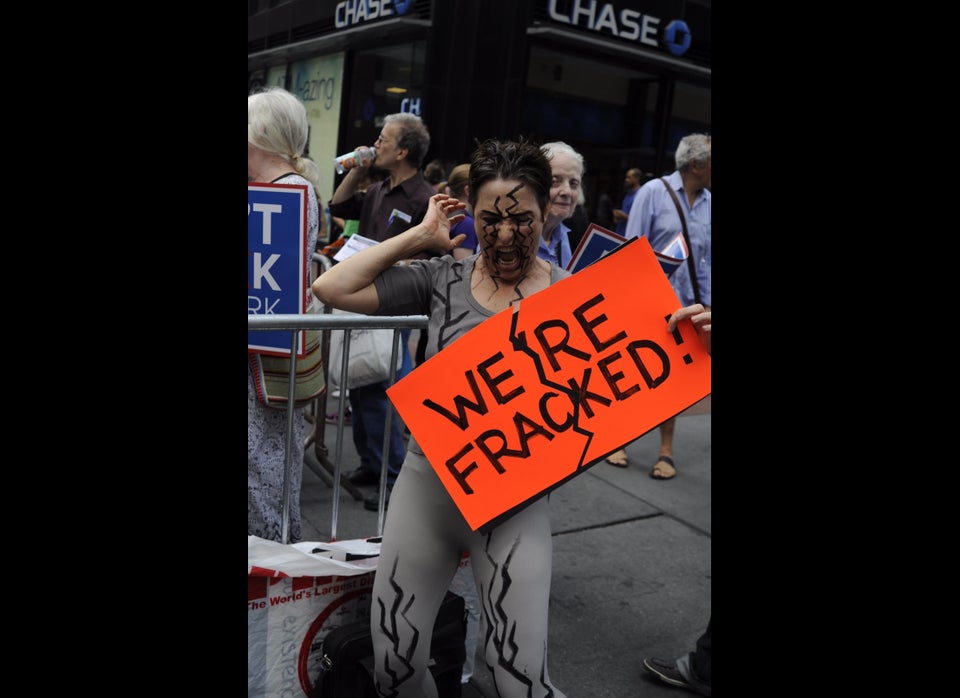 New York Fracking Protest August 22, 2012
Related
Popular in the Community