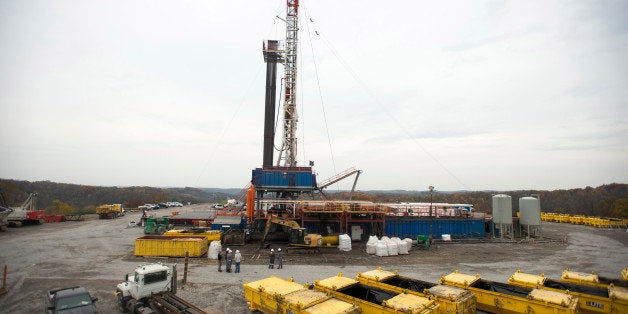 Fifteen New York towns that are upset at Democratic Gov. Andrew Cuomo's decision to ban fracking have threatened to secede from the state and join neighboring Pennsylvania, where fracking is allowed.
The towns, all members of the Upstate New York Towns Association, have expressed interest in secession, Conklin Town Supervisor Jim Finch told The Huffington Post. The association is compiling a report to assess the feasibility of joining Pennsylvania.
"We're in the Southern Tier of New York," Finch said, referring to localities in Broome, Tioga, Sullivan and Delaware counties. "There are no jobs. The economy is terrible. There's nothing going on."
He decried Cuomo's recent decision not to bring a casino to the region, and noted that Conklin and the 14 other towns in the Southern Tier sit on the Marcellus Shale, which is rich in natural gas. Permitting drilling in the region would provide an avenue for new jobs and a way to raise money for local schools and governments, as it has across the border in Pennsylvania, Finch said.
Leaving New York and joining the Keystone State, he added, would also mean lower taxes for businesses and lower insurance payments.
Finch conceded that secession is "far-fetched" -- it would require the approval of the New York legislature, the Pennsylvania legislature and the federal government -- but said raising the idea helps highlight the region's discontent with New York's government, and Cuomo in particular.
As far-fetched as secession may be, however, state Senate Deputy Majority Coalition Leader Tom Libous (R), of nearby Binghamton, said he is taking the proposal seriously. As first reported by WBNG-TV in Binghamton, the senator mailed a survey to his constituents, asking if they are interested in secession.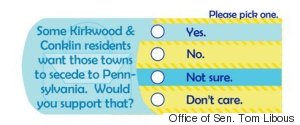 From the survey sent by Sen. Tom Libous to his constituents.
"After the one-two punch to our community from the recent Casino and Gas Drilling decisions, my office received many emails, phone calls and messages from constituents calling for a Southern Tier secession from New York State," Libous said in a statement provided to HuffPost. "While getting my constituents' opinion on spending the $5 billion surplus was our top priority, I thought a question on secession should also be included in the survey."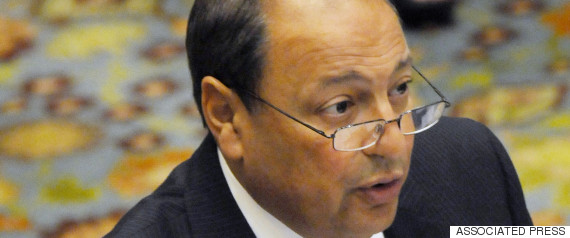 New York state Sen. Tom Libous mailed his constituents a survey asking about their interest in secession. (AP Photo/Hans Pennink)
Cuomo announced his decision not to allow fracking in December, citing public safety and environmental concerns. Fracking -- a process that uses a high-pressure blast of water, sand and chemicals to harvest underground natural gas reserves -- has been found to be dangerous.
"I think it's our responsibility to develop an alternative … for safe, clean economic development," he said at the time.
Finch said Cuomo's decision reflected the views of "New York City environmentalists" and "big donors to the Democratic party," but not the people of the Southern Tier, who want "safe" gas drilling that doesn't pollute or contaminate the water.
Cuomo's office didn't immediately respond to a request for comment Friday on the Southern Tier's interest in secession.
As noted by Capital New York, localities in New York have periodically threatened secession over the state's history. The only successful secession occurred in the 1800s, when a territory now known as the state of Vermont seceded.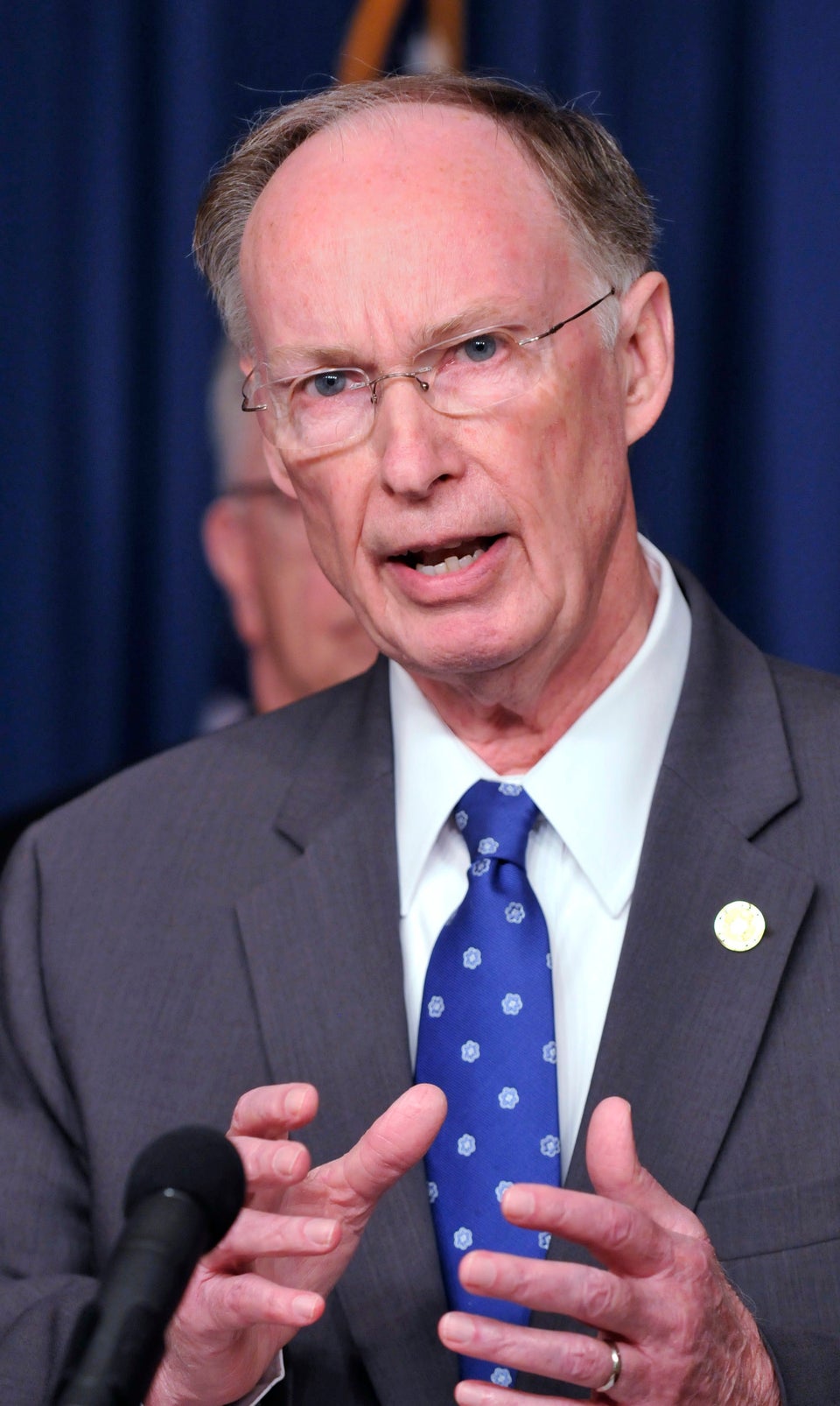 United States Governors
Popular in the Community