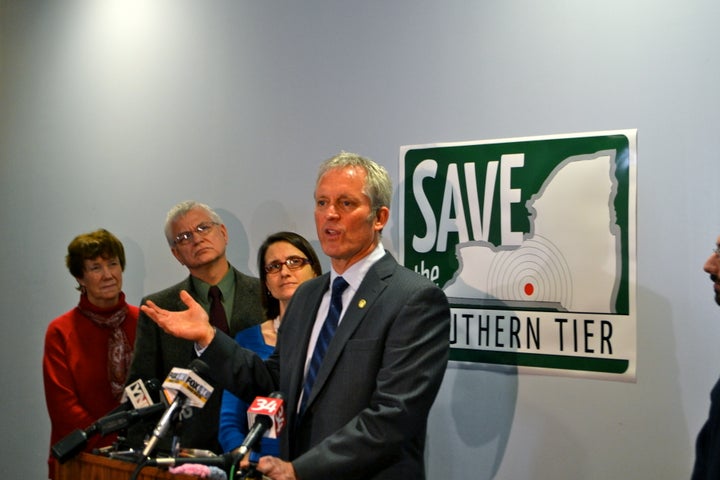 BINGHAMTON, N.Y. -- Eileen Hamlin leaned in towards the computer screen for a closer look at the purple blocks peppering a digital map of New York state. The color denoted land leased to natural gas companies in anticipation of a potential lift of the state's four-and-a-half-year moratorium on hydraulic fracturing, or fracking.
"I've just learned that I'm surrounded on three sides by leased property," said Hamlin, a finger pointing out her Kirkwood land on the map. She sat still for several more seconds, eyes frozen to the screen.
Hamlin was among several activists, including the city's mayor, who convened on Thursday in Binghamton for the launch of Save The Southern Tier, an anti-fracking network spanning the five upstate counties near the Pennsylvania border where Gov. Andrew Cuomo has suggested fracking would be allowed, should the state release the ban.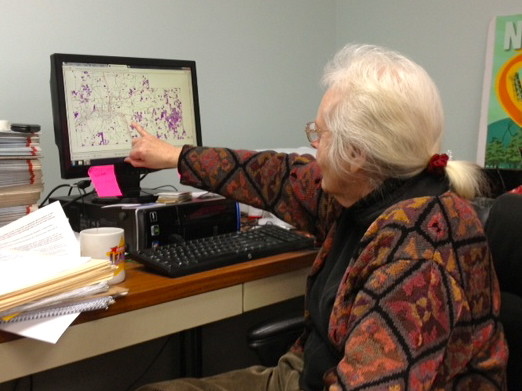 Eileen Hamlin points to her land, surrounded on three sides by natural gas leases. (Lynne Peeples)
Cuomo has until Feb. 27 to make that decision. As his deadline approaches, members of the anti-fracking community are escalating efforts to ensure their voices are heard. Various groups have hosted bus tours through Pennsylvania, rallied in Albany and delivered more than 200,000 comments on the state's proposed drilling rules. On Wednesday, New Yorkers Against Fracking released a new TV ad that concludes: "Tell Gov. Cuomo: Learn from Pennsylvania, ban fracking."
Now, members of the new Southern Tier network have added to the governor's stack of reading. In a letter to Cuomo, dated Thursday, they suggest the governor has been misled by special interests and misinformed about the level of support in the Southern Tier -- or, as the activists call it, the "sacrifice zone."
The group urges Cuomo to meet with his "constituents who oppose fracking," just as he has with the "out-of-state gas industry," before he makes his decision.
"Governor Cuomo needs to know that our numbers are growing as more and more citizens in this designated area learn the risks posed by the gas industry," Hamlin said on Thursday morning in front of local TV cameras in Binghamton's State Office Building. "Governor, please listen to the significant majority of your constituents."
Of course, the opinion of the significant majority of constituents depends on whom you ask. In January, a Siena poll found 51 percent of upstate residents opposed to and 38 percent in support of moving forward with fracking in New York. But the latest Quinnipiac University survey, released on Thursday, suggested the split in upstate New York was 48 percent in favor of drilling to 40 percent opposed.
Numerous phone calls and emails from The Huffington Post to the Joint Landowners Coalition of New York, which represents landowner organizations across the state and generally favors natural gas development, yielded no connections to anyone willing to speak for the group.
However, Ed Griffith, chairman for the Northeastern Broome Landowners Association, told HuffPost that his 178 members are "quite anxious, hoping that Cuomo will in fact decide to release the Southern Tier." No one in his coalition holds an active lease yet, but he noted that they do have a lawyer-approved lease ready and waiting.
Griffith said that he and others in support of opening New York to fracking are frustrated by the "misinformation" and "radical scare tactics" used by anti-fracking activists. He highlighted the concerns they've raised over the increased heavy truck traffic that comes with development. "I've been to Pennsylvania and looked at the beautiful new roads that companies put in," he said. "Some of those roads are better than any I've driven on."
Many residents of Broome County continue to face hard financial times. Griffith noted that major area businesses such as IBM and Singer-Link have closed down. Royalties from properties leased to developers could help patch families' bank accounts, and new business opportunities could provide hope for struggling small business owners like himself. He works as a contractor for instrumentation controls -- something that local natural gas developers would need.
"I'm sitting on pins and needles waiting to see," Griffith said. His confidence that Cuomo will lift the fracking ban has increased, based on word from fellow coalition members who have heard details of the state's health and environmental reviews. "There's nothing negative out there at this point in time. There's nothing out there that concerns the Joint Landowners."
Indeed, as The New York Times reported, the state's Health Department found in an analysis it prepared early last year that fracking could be conducted safely in New York. But as the Times went on to report, and as antifracking activists suggest, the state's lack of transparency leaves it unclear exactly how officials are assessing fracking's health risks.
Logan Adsit of South Otselic, N.Y., came to Binghamton on Thursday with her 1-year-old son Elijah. She said his health and future was her main motivation to continue to fight against fracking. "I don't want to leave a legacy of gas wells and dirty water," said Adsit. "I feel I have no other choice. If I don't stand up, I will regret it."
Binghamton Mayor Matt Ryan emphasized that there's is not yet enough science to determine the practice's safety. "This is a new animal, an unproven industry. There has not been enough time to study the health impacts," he told HuffPost. "As a public official, I'm sworn to protect the health and safety of my constituents."
Ryan acknowledged the potential for some people "to get really rich" off fracking, and that there could be some real business opportunities, including full beds for hotel owners and landlords. But he added that negative economic impacts should be considered as well, such the possibility of higher rents.
Hamlin, the anti-fracking activist, had initially joined a local landowner coalition with the thought that leasing her land might be a "wonderful way to get back the money Wall Street stole" from her 401K, she said. She has since changed her mind. But with so much surrounding land already leased, she fears she'll be forced to welcome drilling under her land anyway -- due to the state's compulsory integration law that applies when a drilling company otherwise controls 60 percent or more of the acreage it intends to use.
"I don't want to live anywhere near drilling," said Hamlin. "But they could drill right under my land, whether I like it or not."
REAL LIFE. REAL NEWS. REAL VOICES.
Help us tell more of the stories that matter from voices that too often remain unheard.