New York State Senator Ruben Diaz, Sr., along with National Organization For Marriage Chair Maggie Gallagher, spent a sizable portion of their anti-gay marriage rally on Sunday denouncing another anti-gay marriage group, the Westboro Baptist Church.
Their rally and march, which took place the first day same-sex marriages were legally performed in New York, were attended by several thousand people, many of them Hispanic members of the Bronx church run by Diaz, who is also a Penetecostal minister. It began in front of Governor Cuomo's New York City offices on Park Avenue and then proceeded, for reasons that went unexplained during the speeches, to the United Nations. Men and women waved bibles and sang hymns; cries of "Jesus, Jesus" and "Let the People Vote" reverberated through the city streets. Also in attendance were a cluster of Orthodox Jewish men from the group Jews for Decency.
Although state polls consistently show that gay marriage is supported by nearly 60% of New Yorkers, the need for a direct vote on the issue of marriage equality was the theme stressed most often by speakers onstage at Dag Hammarskjold Plaza. Diaz and Gallagher announced the launch of a website and anti-Cuomo campaign called LetThePeopleVote.com.
"We're here to put those politicians on notice," Gallagher said, warning of retribution for state lawmakers who had voted in support of gay marriage. "We are standing up for the good in God's eyes."
Speaking to the crowd in Spanish with an English interpreter, Diaz Sr. announced that he planned to initiate a lawsuit against same-sex marriage next week. "Everything they're doing today is criminal and it's wrong," he said.
Both inveighed against the Westboro Baptist Church, a fringe group of attention-seeking protesters who sent five or six people with profane signs to the Manhattan Marriage Bureau this morning, and sent a similarly-sized group to an area near the NOM/Diaz rally. "You are not speaking for us, you are not with us," Gallagher said, and Diaz went even further, albeit while referring to the group as the "Westberry Baptist Church."
"We are not down with that," the state senator said, according to a translator. "We say it is sin ... but we don't hate nobody."
But Diaz also spoke of the gay marriage vote as a choice between "the church" and "the homosexuals." He railed against any and all politicians who had voted for gay marriage, saving special ire for Bronx Assemblyman Nelson Castro, who he claimed "gave me his hand, he gave me his word," to vote against gay marriage and then did not. Diaz also referenced rumors that New York City Mayor Michael Bloomberg had offered campaign cash to Senate Republicans on the bubble to support gay marriage.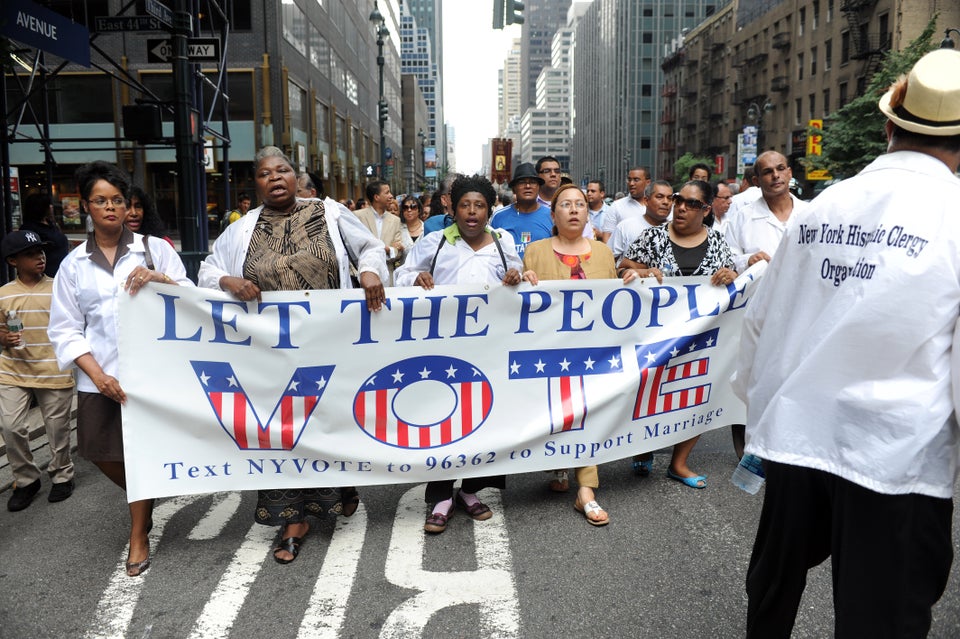 Popular in the Community