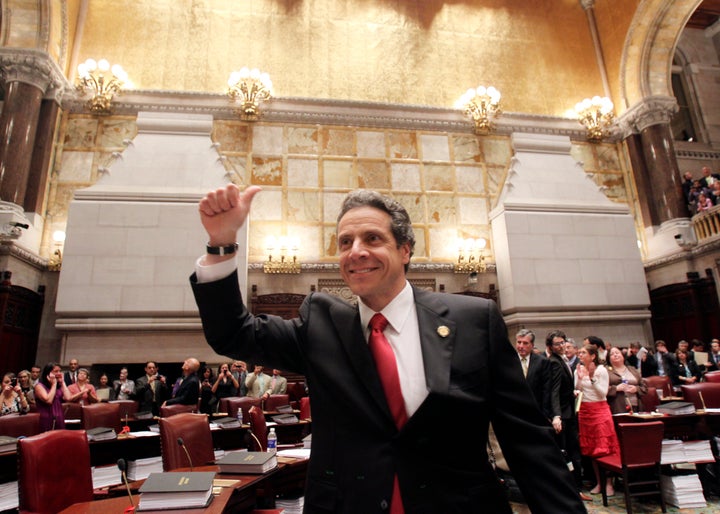 With the stroke of a pen just before midnight on Friday, Governor Andrew Cuomo legalized gay marriage in New York, making the state the sixth and by far the largest to have a same-sex marriage law on the books.
The victory is all the more remarkable because it comes just two years after gay marriage supporters badly miscalculated their support in the same chamber, watching their same-sex marriage bill go down by a 24-to-38 margin after a dramatic floor debate.
Gay rights groups were optimistic that a vote this year would not share the fate of the 2009 bill, although Friday's passage came after days of debate among Republican senators on whether to hold a vote on the measure at all. But that internal discussion occurred against a larger backdrop of social change and political forces that made the passage a same-sex marriage bill easier this time around.
In contrast to the uncoordinated campaign gay-rights groups launched in 2009, advocacy groups joined together under the banner of New Yorkers United for Marriage and organized a massive operation on the ground and over the airwaves. And this year's push was led by popular Governor Andrew Cuomo, whose leadership stood in sharp contrast to that of former Governor David Paterson, who seemed feckless to many gay rights advocates in 2009.
As older New Yorkers passed away and younger ones with more tolerant attitudes took their place, the percentage of voters in favor of gay marriage kept on going up and up, from 37 percent in 2004 to 58 percent at the beginning of this month.
Those numbers, according to Quinnipiac University pollster Maurice Carroll, made gay marriage in the state "inevitable" in the long run. Earlier this week, Ruben Diaz, Sr., a Democratic state senator and Pentecostal reverend who staunchly opposes gay marriage, used that same word.
But in the Senate chamber where Diaz serves, the fight for same-sex marriage rights had long looked like an uphill struggle. The measure needed 32 supporters to pass, and with Diaz as the only of 30 Democrats opposed, gay rights activists needed to pick off three Republicans -- and perhaps a fourth to provide political cover -- for the measure to pass. With strong opposition from many members of the Republican caucus that controlled the body, few senators looked as though they could be won over. New York City Mayor Michael Bloomberg, who gave $900,000 to Senate Republicans, also pitched undecideds on his limited government perspective on same-sex marriage rights.
Earlier in June, phone bank volunteers inside the New York City offices of the Service Employees International Union, which has supported the bill, were treating same-sex marriage as anything but an inevitability.
Over the course of two hours, Leone Kraus, who runs a blog about working in marketing "from the gay perspective" and describes herself as growing up in "a very conservative Catholic household" in MIchigan, made 75 calls in search of gay marriage allies.
That marketing experience showed. After a few answering machines, a constituent of state Senator Greg Ball, one of the critical few Republicans still publicly undecided at the time, picked up the phone. In a pleasant yet firm voice, Kraus convinced the voter to leave a short, polite message for Ball with an simple meaning: Gay marriage is something I care enough about to call.
Kraus and her partner Rebecca Hopkinson were campaigning for the bill under the auspices of New Yorkers United for Marriage, an umbrella coalition of LGBT rights groups that came together specifically for the same-sex marriage rights push. The Empire State Pride Agenda, the Human Rights Campaign, Freedom to Marry, Marriage Equality New York and the Log Cabin Republicans all joined forces in order to pass a gay marriage bill, in large part because Cuomo more or less forced them to earlier this year.
The organizing around the effort was very different in the midst of the last marriage fight. "There was no coordination back in 2009," Hopkinson said. Now she and her partner, along with dozens of other volunteers, used rapid dialing phone bank software that could patch people in directly to their senators -- a far cry from the personal cellphones they used two years ago. Their mere presence in the Midtown office building that hosts SEIU, moreover, was a testament to the vocal support of the state's labor unions.
One Senate Democrat who flipped his vote from 2009 told the press recently that last time around, 79 percent of the people who contacted his office on the issue were against gay marriage. This time, the 4,839 of 6,015 people who called or wrote were in favor. "In the end, that is my vote," Senator Joseph Addabo, Jr. said.
"For us to personalize it makes it resonate more than just poll numbers," said Kevin Nix, director of the Human Rights Campaign. New Yorkers United for Marriage, the umbrella group, sent hundreds of thousands of pieces of mail and made hundreds of thousands of robocalls. The Human Rights Campaign alone deployed 30 full-time organizers and spent more than $1 million in the state.
The contacts gay rights activists and allies made with undecided Senators were personal and oftentimes philosophical. They were also demonstration of how electorally charged the issue may prove to be in 2012.
In the press conference to announce his support, Addabo cited the shifting poll numbers in his district. Both gay activists and those opposed to same-sex marriage have pledged to punish their opponents in the 2012 elections. Particularly ominous for the Republicans is the state Conservative Party Chairman Michael Long's pledge to withhold his endorsement of anyone who votes in favor of same-sex marriage rights.
Long has wobbled before on such pledges, but in New York, where small parties with big-sounding names wield outsized influence, the Conservative endorsement is oftentimes enough to send a Senate candidate over the top.
At least one Senate Republican, Roy McDonald, said that in the final assessment, he just decided not to listen to ultimatums from the Conservative Party and bombastic warnings from Roman Catholic Archbishop Timothy Dolan about the "ominous threat" of gay marriage.
"[F]uck it, I don't care what you think. I'm trying to do the right thing," McDonald said when he announced his support for the bill earlier this June.
For those Republicans who weren't so indifferent to the torrent of advocates from both sides attempting to sway their opinions, Cuomo had another ace up his sleeve: the support of the Gill Action Fund, which spent almost $1 million in last year's election defeating candidates who had opposed same-sex marriage last time around. That money, provided by Colorado multi-millionaire Tim Gill, demonstrated that any Conservative Party support would be matched by gay rights campaign dollars against them in the 2012 elections.
Much of this successful strategy was directed by Cuomo, whose popularity has not faded even after the announcement that his budget would cut 10,000 state jobs. Cuomo made same-sex marriage one of his top legislative priorities and the high poll numbers and groundswell of support from ordinary New Yorkers might have made little difference without his determination.
On Thursday, Cuomo and his staffers wrapped up negotiations with three Senate Republicans over one final knotty issue that had prevented a floor vote until then -- the question of how many exemptions should be granted to religious groups and individuals who oppose gay marriage.
With that deal made, Sen. Stephen Saland (R-Poughkeepsie) announced his support for the measure on Friday night during the floor debate. The mass of people gathered inside the iconic Stonewall Inn cheered Saland on, even as he dryly detailed the technicalities of the religious exemptions.
The Stonewall crowd was even more enthusiastic for the second last-minute convert to support gay marriage, Sen. Mark Grisanti (R-Buffalo), who gave the bill its fourth Republican backer.
"I cannot legally come up with an argument against same-sex marriage," Grisanti said during floor debate. "Who am I to say that someone does not have the same rights that I have with my wife, who I love, or to have the 1,300-plus rights that I share with her."
The people at Stonewall went wild. Grisanti had recognized the logic of the phrase "marriage equality": Marriage was simply a right, one that no legal gymnastics could take away.
And then, just before he announced that he would vote in the affirmative, he said: "I cannot deny a person, a human being, a taxpayer, a worker, the people of my district and across this state, the State of New York, and those people who make this the great state that it is the same rights that I have with my wife."
Then, at 11:55 p.m. on Friday night, Governor Cuomo signed the Marriage Equality Act into law.
Related
Popular in the Community