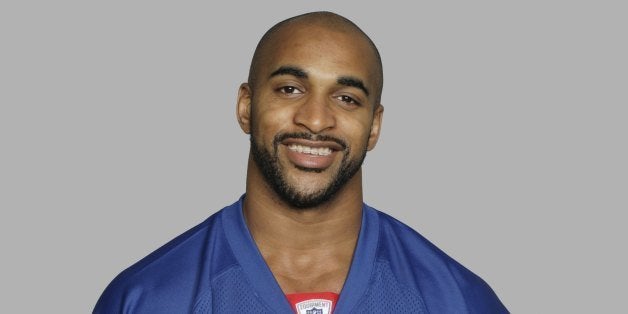 This week the New York Giants announced the hiring of former Giant David Tyree as director of player development. I thought this report had to be some sort of sick joke. Coach Tom Coughlin described the job like this:
It is the working relationship with the players to aid them in their continuing education, their development as young men.... It is there to help instruct them, make them aware of the issues and the problems that exist out in the community and the world to try to keep them focused on their job and not fall into trouble.
How exactly is a homophobe -- a man who has worked tirelessly against LGBT rights, supported harmful "pray away the gay" therapy, and condemned gay marriage; was a spokesperson for the notoriously anti-gay National Organization for Marriage; and couches his animus as being based on religious beliefs -- supposed to carry out that job? How is a gay player on the Giants supposed to react to this and feel comfortable and stay "focused" on the job and on his own "development" if he is thinking about coming out or is experiencing anti-gay harassment on the team? How will a player who is anti-gay or doesn't think gays should be open on the team not feel emboldened now to engage in bias, bigotry and harassment himself? What kind of "development" is Coach Coughlin really talking about here? Some have said that Tyree's public stances go back to 2011, when he tried to stop marriage equality in New York, and that maybe he's "evolved" since. But it's been two days now, and we've heard nothing from him, though the Giants defended the hire, saying he's "qualified for the job."
The NFL has been doing its best to clean up a battered image of professional football as being filled with raging homophobes. The groundbreaking drafting of Michael Sam by the St. Louis Rams went a long way after years of anti-gay tirades by players getting only a slap on the wrist from the NFL.
But clearly Michael Sam didn't solve professional sports' gay problem, as his drafting exposed the homophobia that still permeates the culture. We saw players tweeting homophobic remarks and sportscasters who couldn't deal with Sam kissing his partner on live television. And in the past few days former NFL coach Tony Dungy said he wouldn't have drafted Sam, not because he's not a good player but simply because he's gay and would be some sort of distraction. That is flat-out bigotry, and Dungy's clarification did nothing to change his original comments. The St. Louis Rams' coach responded that Sam is "not a distraction" of any kind, and since his drafting, Sam has received enormous support from many players in professional sports, and from the NFL and its executives.
But the hiring of Tyree by the Giants is a stain, and it's unacceptable. Giants General Manager Jerry Reese tried to defend the hire by saying that Tyree's anti-gay views are his personal religious beliefs, and that he is allowed to have them:
Number one, he was qualified for the job. He's a terrific fit for us and we're happy to have him on board. Sometimes you say some things that maybe you don't want to say or shouldn't have said and can get blown out of proportion to some degree. But I'm not here to talk about social issues or somebody's personal opinion about their beliefs.
Well, then, if David Tyree has said "some things that maybe [he didn't] want to say," then he needs to clarify it right now and tell us of his complete about-face and change of heart, that he accepts science and equality and rejects bigoted views. And I'm sorry, but it no longer cuts it to say that the belief that gays can convert to heterosexuality is a "religious belief" that should be respected. That is support for quack science and dangerous therapy that both the American Psychiatric Association and the American Psychological Association have said not only doesn't work but can be harmful. How on Earth can Reese call Tyree qualified when he holds bigoted views and supports quack therapies that harm children? How can he be qualified when a gay player may be intimidated by him? Does Reese contend that if someone said all Jews are going to hell and couched it as a Christian religious belief, it would be acceptable to hire that person? What if the director of player development had a Christian religious belief in white supremacy, which we've certainly seen in our nation's history and still see today? Would that be acceptable to Jerry Reese?
It's time for David Tyree to take back every word he said and tell us of his amazing evolution to being a full-blown supporter of equality. If he can't do that, the Giants have to give him the boot if they and the NFL want to maintain any credibility and dignity.
Popular in the Community