When a Staten Island grand jury declined in December to indict a New York City Police Department officer in the death of 43-year-old Eric Garner, who died after being put in a police chokehold, it felt final. 
The Department of Justice launched a federal investigation that hasn't resulted in civil rights charges, and likely never will. And a petition to release transcripts from the grand jury investigation seemed -- and still seems -- like a long shot. 
The sole recourse Garner's family could likely expect was a multimillion-dollar payout from the city to settle any wrongful death claim. (The city settled with the family last month for $5.9 million.)
But in the year since Garner's death, there has been another, curiously unexplored alternative to get justice: pressure local officials to simply convene another grand jury. In other words, if the case really was mishandled -- as so many protesters, politicians and pundits have suggested -- there can be a do-over. 
"Far too little attention has been focused on another option: the discretion the current law gives to Staten Island's court and district attorney's office to order a new grand jury in the Garner case," Mark Zuckerman, president of The Century Foundation, wrote Thursday in an editorial on the prominent think tank's website. 
Zuckerman highlights two rarely used contingencies that would allow both the Staten Island Supreme Court and District Attorney Daniel Master to convene a new grand jury. 
The first, Zuckerman explains, is a "little-discussed provision of New York law" -- Section 190.75 -- that stipulates a grand jury decision is final "unless the court in its discretion authorizes or directs the people to resubmit such charge to the same or another grand jury." 
Zuckerman explained to The Huffington Post that the court can use this discretion under three circumstances: if there's new evidence in a case, if the grand jury acted in an "irregular manner," or if the "court determines that the grand jury failed to give the case a complete and impartial investigation." 
It's this last circumstance that would likely get the most traction, Zuckerman said. A New York Times investigation earlier this summer found evidence that prosecutors under then-District Attorney Daniel Donovan didn't aggressively pursue charges against NYPD officer Daniel Pantaleo, and that the jurors themselves may have been uninterested in the case. 
A viral video shows Pantaleo, who is white, putting Garner, who was black and unarmed, into a prohibited chokehold during an arrest for selling untaxed cigarettes on July 17, 2014. When Garner falls to the ground, he screams "I can't breathe!" 11 times before his body goes still. He died a short time later.  
The second contingency for bringing the Garner case back to court, Zuckerman writes, is "the ability for District Attorney Master to convene a new grand jury around the same alleged misconduct, if the legal charges are different." 
WNBC reported last year that Donovan only asked the grand jurors to consider manslaughter or criminal negligence charges in Garner's death, but not a lesser charge of reckless endangerment -- for which it'd be easier to secure an indictment. 
"If press accounts are true, the district attorney could establish a new grand jury over [the reckless endangerment] charges not presented in the first grand jury action, without court approval," Zuckerman writes. 
"New York law clearly anticipates that secret grand juries sometimes make the wrong call, but the checks and balances in the system only work if the officers of the court step up and take fair and impartial action to get it right," he adds. 
Jeffrey Fagan, a Columbia University law professor who has closely followed the Garner case, told HuffPost that Zuckerman's reading of New York's grand jury laws "makes a lot of sense." 
"The mechanisms are all there for the prosecutor that's willing to do so," Fagan said, but cautioned that "much of what [Zuckerman] wrote is based on assumptions on what happened with the grand jury and in the grand jury room that we don't know anything about."  
The secrecy laws keeping the grand jury records sealed, and the recent ruling by a state appellate court to keep those records sealed, "means we're all shooting in the dark," Fagan said. "We can only guess in press leaks on what Mr. Donovan did or did not do."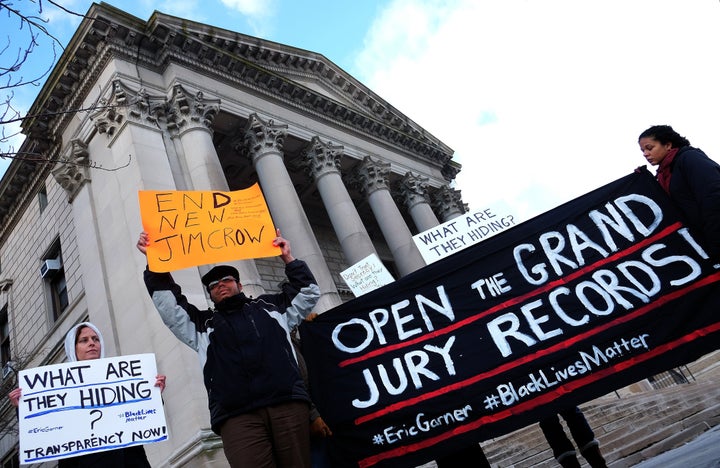 Fagan added there's "zero political upside" for Donovan's successor, Master, to convene a new grand jury.
"My guess is the politics would overwhelm any decision by any legal actor to intervene," he said. 
The Staten Island district attorney's office declined to comment for this story. 
The grand jury decision in December to not indict Pantaleo set off massive protests across the city and the country, and reignited calls for grand jury reform. Critics have long argued that local district attorneys have an inherent conflict of interest when prosecuting police officers, with whom they work closely on other cases.
"We have seen this all across the country where there's a lack of trust in the criminal justice system, triggered by a particular case," Cuomo told reporters after the executive order. "And the basic argument is always the same. That they don't trust the prosecution because of the connections with the police. And a criminal justice system doesn't work without trust." 
Garner's mother, Gwen Carr, supported Cuomo's executive order but has also remained steadfast in her call for the police involved in her son's death to be prosecuted. 
After the city announced it settled the wrongful death claim with the Garner family, Carr told reporters: "Don't congratulate us. This is not a victory. Victory will come when we get justice."
Convening a new grand jury in Staten Island could help toward this victory, Zuckerman said.
"I think people would have more confidence [in the criminal justice system] if there was another grand jury, and if the grand jury found that there was probable cause, a trial would be the ultimate justice test," he said. "I'm guessing that's what the family had in mind, that there'd be a trial of some kind -- a fair and partial trial to see what if the officers did rose to level of criminal conduct. But we can't get there if we can't get a grand jury to say there was a possibilty of criminal activity." 
Reached for comment Thursday, two of Garner's family members -- his stepfather, Ben Carr, and a cousin named Stephanie -- told HuffPost through a family spokeswoman, Cynthia Davis, that they weren't even aware another grand jury could be convened. 
"It took us by surprise," Davis said.  
Calling all HuffPost superfans!
Sign up for membership to become a founding member and help shape HuffPost's next chapter