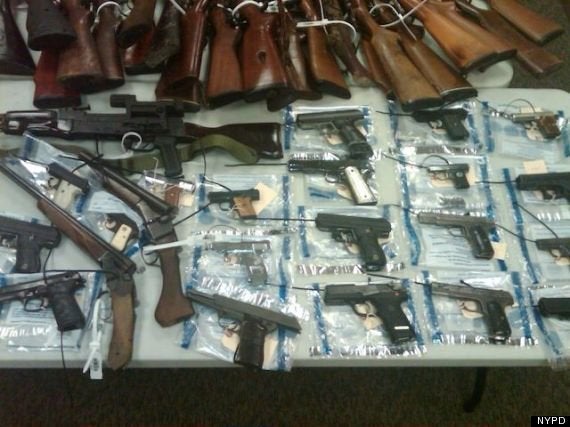 New York may have the toughest gun laws in the US, yet in the wake of mass shootings across the country this year, and continued gun violence in New York City, calls for even tougher laws continue.
The most recent poll shows 61 percent of New York voters think the state's gun laws should be stricter. 68 percent said they support limiting handgun sales to one per person per month.

[ARTICLE CONTINUES BELOW]
PHOTO GALLERY
Shocking Facts About Guns In New York
A Republican-held state Senate, however, has repeatedly voted down gun control measures passed by the Democrat-held Assembly.
The state Senate is now ruled by a bipartisan coalition and according to The Daily News, there could be an opportunity for gun control advocates to push through legislation in the upcoming year. The five breakaway Democrats that share control of the chamber with Republicans will be under "intense pressure" to pursue a gun control agenda after the shootings in Connecticut.
Governor Andrew Cuomo has said he'd make the issue a top priority in the upcoming year.
The Gotham Gazette details some gun control measures that will likely be proposed:
[Democratic state Senator Mike Gianaris] stood with his colleague, Sen. Jose Peralta on the steps of City Hall in late July, advocating for legislation that would allow a judge to take away a person's gun license after being found mentally ill. The bill, S.670, was Peralta's. Meanwhile, [Democratic Senator Malcolm] Smith touted a piece of legislation that would restrict the sale of high caliber magazines. Smith also spoke up about his continued support of microstamping.

"The blood stain of gun of violence will only grow larger until we resolve at every level of government — federal, state and local '— to bring common sense and sanity to our laws governing firearms availability, sales and possession," Peralta said in a statement Saturday.

"Now is the time and gun violence is the issue for Republicans and Democrats to do everything possible to find common ground," he continued.

Peralta wants bipartisan action on S.670, S.725 (a bill that would extend the exception that exists in New York City to the gun laws that permits be renewed every five years) and S.7829 (which would require background checks for sale of ammunition of any amount.
How have you been affected by guns? Email your story to openreporting@huffingtonpost.com.
Calling all HuffPost superfans!
Sign up for membership to become a founding member and help shape HuffPost's next chapter