Prolific filmmaker, Marc Levin, has been trying for some time to alert you to the changes that are taking place in New York City and its environs, and I think you should be paying attention. Marc Levin's film,"Class Divide," is a 74 minute documentary, the third in a trilogy of his HBO films, that examines the mounting economic divides and income disparity in New York. "Class Divide," looks at the current effects of gentrification in West Chelsea as seen through the eyes of students who have only to cross the street to experience a class divide.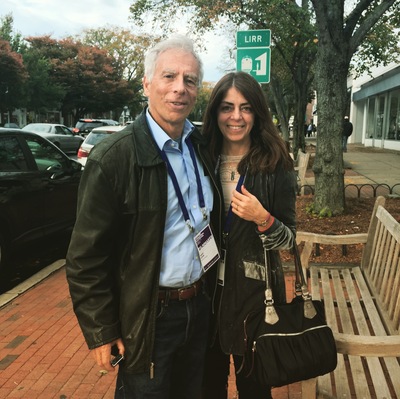 Director, Marc Levin, with, Nancy Abraham, HBO Documentary Films
Levin's first film of the HBO produced trilogy, "Schmatta:Rags To Riches," 2009, looks at the disappearance of the garment industry in NYC, where "the percentage of clothes made in this country has dropped from 95% to 5%." The second film,"Hard Times:Lost On Long Island," 2011, looks at a number of highly educated couples, (many with graduate degrees), who had lost their jobs in 2008, and struggle to find other work. The film makes the point that even for those individuals who are trying hard, have higher education and work experience, the economic reality is stark.
In this third film,"Class Divide," by giving us a wide overview, and context, of the landscape in West Chelsea, Levin helps us to see all the many forces of change at play in the neighborhood, some that advance the quality of life, as with the building of the High Line, and some, that point to a wave of development that will force out any economic diversity. The "blue skies ahead" will be filled with hi-rise luxury apartments with lap pools and car elevators overtaking the skyline. We learn in the film that "40% of the real estate in West Chelsea is owned by foreign buyers (Saudi, Russian, Chinese) who park their money there. It's not racism, it's classicism. They don't care about race, it's about what you have in NYC. 40% of low income housing is gone since 10 years ago. Since 2009, rent has risen 10 times."
Marc Levin talking about his film with David Nugent, Artistic Director of the Hamptons International Film Festival, October, 2015
"It's not just a Chelsea issue, a New York issue, it really is everywhere. How do we create a society that doesn't separate the super-elite, the super-rich from everyone else. It's a huge issue but we don't often get a chance to humanize it," commented Levin on why making the film was so important to him, and to HBO. As for the American Dream, Levin knows some feel it is disappearing. Levin did not want to make a political film but rather to put light on "how these forces impact real people and how that is sometimes missed." Noting that it is "poetic" that West Chelsea (with the new Whitney Museum and a plethora of art galleries) "is now the global art capital of the world. I took certain liberties as a filmmaker to make this more of a poetic rendering using the innocence of kids and their eyes and their hunger to figure out 'where do I fit in?'"
The main thrust of "Class Divide," is to look inside these two very different worlds namely, Avenues:The World School, and the Elliot-Chelsea public housing projects, as seen through the eyes of the kids ("Sheila Nevins idea") and see how it feels to them. In the film, we go inside Chris Whittle's remarkable private school, Avenues:The World School. We see what a privilege it is to be a student there (pre-K to 12th grade tuition is $40,000 per student) and meet some of the kids who attend the school. However elite, The World School is to be admired for its mission to produce students who will flourish and compete globally (every child takes classes in mandarin or spanish). We meet Yasmin, a curious, empathetic young female who wants to create a bridge of understanding with her 115 Step Project (the amount of steps between her school and the public housing). We meet Luc, a sensitive, caring young male, who, tragically, takes on the economic divide tipping in his favor, as a painful weight to bear.
Woven into the film is the story behind the High Line, a kind of yellow brick road leading to Oz right outside where The World School and the public housing projects are located. In the film, too, we, also, meet the NYC's developers, responsible for much of the building going on in the neighborhood.
Levin takes us inside the Elliot-Chelsea public housing projects to meet the families and students who live there in a totally different world. We are introduced to Rosa DeSantiago who lives with her family in the projects. Rosa has such a natural and straightforward personality and speaks with such realness that she quickly emerges as the heart of the film. We meet Danny, her brother, with big dreams.
"What came through to me," said Levin in conversation with the kids, "was an anxiety. They are seeing this in a fast-paced movie. The low-income kids are seeing the safety net being taken. They are wondering on both sides of the street."
In order to get the very personal interviews that he did, Levin said that he likes, "to make as small a footprint as possible...We like to get people at ease, use minimal lighting, really strip it down." Levin likes to use one camera, as his mentor, Albert Maysles, did. Levin worked with a team of talented cinematographers throughout. The one camera allows for greater intimacy, less crew, to make it less intrusive and more comfortable for interviews and mobility.
There were many components to bring together to get the film he wanted, historic footage, animation, interviews, not to mention, touching upon the many issues connected to the whole picture, immigration, affordable housing, the culture of the area. Levin's big concern was how to pull all these elements together, "How do you integrate all these pieces and never lose the emotional connection?" He found the right editor for the project, Ema Ryan Yamazaki, referred to him by Sam Pollard (Spike Lee's editor who teaches at NYU). Ema had grown up in Japan and had gone to an international school so the material felt personal to her. As for scoring the film, a serendipitous meeting with a friend led him to guitarist, Marc Ribot, who did the original score.
Run, don't walk, to see, "Class Divide." It gives the viewer incredible access to worlds you wouldn't otherwise have exposure to or know about. It will change you. The film makes you ask big questions about what is important for a quality of life. What kind of city has character and heart? Does someone have to become rich to live a valuable life? What makes a country powerful? What are we striving for? Is it really just about money? What matters? Will Rosa get a scholarship to The World School? Thank you Marc Levin and HBO for making this film.
Photo credit of Rosa: Courtesy of HBO
Other photo credits: Sally Fay
Popular in the Community