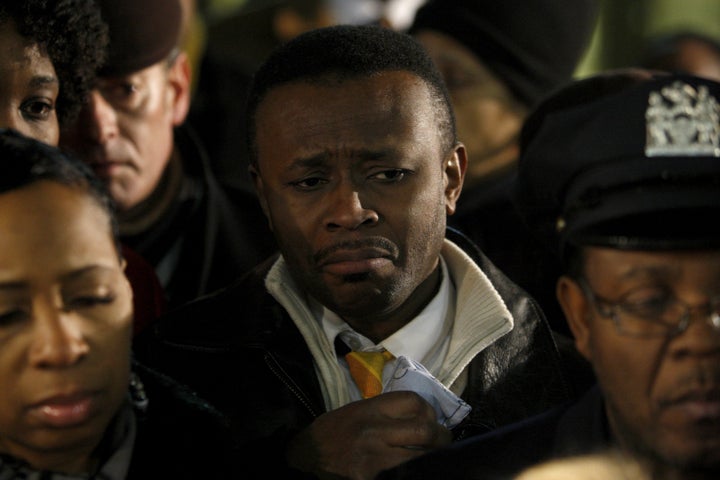 Last week there were just over 100,000 Haitians in New York. Now there are just over 8 million.
New Yorkers have bonded together and stepped up in this great time of need and are giving whatever they can, however they can.
Crain's reports that charities are receiving donations at a record pace, although organizers caution that "this is going to be a marathon," not a sprint.
In Brooklyn, two local radio stations have been broadcasting Haiti-related news non-stop.
Magician David Blaine has begun a 72-hour non-stop street magic performance in Times Square to raise funds for Haitian earthquake victims.
UPDATE 3:52 pm: Mayor Bloomberg has announced that city workers will soon be able to donate money directly from their paychecks.

********
The NYPD is readying a deployment of K-9 units to help with the search and rescue effort. Senators Charles Schumer and Kirsten Gillibrand have proposed a bill to offer tax breaks for charitable donations related to Haiti. Pras, the musician and former Fugees bandmate of Wyclef Jean, is volunteering at the Haitian Consulate in Manhattan.
And for the average New Yorker, Mayor Bloomberg has ordered that the city relay money from the Mayor's Fund to Advance New York City to relief efforts. All one needs to do to donate is call 311.
Mayor Bloomberg went on television yesterday to further discuss what New Yorkers can do to help:
Video of Mayor Bloomberg and Governor Paterson leading a press conference of city officials discussing the disaster in Haiti. Mayor Bloomberg told New York's Haitian community "Nous à vous," or "We are with you."
For those trying to find information about US citizens in Haiti, please call the American Citizens Service at (888) 407-4747.
This page will continue to be updated with more information about relief efforts as more news becomes available.
REAL LIFE. REAL NEWS. REAL VOICES.
Help us tell more of the stories that matter from voices that too often remain unheard.