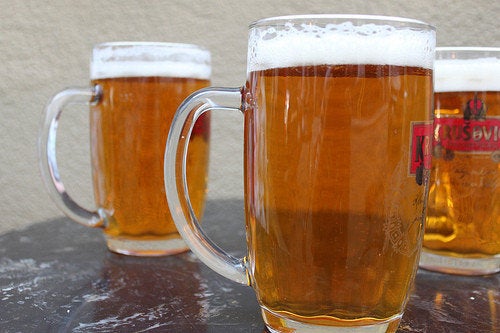 New York, when I was growing up, was a serious beer town, with commercial breweries like Rheingold, Ruppert, Schaefer and others dotting the cityscape. Jingles like "My beer is Rheingold, the dry beer," or "Schaefer is the one beer to have when you're having more than one" (we used to sing that one, sniggering, whenever we saw a heavily pregnant woman) were seemingly on everyone's lips. That I can still remember the words to these jingles -- which I haven't heard since I was a child -- will give you some idea.

New Yorkers of my generation also vividly remember the Miss Rheingold contest, which each year drew thousands of applicants. During the summer the pictures of the six finalists -- all of them beautiful young women -- would appear in stores throughout the city. Young girls like me would hope and pray that someday our pictures might be among them. Men would just buy the beer.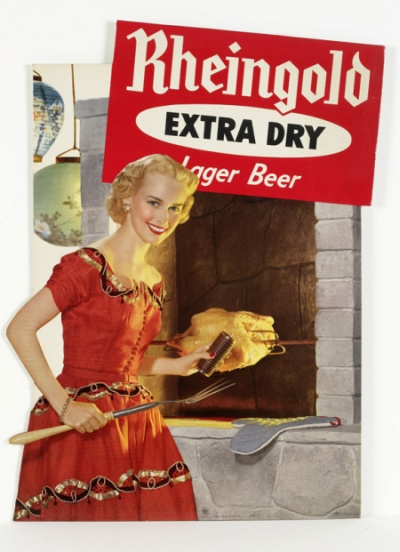 How popular was the contest? In 1956, the year that Hillie Merritt won, it's said that almost as many New Yorkers cast a ballot for Miss Rheingold as voted in the presidential election. In 1964, when I took my first solo trip on the subway to visit the New York World's Fair, I found that year's Miss Rheingold, Celeste Yarnall, hosting the brewery's "Little Old New York" pavilion.

As it happened, Celeste Yarnall would be the last of the Miss Rheingolds. The contest ended after 1964. Marketing was changing, and so was the urban landscape. In 1965, the huge Jacob Ruppert Brewing Company on the Upper East Side closed, after almost a hundred years in operation, to be replaced by residential towers.

The culture of beer in New York has changed -- but it has never been lost. As proof, I got to meet Hillie Merritt just recently, when I asked her to lend us her Miss Rheingold gown for a new exhibition we're organizing, titled Beer Here: Brewing New York's History.
Beer has in fact been integral to the city's history since the earliest days of European settlement, when it was generally safer to drink than the water and a vital source of both nourishment and tax revenues. The Dutch West India Company established a brewery and tavern in New Amsterdam between 1642 and 1644. By 1810, New York State was home to the largest brewing industry in the nation. Despite periodic efforts to restrain drunkenness (such as an 1855 temperance law), the state continued to lead the nation in brewing through the 1880s, when 405 breweries were active.

Like most large industries, the big breweries are now gone from the city -- but thanks to the 1979 Cranston Act, which legalized craft and home beer brewing, New York's beer culture has lately entered a new phase. We're going to install a small beer hall in our exhibition Beer Here, where visitors can sample some of the city and state's modern artisanal beers -- along with the recently revived version of Rheingold. As we like to say at New-York Historical, history matters. Sometimes it even foams.
Calling all HuffPost superfans!
Sign up for membership to become a founding member and help shape HuffPost's next chapter