You can love it or hate it, but NYC embraces the act of eating while walking, talking, shopping, working, or commuting, and elevates it to an art form. This is not universally acceptable and it seems as though we Americans have perfected the skill. Whether it's the result of our obsessive multi-tasking culture or simply the result of lax dining standards, it is a cultural signature and the culinary adventures are everywhere. Here are some highlights of seasonal on-the-go dining opportunities in Manhattan.
The jointly operated holiday markets in Union Square and Columbus Circle are well curated and stocked with a delightful range of interesting and affordable gifts. But the best part is the food stalls.
I arrived hungry on Saturday, eager to explore. Though I don't eat meat, my companion did and it does not stop me from enjoying the creativity on the menu. First stop: La NewYorkina featuring Mexican hot chocolate and very tempting goodies like candied pecans, spicy candied oranges and coconut lime macaroons. I was thrilled to discover Mmm...Enfes and their heirloom recipes of Turkish specialties. I devoured a portion of dolmas. Mayhem & Stout had the most mouthwatering sandwiches with slow-braised meats (pulled chicken and short ribs brisket) with a choice of add-ons (pickles, onions, jalapeño escabeche, baby arugula, shaved Brussels sprouts).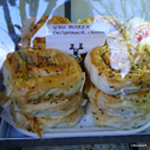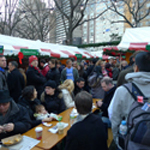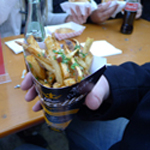 German Delights ("there's a little German in everyone") touted their bratwurst and BBQ Sausage (eat here or take home!). La Sonrisa and their five choices of empanadas and Café con Leche, was busy. At The Fat Beagle (southern comfort food) the lines were for pepper vinegar pulled pork rolls with shaved green apple coleslaw or stout-braised beef brisket with crispy onions and horseradish cream. If that wasn't tempting enough, there was a choice of sides -- sweet potato mash with bourbon crumble or roasted Brussels sprouts.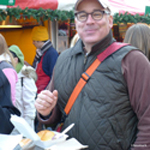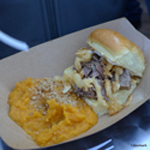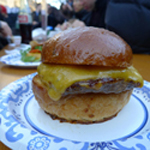 I dodged the parade of drunken Santas (it was SantaCon) to get to the subway and Union Square, which is characterized by Eric Pierre, market manager, as attracting "a trendy, hipster crowd" juxtaposed to the more high-end market in Columbus Circle. Some intriguing offerings were vegan Iranian dishes from Taste of Persia, macaroons (which were highly rated by my daughter who ate her box in one seating) and a very clever meatball kiosk, Mighty Balls. With a name like that, it's gotta be good. Pork, beef, turkey or veggie balls with the most intriguing selection of toppings -- I had a veggie slider with a spicy African onion relish. I will be back this week for more, though perhaps with the "tempting tomato" topping (the spice that induced hiccups was a little too intense). Before jumping over to visit the neighboring Greenmarket, I visited the Breezy Hill Orchard stand with their fantastic gingerbread boys and girls.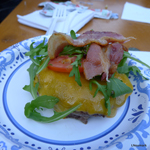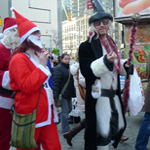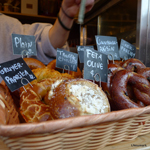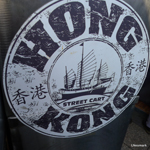 I was hungry again Sunday morning -- for some new adventure and some more food. The stalls in Bryant Park were calling! I began to wonder about the cost of the booths and the economics of it all. Prices are determined by booth size and length of the market. The Urban Space markets run from late November till Christmas. A half booth is about $5,000. Booths in Bryant Park, which run for 74 days from late October into January, are more, also depending on location and size. Still, for many small specialty vendors, it is great exposure without the commitment of a long-term lease. And the health department keeps close tabs on all food vendors (from specialty markets to farmers markets, food trucks and carts and flea markets), requiring licenses and inspection of prep facilities, garages and work sites. So even if it looks casual, it is not. It is a big business with several companies involved in producing and promoting events that range from a day to several weeks.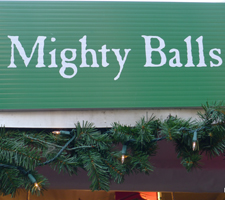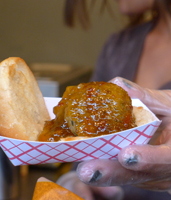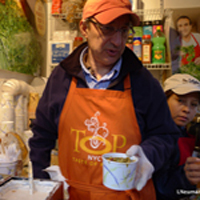 I found the same Turkish food in a booth on West 42nd Street and this time tried the Lentil Ball, which was incredibly delicious and much more deserving of its authentic name -- Mercimekli Kofte. I took some to-go along with a Turkish Sour Cherry beverage. And I will be back there for sure. It was the meatiest vegetarian item I have enjoyed in over three years. Their number one seller, however, is the Gözleme (a wrap with meat and spices). The young woman who served me is a proud first generation American-Turk and explained that they were all "family."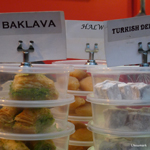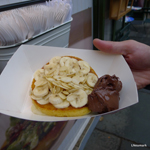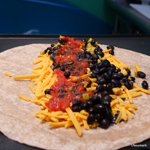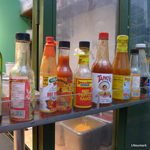 Other highlights in case you find yourself in Bryant Park to skate, shop or coming from the library, include the burrito guy with a great collection of hot sauces; Toparepa (Just the way it sounds -- cheese arepas grilled and topped with your choice of creative mix; the hot cider team with Red Jacket cider; the charming off-season golf guy tending Le Churreria for his friend (beef empanadas are number one) and finally, the passionate fellow at Jammin' Nut-- one of the more creative and "nutty" collections of sandwiches. The big idea here is luscious local homemade jams from Beth's Farm Kitchen paired with wild and crazy peanut butter mixtures. #1 -- crunchy peanut butter with chili pepper jam, #2 -- the skinny Elvis -- a peanut butter with banana chips and date honey. (Someone will be getting a jar of that from me for the holiday!) There was Pickle Me Pete with top sellers -- kosher dills, half sour and full sour -- all ready to sell some fried pickles; Daisy's Grits getting off to a slow start, freshly popped kettle corn from Kettle Corn NYC (popped on site!) and an earnest and earthy organic-vegan booth, two tablespoons.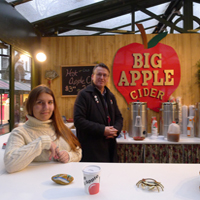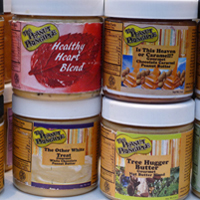 In the sweet as well as very attractive category, I vote hands down for Dough! Now I might be biased, as their sufganiyot -- a fried doughnut Hanukah tradition -- won my heart at the 4th Annual Latke Festival at BAM last week. If I were going to indulge again, it would have been right there.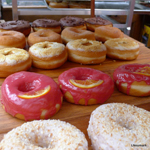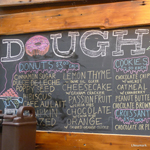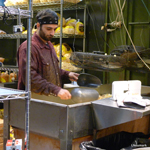 Thinking about latkes meant I had to take one more subway ride to the Seaport, where my colleagues were setting up the Great Performances Latke Table at this week's New Amsterdam Market. The cold wind off the East River and the steady light rain was not enough to keep those lovely latke ladies from selling hot & crispy handmade latkes (your choice of topping) on this last day of Hanukah. The top topping was sour cream & applesauce, followed by smoked salmon salad & pickled beets, and in third place, Greek yogurt with honey & pomegranate seeds. Tradition!
So, if you are planning on heading out these next few days to discover those last-minute/hard to find gifts, you are in luck -- you can find inspiration on a full stomach. But what did we do before the time of fancy vendors with craft pretzels, brisket sliders and pomegranate lemonade? There were the original New York carts with classic winter items like chestnuts (roasting on an open fire), hot dogs and pretzels (your choice, salty, soggy, hot or cold -- with or without mustard!) As for artisanal toppings, would you like ketchup or mustard on your dog?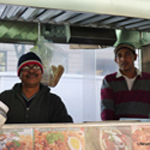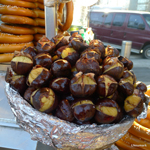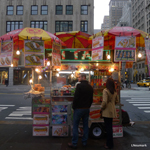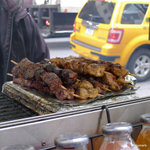 REAL LIFE. REAL NEWS. REAL VOICES.
Help us tell more of the stories that matter from voices that too often remain unheard.