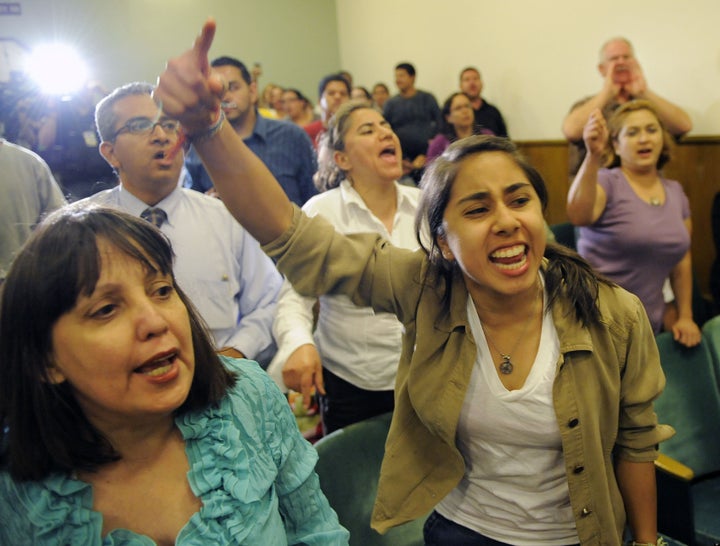 Manhattan residents were already irked when they arrived for a meeting about repurposing an Upper West Side hotel into a homeless shelter. But when government officials didn't even show up, the crowd -- packed into a standing-room-only space -- assumed they were trying to dodge a bullet.
WPIX captured attendants' reactions to what they called a "cowardly" act by the Department of Homeless Services and Samaritan Village, the nonprofit that will operate the homeless facility.
"They were scheduled to come, and about an hour before the meeting they cut and run. Because they're afraid to confront people with the awful facts of this shelter. It is an inappropriate use of the building."
"This is one of our main concerns about the city putting [homeless facilities] in SRO buildings," Weithman said. "It's a lot money and there are high stakes for these owners, and we see tenants forced out. This is permanent housing that we'd like to see kept as permanent housing."
The site reports that the landlord has offered residents $50,000 and three years rent if they relocate to a building next door. The DHS signed a nine-year, $8 million-a-year contract with Samaritan Village.
Besides being a cheap option for low-income residents, the hotel also rented leftover rooms to tourists on a budget. The city has now banned single room occupancy buildings from functioning as revolving door hotel rooms for tourists, a law that will take effect in March.
REAL LIFE. REAL NEWS. REAL VOICES.
Help us tell more of the stories that matter from voices that too often remain unheard.