NEW YORK -- Ten years ago, William Burnett often spent his nights sleeping on the New York City subway. It was better than his other option: a shelter on Wards Island where he said two rival gangs, the Bloods and the Latin Kings, were "trying to outdo each other over who could terrorize" the shelter's homeless occupants.
After members of the Bloods repeatedly tried to extort money he didn't have, Burnett, now 45, decided he "needed to disappear."
"So for months after that, I was riding on the trains," he recalled, adding that he was just "trying to stay alive and not get cut."
These days, Burnett is a board member at Picture the Homeless, a leading advocacy group for New York City's homeless. Earlier this year, he got into a housing program that helps veterans and their families.
But for many of New York City's homeless, he said, the subway is still their safer option, particularly in the winter when temperatures drop.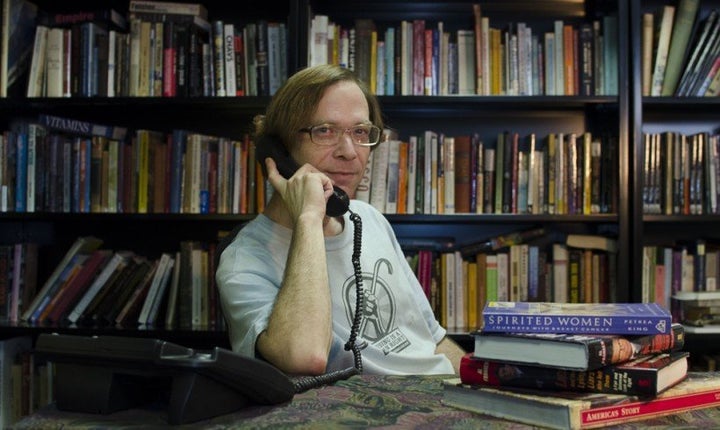 That's why Burnett is concerned about comments this week from New York City Police Commissioner William Bratton, who said sleeping on the subway wouldn't be tolerated this winter.
If police are going to increasingly "harass or ticket" people sleeping on the subway, Burnett said, that's "de-humanizing" and "criminalizes the poor."
Bratton told reporters this week that the city's "subways are not for sleeping, and I wish we could have people understand that."
"Subways are not homeless shelters, and the homeless will not be allowed to congregate in them," the commissioner said. "The city has more than adequate shelters in other facilities."
"The homeless will not be allowed to take up residence on the platforms or on the subway cars," he added.
Metropolitan Transit Authority guidelines prohibit "lying down or taking up more than one seat" while riding the subway, as well as "sleeping and dozing if it is hazardous or interfering with fellow passengers." It's a violation to rest a foot on a seat, even if much of the train is empty. Additionally, people may not "block free movement on a station, stairway, platform or conveyance."
The NYPD has discretion in enforcing these guidelines, including whether a violation results in a ticket or an arrest. In September, Bratton consulted with the city's legal counsel on how officers could more proactively -- but still legally -- deal with the homeless.
"We're talking with the Corporation Counsel, Zach Carter, about taking a fresh look at some of the laws or interpretations of the law in the last 20 years that have mitigated officers taking action they've taken for many years," Bratton told Metro New York.
"If a homeless person pays to get onto the train and if he's not doing something, there's no crime -- unless poverty is a crime."
Burnett worries that such a shift in police practice could lead to the homeless being unfairly targeted.
"How are they differentiating between people who are [legally] catnapping versus people that are homeless?" he said. "You have to establish why it's legal for one person to catnap, but it's illegal for one person with nowhere to go to sleep."
A spokeswoman for Mayor Bill de Blasio told CBS that since July of last year, the city has "moved 773 chronically homeless individuals from the subway into transitional and permanent housing as well as to shelter and other programs. We continue to add case managers and clinicians to assist those on our streets." Additionally, the city has homeless outreach teams deployed 24/7 in all five boroughs, checking in on all 468 subway stations.
Burnett said such efforts are a "good thing." What he's worried about is bringing law enforcement into the equation. The homeless, he said, "shouldn't have to have interaction with police."
"If a homeless person pays to get onto the train and if he's not doing something, there's no crime -- unless poverty is a crime," Burnett said.
Currently, over 57,000 New Yorkers sleep in city shelters each night, a slight drop from the historic high of 59,000 last year, according to the NYC Department of Homeless Services. Another 3,000 to 4,000 people sleep outside on the streets or on the subway each night, the city estimates -- though homeless advocates put that number much higher, at between 6,000 and 12,000 people.
Despite heightened criticism, the NYPD continues to raid homeless shelters, waking people out of their beds and arresting them on old warrants often issued for petty crimes -- a tactic that homeless advocates have blasted as counter-productive.
"The people who hang out around 125th Street aren't invaders from another planet," said Christopher Parker, another Picture the Homeless member, in a statement. "They're from Harlem, and this is what they know."
"I live in a shelter, and let me tell you, I can understand why people choose to live on the street," Parker continued. "Shelter staff treats me like crap, case workers don't know anything and can't help anyone get out of their homelessness situation -- the whole system needs to be changed. Shelter shouldn't be a jail, and you shouldn't get put in jail for being on the street!"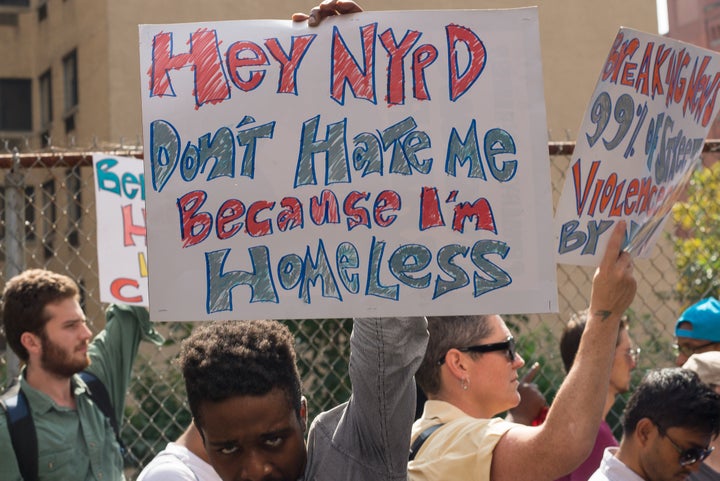 Burnett thinks New York needs to address the homelessness problem at its root, by creating "low-income housing for people" and moving them out of the shelter system altogether. Studies show that when the formerly homeless are living in their own apartments, they are jailed and hospitalized at drastically lower rates, which ultimately can save cities millions of dollars in incarceration and health care costs.
Criminalizing the indigent, Burnett said, can also have a terrible psychological impact.
"A homeless person is a person," he said. "You don't know what he's going through. A homeless person doesn't want to be on that train either, any more than you don't want him to be on that train."
"He would like to be at home in bed," Burnett said.
Related
Popular in the Community