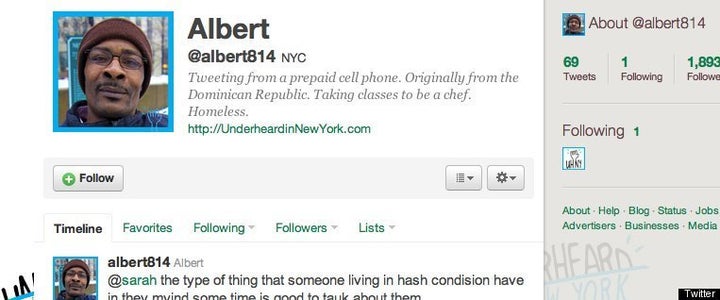 For most of the homeless who live on New York's cold streets, Web 2.0 is probably the last thing on their minds. But a select few have been introduced to a whole new world on Twitter -- and are, in turn, sharing their stories.
Three interns at New York creative advertising agency Bartle Bogle Hegarty developed Underheard in New York, to give the city's homeless a way to tell their stories.
They then provided four homeless men prepaid cellphones and Twitter accounts, Mashable reports.
The interns provided the men with Twitter training in hopes that offering the public a true glimpse of homelessness would encourage help for the men in turning their lives around.
"Danny said he always wanted to tell his story, but hadn't because he thought no one would be interested."
All four men have each gained about 2,000 followers on Twitter and are being offered words of encouragement and even job leads.
Derrick, one of the homeless men, tweeted about his efforts in getting a job:
"The employement agency will open at 9:am, I will travel to the Bronx, NY in order that I may iron my suit and shirt."
And Danny, one of the other homeless men, shared his Valentine's Day sentiments:
"Today is a lonly day for a homles person noone to talkto i wich i can bewithsomebody love always putodanny"
Last fall, Mark Horvath launched We Are Visible, an initiative that also empowers homeless people through social media. We Are Visible The site teaches homeless people online tools to share their stories.
Underheard in New York cited We Are Visible as inspiration to their project.
All four have found support at the New York City Rescue Mission. Click below to donate.
Calling all HuffPost superfans!
Sign up for membership to become a founding member and help shape HuffPost's next chapter