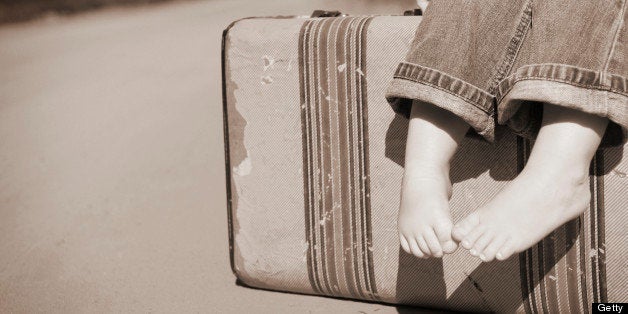 Today there are nearly 49,000 homeless people in NYC, including almost 12,000 families and 21,000 children. Those who oppose any change to the city's "right-to-shelter" policy argue that it must stay in place to protect our most vulnerable population. Others (some of whom are candidates for mayor this year) claim that the right to shelter should be abolished, that it is not necessary and is abused. A person truly in need of shelter, they insist, will get it.
As in almost all debates, the truth falls somewhere in between. By reviewing situations of several homeless families in New York City, we can better understand the dichotomy of positions concerning the right to shelter.
First, almost 10 percent of all currently homeless families in the New York City shelter system come from outside the city. Ms. A arrived from Florida. Surfing the Internet, she discovered that New York City has the best services for homeless families; so she is now in a shelter here. Or how about the young mother who was residing in a shelter in Connecticut until she had a baby? That shelter then bought her a bus ticket to New York City; she is also in one of our shelters. The city's right-to-shelter policy appears to be a magnet for outsiders in need.
As to the argument that without the right to shelter, those in need would be turned away unjustly: look at the case of Ms. B, who worked while living in a city shelter on a long-term basis. She refused to follow the facility's rules, consistently placing herself and her daughter in unsafe situations. When the shelter told Mrs. B that she had to leave, she didn't return to the city for help but found an alternative source of housing. The city didn't deny her shelter. She was, as they say, "working the system." And what of those who regularly disappear from shelter, leaving their rooms empty, only to return days later? Do they have alternative housing options too?
Still, there are those who are truly in need of shelter and for whom the system is the safety net it is supposed to be. Ms. C, for example, grew up in foster homes and became a victim of domestic violence as an adult. Consequently, she and her child ended up in a shelter. She has an associate degree and, while in shelter, worked toward earning her nursing certification. Because she has started a new job, the shelter staff were able to help her secure a new apartment. The system worked for Mrs. C and her child, just as it does for thousands of other families.
The simple point here is that there are exceptions to almost every rule, and there should be for the "right to shelter," as illustrated by the examples cited above. Still, some would argue that we shouldn't tamper with precedent. They should, however, consider this: As far back as 1661, the Dutch administrators of New Amsterdam established a right to assistance and shelter for the needy, but in order to qualify one had to have been a resident of the settlement. In addition, the practice of repatriating vagrants to the colonies from which they had come was common in the colonial period. As long ago as 1720, when Ann Thorp and her three children were transported by coach from New York City to Woodbridge, New Jersey, to live with Ann's husband, the local government paid her way. And in 1784 after the Revolution, the state assembly reestablished the residency requirement for assistance and shelter in New York. Even the U.S. Supreme Court supported New York State's one-year residency requirement for receiving assistance under the state's social welfare law of 1940. The residency requirement was later struck down in 1969 but I would argue that the Supreme Court got it right the first time. What we have here is historical precedent, and if it made sense then, why not now?
In essence, the "right to shelter" is a privilege, not a constitutional right, and if abused it should be changed. Washington, D.C. and Philadelphia both reversed their right-to-shelter decrees after experiencing a litany of unanticipated problems. New York City, for its part, should not simply rescind its policy but begin discussing, without fear, how to improve upon it.
New York City has always provided for those in need. What is in question now is how to do so in an efficient, effective, and humane way, one that is fair to both those citizens truly in need and those New Yorkers who are paying the bill.
In the end, flexibility has always allowed this city to progress and grow. It's time to practice that kind of thinking again, with regard to the city's "right-to-shelter" homeless policy.

Ralph da Costa Nunez is president and CEO of the Institute for Children, Poverty, and Homelessness.
Related
Popular in the Community