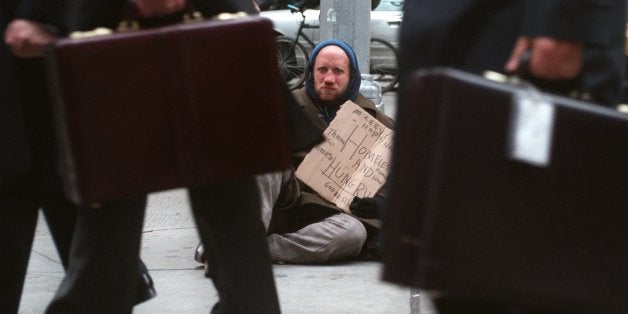 Income inequality is in full swing around the Big Apple.
The number of homeless people living in shelters broke a record this week, according to WNYC, with over 56,000 individuals in need of stable housing. While tens of thousands of New Yorkers are simply trying to survive, however, the news source noted that a record number of billionaires are living in the city that never sleeps: According to the Wealth-X and UBS Billionaire Census 2014 released last month, New York City is home to 103 billionaires -- more than any other city in the world.
"What a shameful record, that we have a record number of homeless people living in shelters today -- of all times in the city's history -- when there is so much wealth, so much prosperity, when neighborhood after neighborhood is gentrifying," Brian Lehrer, host of "The Brian Lehrer Show," said on WNYC.
The widening gap between rich and poor is a growing problem in the U.S. As NPR reported last week, income has fallen flat between 1975 and today (adjusting for inflation) for the economic bottom half of Americans, while it increased exponentially for the wealthy, growing 36 percent for those at the 95th percentile.
New York is among the country's worst offenders. A 2014 Brookings study showed New York sits behind Atlanta, San Francisco, Miami, Boston and Washington, D.C., as America's most unequal cities in terms of income. A 2009 survey revealed that the top 1 percent of New Yorkers raked in nearly one-third of the city's total personal income, The New York Times reported.
But New York is fighting back. Gilbert Taylor, commissioner of the Department of Homeless Services under Mayor Bill de Blasio, told WNYC that new city approaches will prevent at-risk individuals from falling through the cracks while helping those in shelters find permanent housing.
One of those approaches, Taylor said, is the HomeBase program, which provides a variety of resources to families, such as assistance working with landlords, financial planning advice and help finding more affordable housing. The program, which Taylor said has "demonstrated effectiveness," has recently expanded its work through 23 separate offices from 14 previously, offering more resources to more families.
Calling all HuffPost superfans!
Sign up for membership to become a founding member and help shape HuffPost's next chapter
BEFORE YOU GO
PHOTO GALLERY
Countries With Most Billionaires, 2013 and 2023