 NEW YORK -- Two days after New York City closed its subway system in the face of Hurricane Sandy, swarms of New Yorkers made their way over the Queensboro and Williamsburg bridges by foot and by bike -- forms of transportation that may become more familiar as the Metropolitan Transit Authority and others indicated Tuesday that it may take weeks to restore the MTA for its roughly 8.7 million daily riders.
In a press conference Tuesday morning Mayor Michael Bloomberg did not attempt a firm estimate of when New Yorkers may be able to resume their normal commuting routines, describing the challenges the city faces in the coming days as "enormous." By Tuesday evening, Bloomberg told reporters that the city's subway system would remain closed for at least, "four to five days."
"The work is well under way," Bloomberg said Tuesday morning. "East River bridges have already been reopened. The work of getting our mass transit grid and our power grid restored, however, is going to take more time and a lot of patience."
Authorities are calling the super-storm the worst disaster to hit the city's subway system in its 108 years of existence. The MTA planned to resume limited bus service by 5 p.m. Tuesday, but the subways remained shuttered following flooding in seven tunnels under the East River. While Bloomberg declined to give specifics, other city authorities and outside experts indicated that the timeline for reopening New York's vast subway and commuter train systems could stretch well over a week.
Jay Jayakrishnan, a professor of civil and environmental engineering at the University of California Irvine, estimated that it could take the city at least three days just to pump out all the water from the various flooded tunnels, beyond the further inspection necessitated by the damage. Complicating the clean up is the corrosive capability of salt water.
"It will cause corrosion to the signal systems of the trains, even after three or four days. They will need time to inspect that," Jayakrishnan said.
On top of that, Jayakrishnan noted, while some pieces of equipment may just need to be cleaned, others might need to be replaced. MTA may have some of that equipment on hand, but in other cases, it may have to be ordered and delivered.
In the interim, the city will likely have to depend on a network of buses operating on express routes, water taxis and ferries to move the millions of people that the MTA transports daily.
The city would be wise to start bussing people to and from Manhattan to reduce the number of cars on the road and to potentially regulate how many vehicles travel into the city at any given time, Jayakrishnan said.
"You make the assumption that the subway might not be up for 10 days," Jayakrishnan said. "You make that assumption, and you put in some traffic measures."
David King, an assistant professor of urban planning at New York's Columbia University and a transit expert, cautioned against pinning down a timeline.
"I wouldn't venture to put a number on it," King said. "But getting the subways back up and running is going to take a while, probably longer than most people think."
Though experts both outside and inside New York are unsure of the scope of the damage, firsthand accounts also indicate that portions of the system took on significant amounts of water.
Among the most damaged transportation pathways was the Hugh Carey Tunnel -- formerly known as the Brooklyn-Battery Tunnel -- according to two Department of Transportation workers who brought in emergency generators to power a pumping system late Monday night.
"The amount of water coming over the sea walls, we just couldn't, our system just couldn't handle," one of the workers said.
The men, who declined to give their names to The Huffington Post because city policy forbids unauthorized contact with reporters, were driving through midtown Tuesday continuing to work on little sleep. Before the pumping began the previous evening, one of them had to abandon his vehicle as it became submerged near the tunnel. He promptly produced a cell phone picture of his truck drowning, with only its roof peeking out from the flooded area.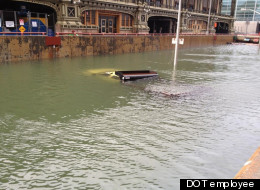 To prevent these sorts of problems in the future, King said, the public has to become realistic about what storm protection really means.
"MTA can barely get the funding they need for existing capital projects and to avoid cuts in service," King said. "Can you imagine what would happen, what would be said if these guys said, 'OK we also need money to seal the tunnels in case of a storm. That won't make anybody's life better most days, but we need it.' That's just impossible."
King is unsure that Hurricane Sandy will serve as a catalyst for that kind of forward thinking. Devastation and casualties have not always been enough to change the current of spending.
"When the [Interstate] 35 W Bridge collapsed in Minnesota, that was supposed to be a watershed moment that made us understand that we need to start investing in bridges and other parts of our crumbling and aged infrastructure," he said. "That didn't happen."
But what may shift public thinking, he said, is repeated storms and constant subway system shut downs.
"People are willing to put up with extra regulations in California to keep their air clean and build buildings that will withstand earthquakes," King said. "If the risk is real, people will respond."
Indeed, for many New Yorkers such risks became real, even devastating, this week. The storm's impact made the country's most populous city seem instead to be a smaller community, capable of being deeply effected by a mammoth storm. Many residents accustomed to total mobility by relying on the country's largest transit system have been reduced to island dwellers alone, virtually trapped without access to the city's network of bridges and tunnels.
"It's like 'Lost', down there," Patrick Chan told The Huffington Post Tuesday as he was making his way across the Queensboro bridge to camp out with friends in Astoria, having walked all the way from the Lower East Side of Manhattan, where he lives. "There's no power, no cell phone service, no water until you cross [north] of [the] United Nation's Plaza."
At the Affinia Dumont hotel on 34th Street near Lexington Avenue Tuesday morning before the bridges reopened, a group of New York University hospital employees spent the morning sitting in a circle in the dimly lit lobby on their cell phones, struggling to figure out how they were going to get home. They were also still reliving the stress of the night before, after being evacuated when massive flooding began in the basement of the NYU Langone Medical Center.
"It was almost like a roaring river down there," said Laurian Deep, who lives in Danbury, Conn. and works as a production coordinator in food services for the hospital.
Deep and her colleagues were put up at the hotel for the night, but they woke up with no power, no water and no way to get home.
"As soon as the bridges open, I'll walk over," said Orlando Ramos, an executive chef with the hospital. He estimated it would take him two hours to walk to his house in Ridgewood, Queens, but he was desperate enough to get home.
"It's hopeless right now," he said.
Hours later on Tuesday, pedestrian traffic was once again allowed over the bridges. Chris Hill of Jackson Heights, Queens, had to work Tuesday and ended up walking two hours straight to get to his job at one of the city's 311 call centers.
"I had to work," Hill said. "Today I'm trying to get there. And really, so far, it's not too bad."
With subway service indefinitely suspended, Hill could not take his usual Number 7 subway line into Manhattan.
By mid-afternoon Tuesday, hundreds of people streamed across the region's bridges in cars, taxis and on foot. Some borough residents headed into Manhattan just to survey the damage and quell their cabin fever. Others headed in the opposite direction to the homes of friends and relatives in Brooklyn and Queens who still have power. It's estimated that 750,000 people in the city lost electricity. Much of Manhattan above 30th Street maintained power throughout and after the storm.
Max Sarinsky, a law student at New York University and resident of the East Village, said he lost power at around 8:30 p.m. Monday while cooking dinner. On Tuesday, he packed a canvas bag of perishables, grabbed a container of Silk soy milk for the road and headed towards the Manhattan Bridge on foot to go stay with his father in Brooklyn Heights.
"Walking is obviously not ideal," Sarinsky said. "But what can you do?"
*************************
The Huffington Post is eager for insights from our community, especially people with experience in power, infrastructure and engineering, on the adequacy of emergency preparation in advance of Hurricane Sandy, and the degree to which past disasters have informed adequate planning and construction. Please send a note to sandytips@huffingtonpost.com with insights and suggestions for the important questions that need to be asked of relevant private sector and government officials, and point us toward stories that need to be pursued.
Related
Before You Go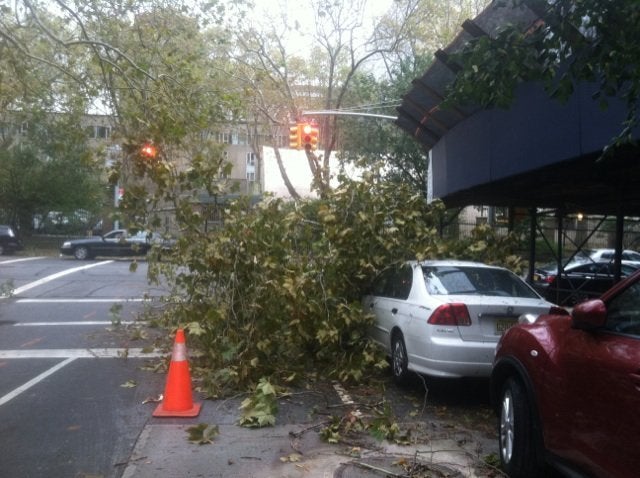 Hurricane Sandy Transit Aftermath
Popular in the Community