The 12th Annual New York Indian Film Festival (NYIFF) played over Memorial Day Weekend at the Tribeca Cinemas and NYU's Skirball Center for the Performing Arts. Presented by the Indo-American Arts Council (IAAC), the Festival opened with the world premiere red carpet screening of Bedabrata Pain's Chittagong at the iconic Paris Theater, a Q&A with its director/producer, and a VIP gala dinner at the Jumeirah Essex House Ballroom.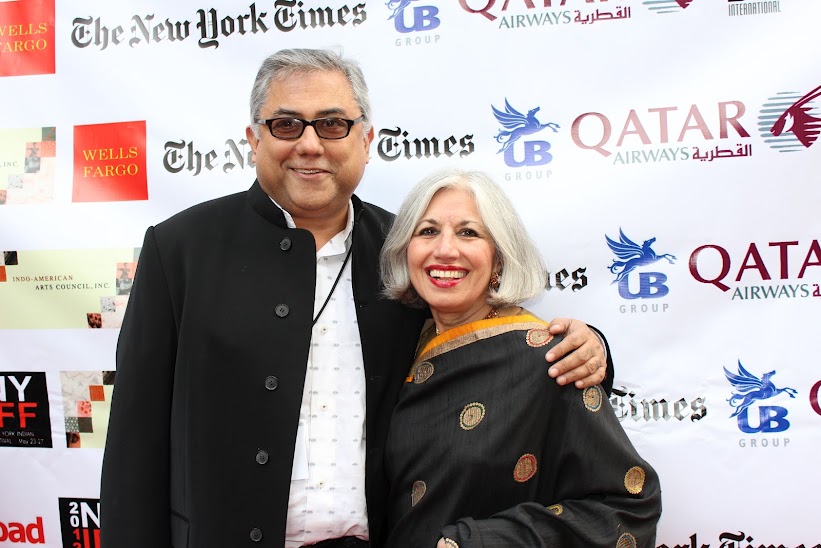 Aseem Chhabra, director of the New York Indian Film Festival (NYIFF) with
Aroon Shivdasani, founder/director of the Indo-American Arts Council.
Photo courtesy of Archana Desai.
A plethora of award-winning, controversial, and ground-breaking movies were presented to the New York City cognoscenti who attended. It was a staggering line-up for the longest-running and most prestigious showcase of Indian films in the United States. The Festival has never been bigger: more than 50 features, documentaries and short films were screened, attracting high profile celebrities and guests.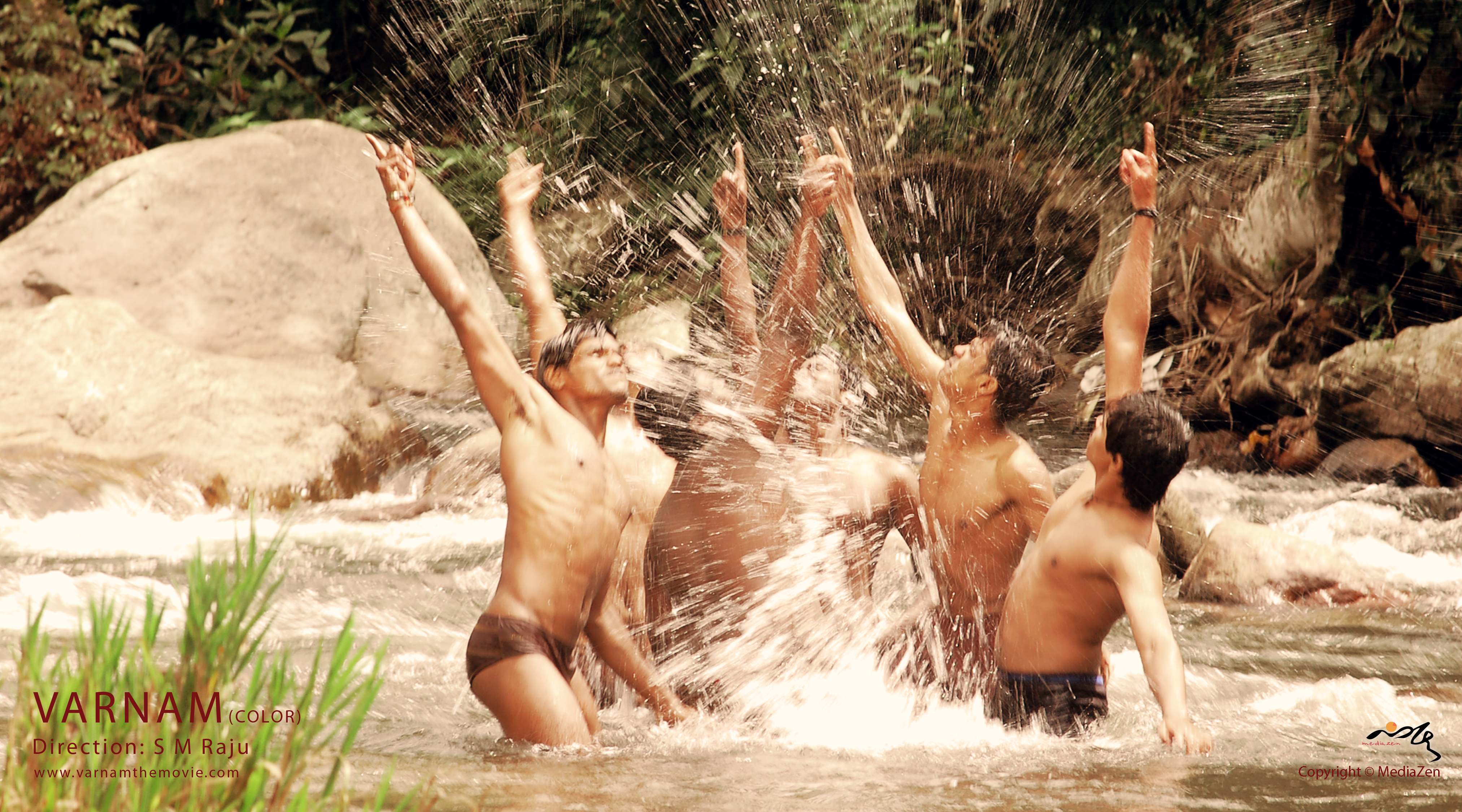 A scene from "Varnum." Photo: New York Indian Film Festival.
The centerpiece film was Rituparno Ghosh's Chitrangada, right off the cutting room floor, which had its world premiere at the legendary Tribeca Cinemas. Anurag Kashyap's Gangs of Wasseypur closed the New York Indian Film Festival at N.Y.U.'s impressive Skirball Center. This Festival ended with an awards ceremony and closing night party sponsored by Wells Fargo. This closing night film debuted two weeks ago at the prestigious Festival de Cannes 2012.
The winners of the 12th Annual Indian Film Festival were Gattu by Rajan Khosa (Best Film; Gattu; Best Young Actor Mohammad Samad), Shala (Best Screenplay to Avinash Deshpande; Best Director Sujay Dahake), Dekh Indian Circus (Best Actor Nawazuddin Siddiqui and Best Actress Tannishtha Chatterjee), Oscar Award-winning Saving Face by Daniel Junge and Sharmeen Obaid-Chinoy (Best Documentary) and Bombay Snow (Best Short Film). The Lifetime Achievement Award was presented to director Shyam Benegal and the Special Contribution to Indian Cinema Award was presented to actor/director Rituparno Ghosh.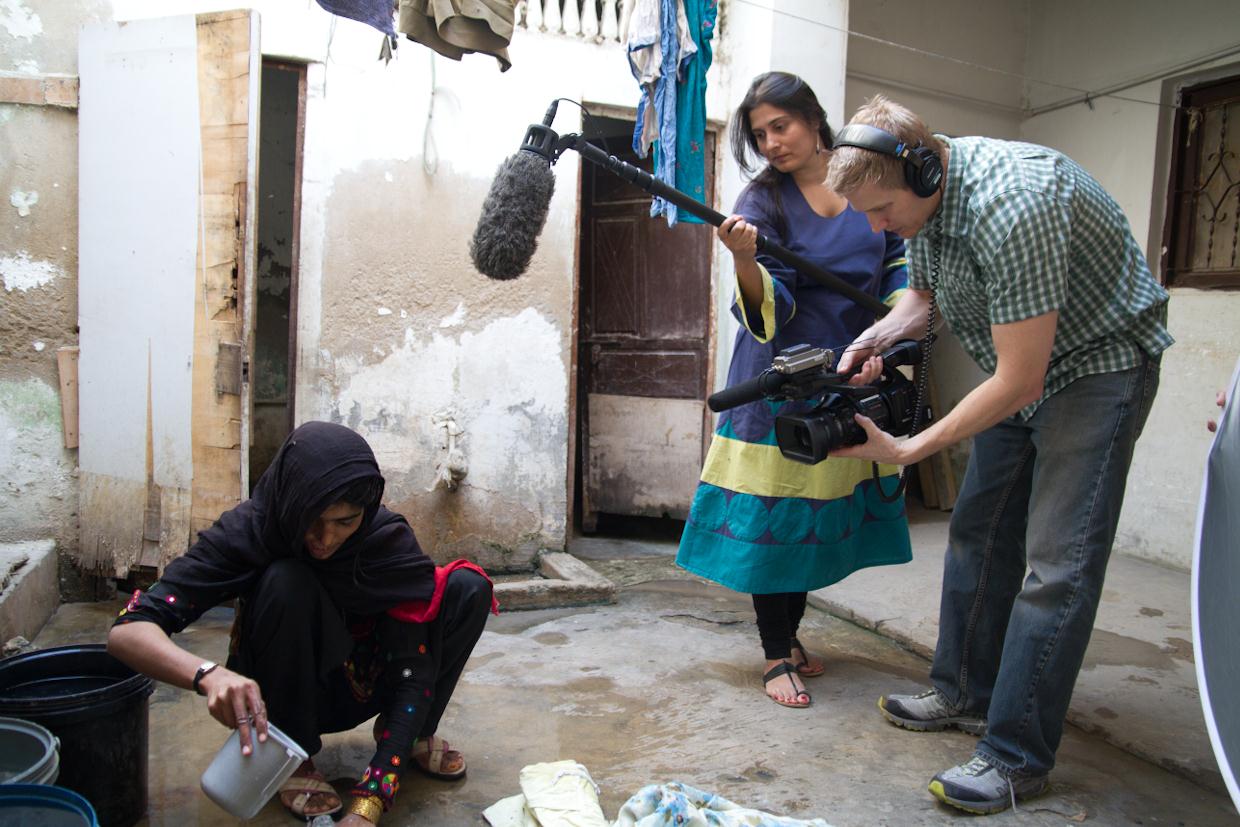 Filming the HBO documentary "Saving Face" about acid attack victims in Pakistan.
Photo: New York Indian Film Festival.
Gattu is a fun film in which the worlds of The Red Balloon, The Pink Panther and Harry Potter all converge. I was very impressed by Chittagong, Inshallah Football, Saving Face, Transgenders: Pakistan's Open Secret, and Delhi in a Day.
Three films remain fresh in my memory: Ghalib Shiraz Dhalla's Embrace about the 2008 terrorist massacre in Mumbai; Strangers with young director Kabir Chopra and young actor Zoran Saher; and Reprise, a "relationship" film featuring two women and a college-bound daughter. Embrace captures the raw intensity of two ordinary people -- a couple -- caught in hotel crossfire that lasted three days. How they held each other in the midst of Hell was a fascinating glimpse of humanity in crisis. The film delivers a message of the defeat of evil and triumph over adversity.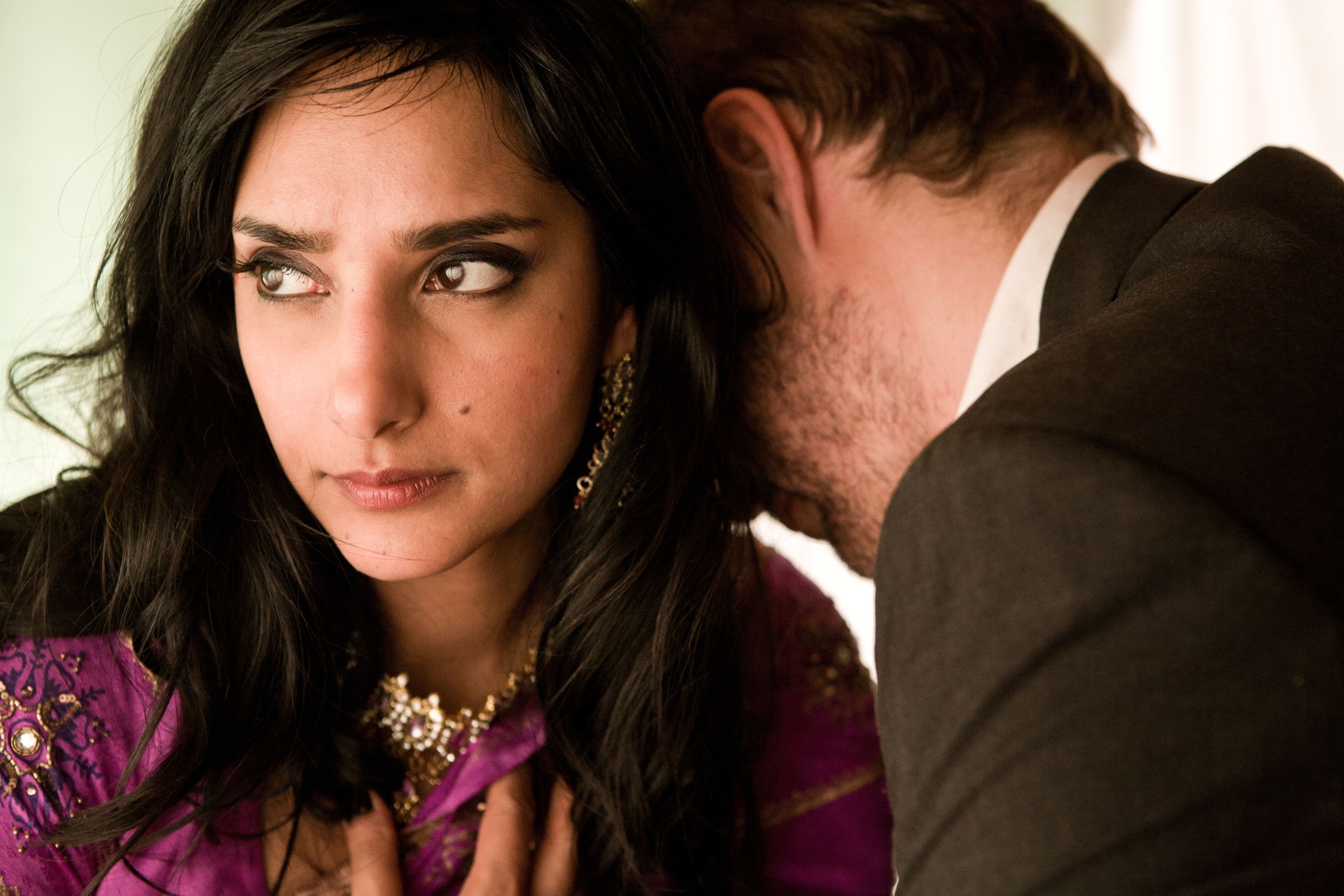 A couple at the heart of "Embrace," focused on the Mumbai terrorist attack,
written and directed by Ghalib Shiraz Dhalla. Photo: New York Indian Film Festival.
Angela Perri, an actor in the short Reprise which dealt with an abusive relationship, told me at the after-party:
I was intrigued at first by the character, an abusive alcoholic in a same sex marriage, and then further by Shripriya Mahesh's (the writer/director) treatment of the relationship between the two women. Even though on the surface it might seem the details would create an unfamiliar situation for me, the story -- one of connection, relationship and behavior -- rung a deep familiar chord.
In addition, the shorts coming out of Mira Nair's film school in Uganda, including Moccasins and Zubu and the Photo Fish, were fascinating and gave the festival its broadest international scope ever.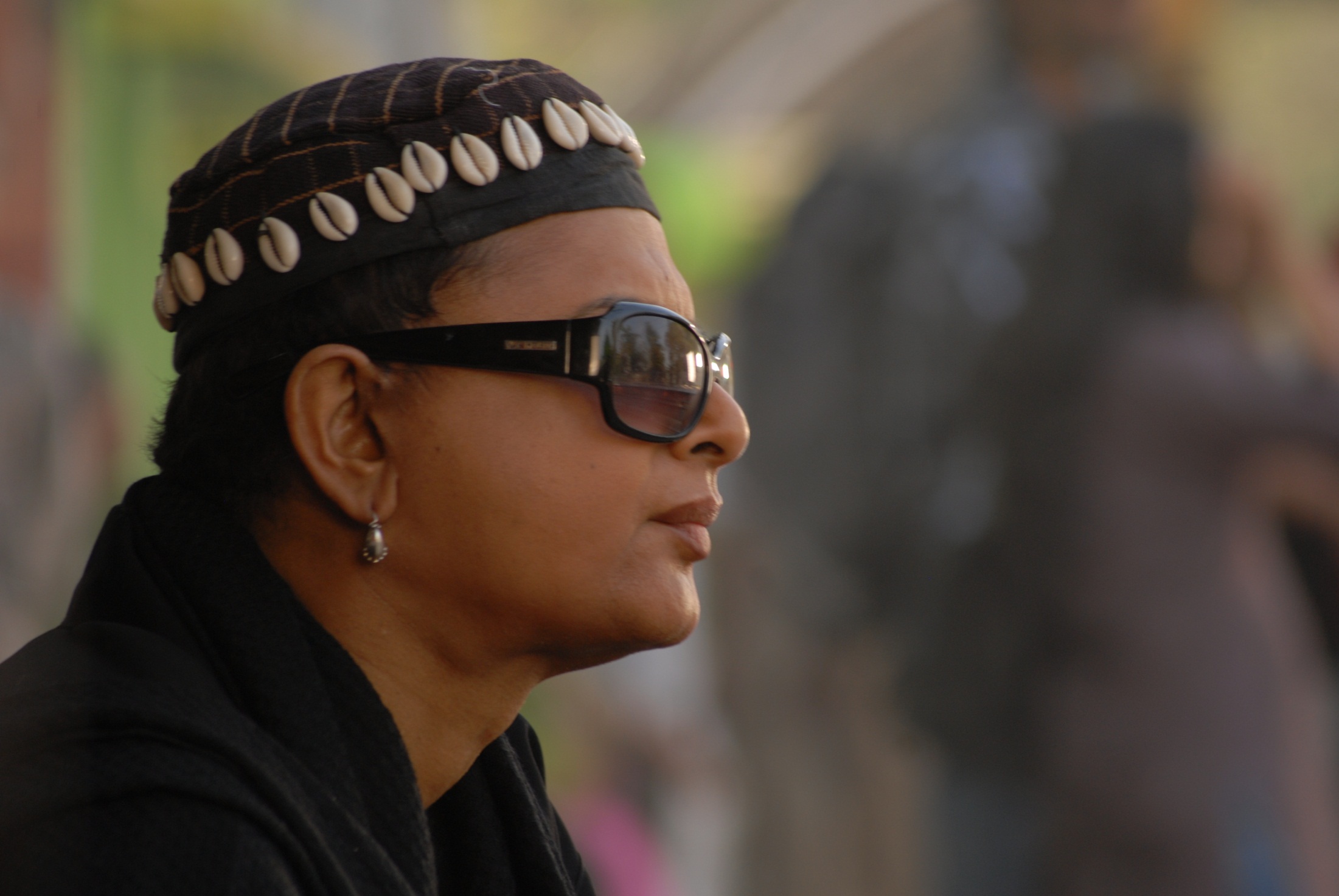 One of my favorite actors, Rituparno Ghosh, agonizes over his decision to have a
sex change in "Chitrangada." Photo: New York Indian Film Festival.
Other Festival highlights included the Oscar-winning documentary Saving Face from Pakistan, as well as award-winning films from South Africa, and Sri Lanka. In addition to films in Hindi and English, regional-language films in Tamil, Bengali, and Marathi. The controversial Kashmiri film Inshallah Football also was screened.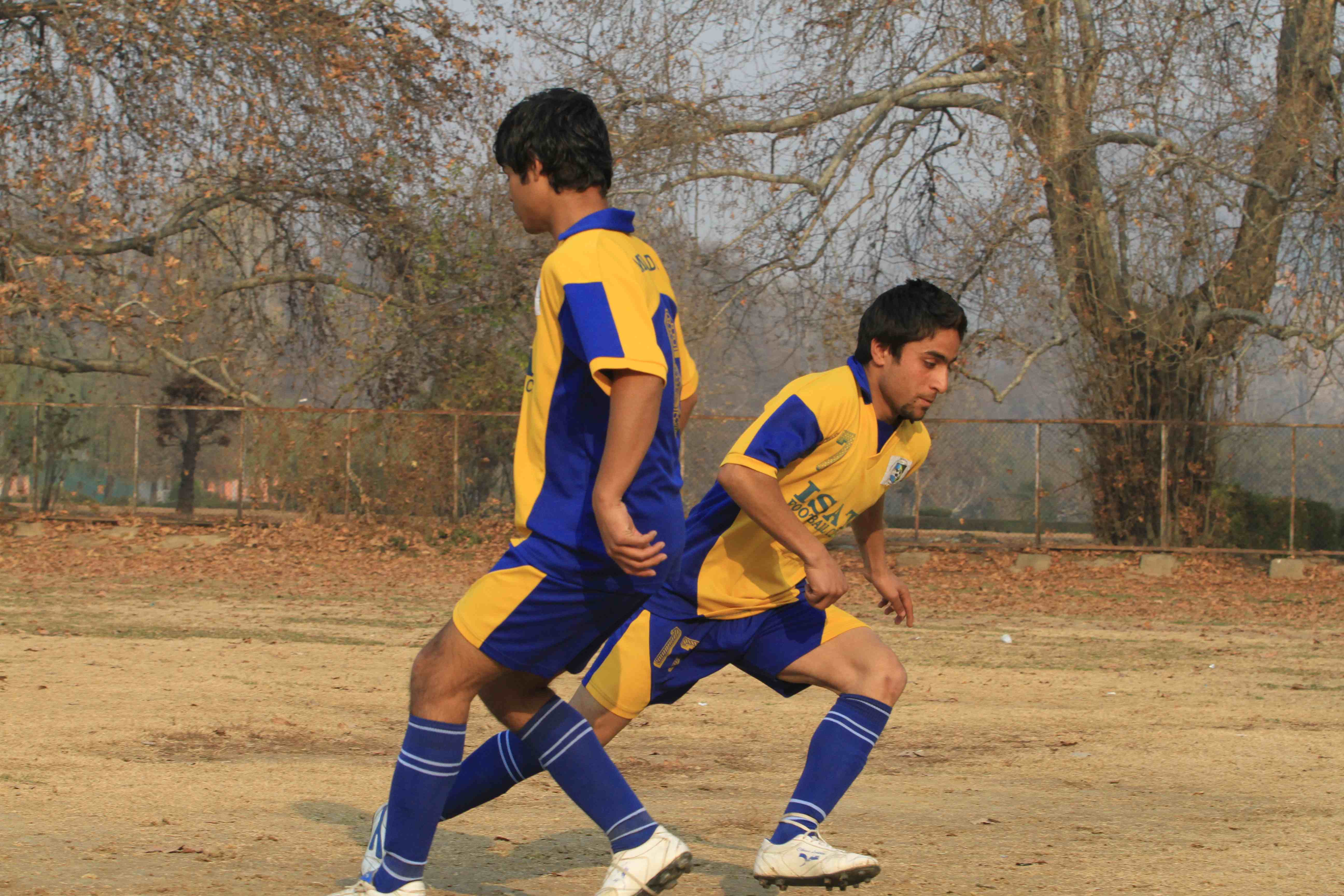 The controversial Kashmiri film Inshallah Football also was screened.
Photo: New York Indian Film Festival.
New York celebrities associated with the Festival include the prolific writer Salman Rushdie (Satanic Verses), and the talented director Mira Nair (Mississippi Masala). The promo for Mira's upcoming film. The Reluctant Fundamentalist was shown and impressed me tremendously -- and will be one of the hottest films of the fall.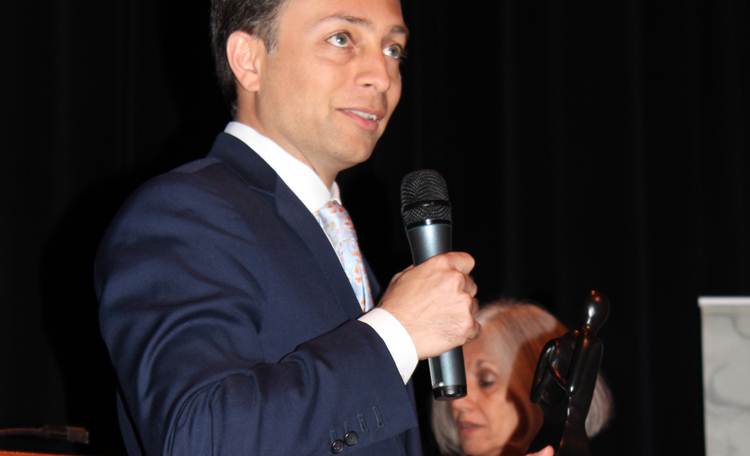 Rahul Baig of Wells Fargo presents the Award for Best Picture to the marvelously fun "Gattu."
Photo courtesy of Archana Desai.
For years I have followed the Indo-American Arts Council, the non-profit organization responsible for organizing the New York Indian Film Festival, and its incredible founder/director Aroon Shivdasani. The Council is a non-profit arts organization passionately dedicated to showcasing, building awareness, and celebrating artists of Indian origin in the performing, visual and literary arts. Annual festivals of art, dance, play writing and film are scheduled through the year, with several special events and book launches.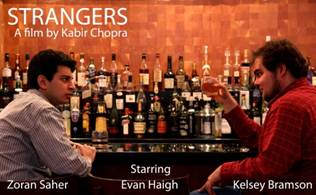 A film made by a young director and crew: Strangers. Photo: New York Indian Film Festival.
To commemorate the one hundredth year of Indian cinema, our 2012 line-up celebrates all that NYIFF finds inspiring about great films -- depth, character study, ingenious plots, and riveting messages. These movies have already won National Awards in India, at Cannes, Sundance, and the Berlin Film Festivals. We are proud to share our entire schedule with New York cinephiles.

From the romantic film "3" at the Festival. Photo: New York Indian Film Festival.
The Indo-American Arts Council is to be congratulated for what they have added to the fabric of New York under the inspired leadership of its founder and director Aroon Shivdasani. The Council's New York Indian Film Festival, now it its 12th year, brings talent and culture from the corners of the world including all of South Asia and Africa. It is because of people like Aroon that our city is the cultural capital of the world.
Popular in the Community