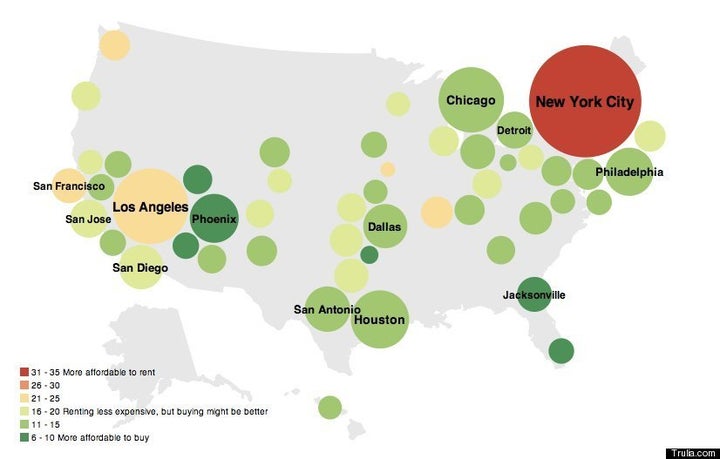 Rent, or buy? Buy or rent??
We know you think this when you shave, when you jog, when you commute, when you everything. Luckily, Trulia.com just posted this handy Rent vs. Buy Index rating the nation's median rent vs. the median housing costs, and it sure puts into perspective just how unique New York is (it's the biggest and reddest!).
Trulia's Rent vs. Buy Index tracks whether buying a home or renting is less expensive.com in America's 50 largest U.S. cities by population. The price-to-rent ratio is calculated using the average list price compared with average rent on two bedroom apartments, condos and townhomes listed on Trulia.com.
Where, say, Chicago's average sale listing price was $200K-$300K, New York's was $1.3-$1.4 million. The second most expensive city was San Francisco at $700K-$800K.
After crunching the numbers, Trulia found that it was more affordable to buy than rent in 72% of the country, and in that small sliver that is more affordable to RENT than to buy, New York didn't just quietly assimilate but completely dominate (see humungous red dot).
So, if you are renting and want to feel vindicated for your choice to rent (not that it's a choice in this city) that's not really the point. Sadly, the high costs to purchase a place in New York create this silver lining, if you want to call it that.
If we weren't so tired of him, we would mention something about Jimmy McMillan here.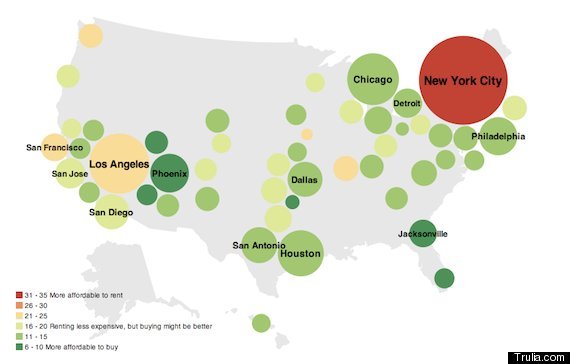 Calling all HuffPost superfans!
Sign up for membership to become a founding member and help shape HuffPost's next chapter