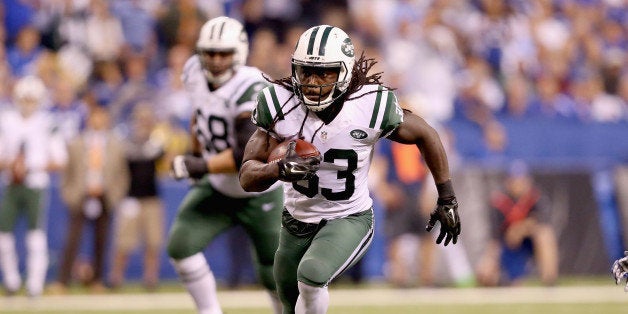 The New York Jets are flying high at 2-0, and looking forward to playing at home this weekend. Sunday, the Jets take on Chip Kelly's Philadelphia Eagles, who come into the game reeling at 0-2, trying to find their way with a big bunch of new pieces.
With that, let's get to the injury report, first for the New York Jets:
DID NOT PRACTICE:
WR DECKER, ERIC KNEE
RB IVORY, CHRIS QUAD
WR OWUSU, CHRIS KNEE
LB REILLY, TREVOR FINGER
DB WALLS, DARRIN HAMSTRING
OL CARPENTER, JAMES LOW BACK
OL COLON, WILLIE KNEE
LB MAULDIN, LORENZO CONCUSSION
DB REVIS, DARRELLE GROIN
DL BOWEN, STEPHEN KNEE
DB CROMARTIE, ANTONIO KNEE
OL GIACOMINI, BRENO BICEP
DB JARRETT, JAIQUAWN SHOULDER
QB SMITH, GENO JAW
WR SMITH, DEVIN RIBS
The biggest news for Jets' fans was the return to practice of Darrelle Revis. Revis didn't practice at all on Wednesday, so for him to be moving on Thursday eases the fears of it being something serious. Coach Bowles advised that he didn't go for any radiology, and has no indication that the injury was serious. Relax, Jets' fans.
Eric Decker did not practice, and neither did Chris Ivory. Jets' coach Bowles said that Chris Ivory would be a game-time decision, and he would learn more about Eric Decker on Friday if he can move around a bit.
If Decker is unable to go, look for a return to the huddle for Jeremy Kerley, spending time at Decker's slot receiver position. Kerley has been on the sidelines for most of the first two weeks, aside from punt returns.
Notice that Geno Smith was a full participant in practice, as he was on Wednesday as well. Don't worry, Jets' fans, he is not going to see the field, at least not for a while. Coach Bowles has indicated that as long as the team is going well, Geno Smith will not even seen any first team reps in practice, much less have the opportunity to start.
It's Ryan Fitzpatrick's job to lose.
Now here is the report for the Philadelphia Eagles:
DID NOT PRACTICE
LB ALONSO, KIKO KNEE
DE HART, TAYLOR SHOULDER
LB KENDRICKS, MYCHAL HAMSTRING
DE THORNTON, CEDRIC HAND
RB MURRAY, DEMARCO HAMSTRING
LIMITED PRACTICE
S MARAGOS, CHRIS HIP LP
FULL PRACTICE
WR AJIROTUTU, SEYI ELBOW, CONCUSSION
TE BURTON, TREY SHOULDER
DE COX, FLETCHER GROIN
Two names are huge on this list, Kiko Alonso and DeMarco Murray. Murray is obviously a big loss if he can't go, although he hasn't had much room to work so far. Alonso will leave a gaping hole in the middle of the defense, which could give Jeff Cumberland some openings in the passing game.
Calling all HuffPost superfans!
Sign up for membership to become a founding member and help shape HuffPost's next chapter