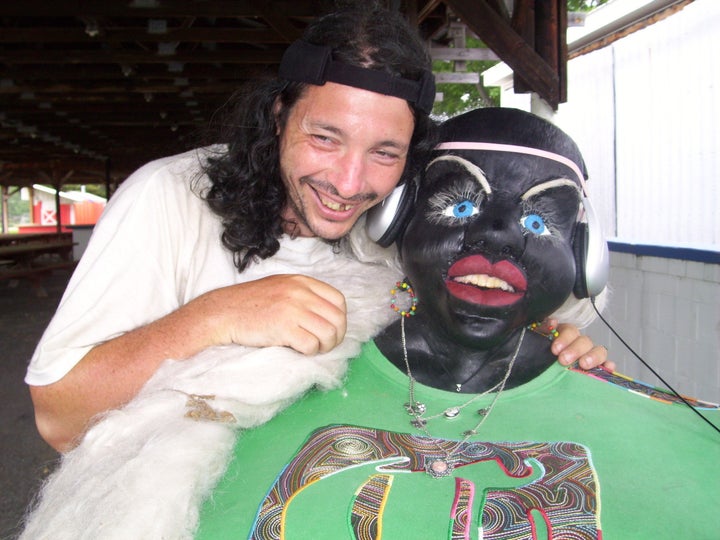 Like many couples in the northeast, Ned and Teagan Nefer are spending their summer vacation touring upstate New York.
But there is a difference between the Nefers and other couples: They're doing a walking tour.
Actually, Ned's the only one doing the walking. He's pushing his wife of 25 years in a wheelchair.
Oh, and Teagan's not actually a woman. She's a mannequin. To be specific: She's the head of a mannequin that Ned found back in the 1980s when he was living at the Children's Home of Jefferson County in Watertown, New York.
He attached a body to the face, named her Teagan and the two have been an item ever since.
In fact, he told the Watertown Daily Times that the two were married on Halloween night, 1986. If that's true, Ned, 38, would have been around 13 at the time.
That, along with the issue of Teagan being a mannequin, theoretically puts the alleged marriage on shaky legal grounds, but, hey, are you going to stand in the way of true love?
A lot of people aren't. Ever since the Nefers started their long walk to all the places they've spent their time together -- including the bright lights of Syracuse, Watertown, Dewitt and Pulaski -- they've attracted attention far and wide, inspired Facebook fan sites and made friends like Erin LeClair and her fiance, Steve Kalwarovski.
"We first saw them on Facebook in February," LeClair told AOL Weird News. "Despite what you may think, Ned is very approachable. He likes his picture taken. We gave him an ice cream when we first met him."
She is quick not to dismiss Ned's imaginary wife.
"Teagan's kind of quiet, but she talks to Ned," LeClair said with a smile.
"We took his groceries in our car to his camp site because they made his wheelchair so heavy," LeClair said. "He was in a lot of pain and he was doing a 40-mile walk.
"It sounds crazy, but he really likes the journey."
LeClair is quick to say that while she's not a mental health expert, she doesn't believe that Nefer is mentally ill.
"I'd call him eccentric" she said. "He's extremely intelligent and the more time we spent with him, the more we realized he is just like everyone else. We never knew we'd hit it off, but he's so polite, caring and kind. We bought him a cooler and socks."
The two have set up their own Facebook page dedicated to Ned and Teagan and are considering inviting the couple to their wedding once the date is set.
LeClair said "Ned and Teagan's Long Walk of Love" is headed towards Rochester, New York.
"Ned says they're visiting all the places they've been together. He takes pictures with disposable cameras -- enough to fill three photo albums."
He is especially partial to photos of town and village signs that he passes, rock formations and cemeteries, as well as nature in general.
"[Teagan and I] both really love the outdoors," Ned told the Watertown Daily Times. "I hope it doesn't rain because when it does, it fogs up the camera and the pictures don't come out really good."
Because guys pushing mannequins for long distances in wheelchairs are a rarity in upstate New York, Jefferson County Sheriff John P. Burns checked out Nefer's background and said that while "Nefer" is a shortened version of Ned's real last name, he does have a valid state Department of Motor Vehicles identification card, but not a license.
As for Teagan, she has no such credentials, but Ned told LeClair her full name is Teagan Yvonne Savannah Thjodhild-Nefer and that her father was Icelandic and her mother was Sudanese. If Ned is to be believed, she lived in Haiti and Sudan before moving to America.
Although a deputy has responded to calls about the couple, Burns says Nefer has not been taken into custody and is not deemed a threat.
Lisa Spear, a social welfare examiner for the Jefferson County Department of Social Services, has also talked with Ned and admits that she has never met anyone like him.
"This is definitely one of the very oddest things I've ever come across, but he seems very happy," she said.
Although Spear is not a mental health professional, she deals with a variety of cases that include people who have mental illnesses.
"I wouldn't classify him as dangerous at all. He seemed quite happy in his own little world," she declared. She also said she heard Ned may have once been married to a woman, but that his wife died.
"I'm not sure if this is his way of dealing with the death or that this is some way of coping with PTSD (post-traumatic stress disorder), but he seemed sincere," she surmised.
Meanwhile, Kalwarovski thinks people are too quick to judge the Nefers.
"He's very intelligent and has the purest heart I've ever seen and Teagan is his wife," Kalwarovski said. "People should talk to him more."
For his part, Kalworovski says he's had some great conversations about music with Ned.
"He likes classical, but he's really into metal. His favorite bands are Godsmack and Disturbed," he said.
For his part, Ned is happy that he and Teagan's relationship is garnering so much attention on the Internet.
"I've heard about the Facebook page and that's great, I guess, but she's really the star," Ned said pointing to Teagan.