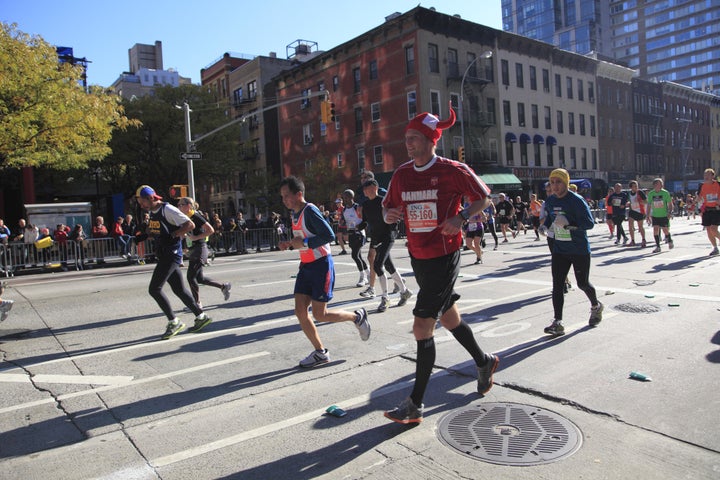 The ING New York Marathon scheduled for this Sunday, where it was meant to begin in the hurricane-ravaged borough of Staten Island, has been canceled. Many were offended by the notion that the city would put resources in the form of police presence, water and food supplies and electric generators toward the race while communities remain without basic services. Some were so adamant that they created online campaigns to prevent the foot race, including one of many websites and a Change.org petition.
On Wednesday, shortly before Mayor Michael Bloomberg announced that the marathon would go on, Mary Wittenberg, president of the New York Road Runners explained the decision as psychological, rather than purely economical: "To us the marathon really epitomizes the spirit of New York City, the vitality, the tenacity, the determination of New Yorkers. Now our every effort is to once again tell the world that New York City, as the mayor would say, is open for business, and we welcome the support of the world at this trying time."
On the ground, residents expressed their dissatisfaction.
"People are saying it's a morale boost, just like after 9/11, but that doesn't follow: from September to November was two months, this storm happened on Monday," said Jaime Didora, a native of the hard-hit Far Rockaway section of Queens. Her entire extended family is now staying with her in Garden City, Long Island. She added that those who need a morale boost aren't ready yet. "What about the people who wanted to run the marathon, who trained for it, but who are so exhausted from recovering their homes and being first responders that they can't make it? Is it for them?"
Libby Clark, a resident of the West Village who is a self-proclaimed "big fan" and regular marathon spectator, was unable to book a hotel room near her job on Manhattan's Upper West Side due to marathon-related visitors, she told The Huffington Post in a phone interview.
"I take it personally because there's been a tremendous amount of hardship for me trying to find a place to stay [this week]. I want to go home, but I'm also one of the lucky ones," Clark said. "I think there are still bodies that haven't been recovered, there are people stuck on 20th or 30th floor of buildings downtown who can't get out. Let the [marathon entrants] run up the stairs with water for them. Let people who volunteer for the marathon go down to Staten Island."
Indeed, before the announcement that the race had been canceled, some marathon runners were doing just that. According to one coordinated effort of runners, gathered on Facebook, participants would enact a plan of relief as part of their race:
Runners will show up at the starting line, but will break off en masse at different points of the city to deliver supplies to places hardest hit and without power. This will mean departing from the race, to head to various buildings, running up and down stairs delivering water and canned goods, etc.
And while the majority of those who vocalized opinions came down in favor of postponing or canceling the race, which had nearly 50,000 registered runners and typically brings in $340 million for the city, some were hoping the marathon would provide some benefit.
"I'm running, I picked up my bib yesterday," said Kelly Gillen, in advance of the cancellation. Gillen, an East Village resident who is currently living without electricity or water, has been walking to her job in midtown each day. Gillen qualified as a sub-elite in this year's marathon after winning the Brooklyn marathon in 2011 and the Hamptons marathon this year. She runs in honor of her brother who had cancer, and also helps train other runners as a volunteer coach for a charity.
"My attitude is that I signed up for it, I trained hard and it really wasn't my decision to make," she said of the initial decision to keep the marathon's original date. "It was a controversial decision and I think people would be unhappy either way."
"But it's a strange feeling this time. I've trained hard for it, and New York is always my favorite, I always get excited -- I tell people it's like a 26.2 mile party," she continued. "This year, there are a lot of strong feelings both ways, but I really hope that people who come out are there to support us. It would be really sad if people booed or they didn't come out. I understand why, obviously. But it's happening and I hope we can make the best of it."
Now that it's not happening, there are still lessons to be learned about running in bad circumstances.
Conflicting emotions could be damaging for many of the runners, says Dr. Jeff Brown, a psychologist affiliated with Harvard University and author of Think Positive for Great Health. Brown is also the psychologist for the Boston Marathon. For some runners, the external situation can overtake their mindset, affecting performance. For others, especially more veteran runners, they are able to adapt to the situation, he says.
"For each person who is running, they have to define what the marathon is going to be for them this year," Brown said. "Are they going to develop stamina in a unique situation? Are they running to be a part of a historical race? The goal can be very personal, or it can be external: if someone wants to give money to an organization or a cause -- giving to the relief effort could be a really great motivator."
At the end of the day, it's about relinquishing control and taking responsibility for yourself -- a message for marathoners and hurricane survivors alike. "You can't control hecklers, you can't control weather or changes in the landscape," Brown said. You can't control cancellations either. "All you can control is how you respond."

Support HuffPost
A No-B.S. Guide To Life
Related
Popular in the Community