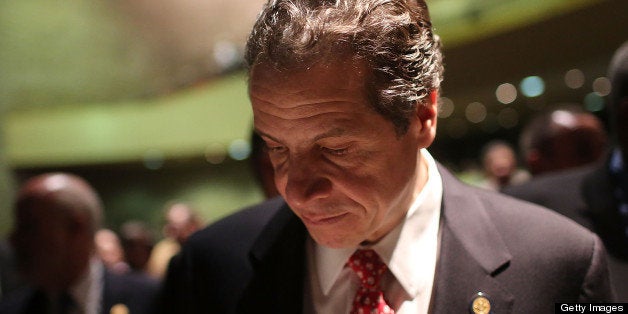 In January of this year, during his 2013 State of the State speech, Governor Andrew Cuomo made a bold call to stop discrimination in New York. "We are one New York, and as one New York we will not tolerate discrimination," he said. He noted the "challenge posed by the 'stop and frisk' police policies," and he cited the related marijuana arrest problem in New York. Approximately45,000 people were arrested in New York for marijuana possession in 2012, with nearly 40,000 of those arrests in New York City alone, making the Big Apple the marijuana arrest capital of the world. The governor called for immediate action: "These arrests stigmatize, they criminalize, they create a permanent record. It's not fair. It's not right. It must end. And it must end now."
Unfortunately, discrimination is alive and well in New York, as marijuana possession arrests continue. These arrests are extraordinarily racially biased, as nearly 85 percent of those arrested are Black and Latino -- mostly young men -- even though government studies show that young white men use marijuana at higher rates. These arrests cost taxpayers nearly $75 million last year alone and over $600 million in the last decade, a profound waste. Since reform stalled in March, thousands more people have been needlessly arrested -- most of them Black and Latino young men -- exacting an enormous human toll, costing taxpayers millions of dollars, and wasting an estimated 10,000 police hours.
New Yorkers want reform. A new poll this week found that at least 60 percent of all voters in New York support decriminalization of marijuana possession in New York -- including half of all Republicans. New Yorkers support a sensible reform currently pending in scandal-torn Albany to fix the state's broken marijuana possession laws. The proposal -- A.6716A (Camara)/S.3105A (Squadron) -- is the exact measure Governor Cuomo called for in his State of the State address. It would remove criminal penalties for possessing up to 15 grams of marijuana in public view, though smoking in public would remain a misdemeanor. The bill would help end the practice of arresting tens of thousands of young people per year for possessing marijuana in public view when police demand that someone "empty their pockets" during a stop-and-frisk encounter.
The measure enjoys broad support not just among the public but also among dozens of community organizations throughout the state, state legislators, the NYC Council, and Mayor Bloomberg. The New York Times, the Daily News, the New York Post, the Syracuse Times-Standard, and the Buffalo News are among the papers that have written editorials in support the of the reform.
Law enforcement leaders from across the state have also backed the reforms, including NYPD Commissioner Ray Kelly; all five NYC District Attorneys (Democrat and Republican); District Attorneys from Long Island, Buffalo and Albany; and other police leaders, like the Albany Sheriff and Rochester Police Chief.
But despite this broad support, reform hasn't materialized -- maybe because the governor has stopped talking about it. In Albany, even when measures enjoy broad support, even when such measures would serve to create fairer drug laws and reduce racial disparities, even when common sense would dictate action -- the process too easily becomes entangled in the mess that is Albany, and nothing happens. And so, while Albany is preoccupied with the latest scandal, the failed drug war grinds on -- devastating low-income communities and communities of color who continue to face discrimination, while taxpayers foot the bill.
Enough is enough. On Wednesday, May 22, community groups and elected officials are gathering again in Albany to demand reform. Members of the community and the New York State Black, Puerto Rican, Hispanic, and Asian Legislative Caucus will hold a rally and press conference in the Capitol to demand passage of A.6716A (Camara)/S.3105A (Squadron). People who have faced police harassment and unlawful arrest will speak out. Legislators will have to explain why they've not acted. And Governor Cuomo will be asked: are you still committed to ending discrimination in New York?
Gabriel Sayegh is the director of the Drug Policy Alliance's New York Office.
Support HuffPost
The Stakes Have Never Been Higher
Related
Popular in the Community