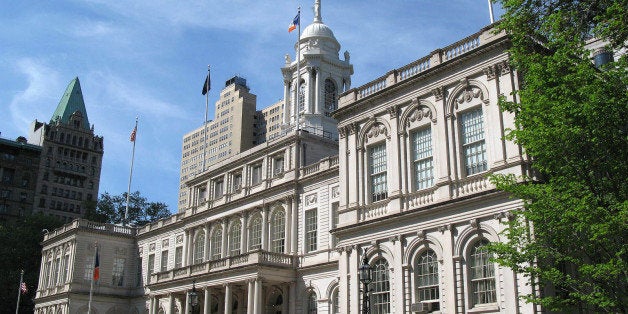 Don't take it personally if you didn't get your invite yet to the June 12 anniversary party at City Hall. It's another historic New York benchmark that will be largely overlooked in a city where the past typically takes a back seat in the frenzy to capitalize on the present and seize the future.
This anniversary is the 350th of the exalted job that Matt Flegenheimer of The New York Times recently described as the Rodney Dangerfield of mayoralties. After being booed and even getting the finger from some Yankee fans (he prefers the Red Sox), the current occupant, Bill de Blasio, was the latest to complain that New York's mayor gets no respect.
Maybe the office, if not necessarily the officeholder, would if more of his constituents -- and more Americans -- realized not only that the job de Blasio holds is so venerable, but that it may be the oldest mayoralty in the nation, surely of any major city.
Effective June 12, 1665, Richard Nicolls, the British governor, replaced Manhattan's official civil hierarchy of Dutch schepens, burgomasters and schouts with a mayor, alderman and sheriff. The first mayor was Thomas Willett (whose family is immortalized in an outcropping in Queens known for its auto junkyards). De Blasio is 109th in the regular sequence since then.
Schoolchildren are routinely spoon-fed their first taste of history from storied places like St. Augustine, Santa Fe, Jamestown, Plymouth (where the British-born Willett first settled), Boston and Philadelphia, but, for better or worse, New York was the first to place a mayor in charge of municipal self-government. (Its palatial French Renaissance City Hall is also billed as the oldest in America that still houses the municipal government's original functions.)
"There seems to be ample evidence to indicate that," says James A. Brooks, city solutions director of the National League of Cities.
Gov. Nicolls's June 1665 housecleaning was rooted in the arrival the previous August of a flotilla of four British frigates off Coney Island, which culminated in the bloodless regime change from Dutch to British dominion. (A cautionary tale for Mayor de Blasio: New Amterdamers were so fed up with their director-general, Peter Stuyvesant, that they surrendered to the British without firing a shot.)
But while New Amsterdam became New York overnight, four decades of Dutch influence left an indelible legacy that would distinguish it from most other major American colonies. Call it tolerance or indifference, its diversity was indulged by the Dutch West India Company as long as newcomers didn't interfere with the company's primary mission: making money.
Last year's 350th anniversary of the naming of New York wasn't appropriately commemorated either. Mike Wallace, the co-author of Gotham: A History of New York City to 1898, told me at the time that he wasn't surprised:
"I'm trying to imagine what it would look like: a re-enactment of British ships threatening to bombard the Wall Street area? But nothing actually happened, not a shot fired, except for Peter Stuyvesant's temper tantrum. Not sparky stuff. Lowering the Dutch flag somewhere and raising a British one instead? Doesn't set the pulse a-pounding."
Prospective party planners had no fear of offending the Dutch (they just provided a safe haven for a replica of Henry Hudson's ship, the Half Moon, because no New York venue wanted it), but they may have been dissuaded by lingering Anglophobia, which gripped New York since the mass Irish immigration of the 19th century and later evolved into ambivalence, at best. Until World War I, when America and Britain became allies, New Yorkers celebrated Evacuation Day, the anniversary of the belated departure of English troops from New York after the Revolution (on Nov. 25, 1783), with considerable brio.
As recently as 1974, Paul O'Dwyer, the Irish-born president of the City Council, orchestrated a successful campaign to bowdlerize the official city seal, stripping the British of the distinction of having founded the city and bestowing it instead on the Dutch (specifically, by replacing 1664 with 1625; the first settlers -- 30 diverse families on the ship New Netherland -- arrived even earlier on Governors Island, but moved with their cattle to greener pastures in Manhattan in 1625).
Here's still another reason no 350th birthday party is planned on June 12. Some experts, including Robert Weible, the official New York State historian, and Dr. Charles T. Gehring, director of the New Netherland Research Center in Albany, agree that the mayoralty -- the job, if not the precise title -- is even older. They argue that it dates to 1653, when the Dutch West India Company granted a charter to New Amsterdam establishing the corporate privileges of self-government.
In New York, though, even mayors, today's or previous ones, get more respect than the city's historic past. Just look at the 18th century, much less the 17th. How many native New Yorkers, much less out-of-towners, know that New York was the nation's first capital for 18 months, where George Washington was inaugurated (at the site of what is now Federal Hall), where the first Congress convened and transformed the framework of the Constitution into the nuts and bolts of the federal government and where the Bill of Rights (originally 12 amendments, the original first two suggesting what topped congressmen's agenda: preserving their jobs and their pay)?
In seeking the deference his office deserves, Mayor de Blasio has traveled well beyond the five boroughs recently. He complains, not unlike his predecessors, that the farther he ventures from City Hall (the Bronx excepted), the more respect he gets. In the past, though, that sort of respect -- or, more likely, the celebrity that typically attaches to being mayor of the nation's biggest city, has never translated into political popularity as measured by actual votes.
Rudolph W. Giuliani was rudely awakened to that reality when he ran for president in 2008. So was Edward I. Koch when he blundered upstate into the world of gingham dresses, Sears, Roebuck suits and pickup trucks to run for governor in 1982.
In fact, no sitting New York City mayor has been elected to higher office since the 19th century.
Edward Livingston, an appointed mayor (Peter Delanoy was elected in 1689, but regular elections first began in 1834), became a congressman and senator from Louisiana in the 1820s. Mayor DeWitt Clinton was elected governor and was the Federalist presidential nominee.
John T. Hoffman became governor in 1868, but was embroiled in scandal. (Running against Hoffman and another rival, Mark Twain wrote, "I somehow felt that I had one prominent advantage over these gentlemen, and that was, good character.")
Representative Fernando Wood, another former mayor and sometime Confederate sympathizer, was formally censured by his Congressional colleagues for doing what many of his fellow New Yorkers still do naturally: bluntly speaking his mind.
In the 20th century, Mayor George B. McClellan Jr. received three votes as the presidential nominee at the 1904 Democratic National Convention. Robert F. Wagner flirted with the vice presidency, but ran fourth on the first ballot in 1956.
No sitting or even former New York mayor has been elected to another public office since Ardolph Loges Kline (acting mayor for a few months in late 1913 after the death of William J. Gaynor) returned to office as an alderman and was later elected to a single term in Congress. And none fared as well as Theodore Roosevelt. He lost for mayor but parlayed his record as police commissioner into the governorship, later was banished by party bosses who nominated him for vice president, and, to their dismay, wound up in the White House.
That the mayoralty, which gets blamed for garbage, parking tickets, noise and other quotidian complaints ("If a sparrow dies of a heart attack in Central Park, I'm responsible," Koch once said), is the most visible place to point fingers; either the index or middle one) has, historically, made it a political dead end. No former mayor -- of any city -- has been elected president since Grover Cleveland of Buffalo in 1884 and Calvin Coolidge of Northampton, Mass., in 1924.
In New York, none has in the mayoralty's 350 years.
"While the presidency can elevate even average people," Wallace S. Sayre and Herbert Kaufman wrote decades ago, "the mayoralty is the highly vulnerable symbol of all defects in the city and its government."
So much for Rodney Dangerfield and respect. Instead, maybe quote Henny Youngman: "Take this job ... please."
Calling all HuffPost superfans!
Sign up for membership to become a founding member and help shape HuffPost's next chapter