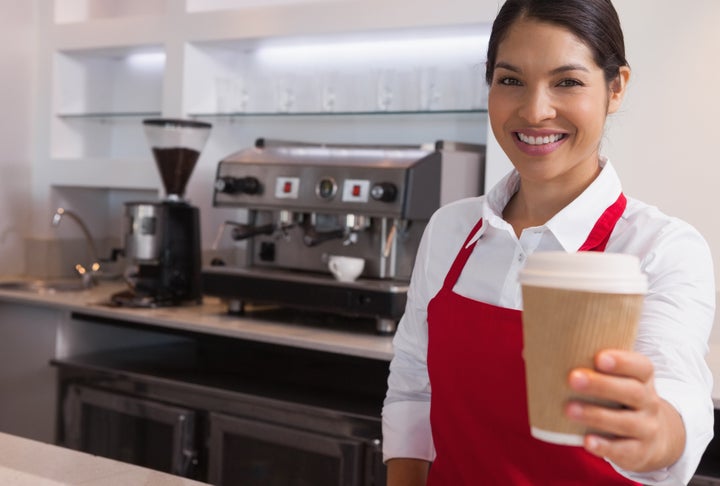 New York City is worried about millennials -- for good reason. 
The city comptroller, Scott Stringer, put out a report on Monday that paints a rather bleak picture of the city economy since the Great Recession. And no group has it worse than New York's 1 million millennials (defined here as those aged 18 to 29, or born between 1985 and 1996).
The report shows why Lena Dunham's HBO television show "Girls" may have hit a nerve: Compared to young people in 2000, New York City's young people today are more educated, less likely to be incarcerated, and seeing significant demographic change as young whites and Asians move to the city, while a smaller but significant number of blacks move away. (That migration, meanwhile, is bad news for already high rents.) 
Overall, the young people of today are poorer than Gen X was 15 years ago, with fewer good job opportunities, the report found.  
The plight of the young, who graduated high school and college into one of the worst recessions America has ever seen, is well documented. But the comptroller's report shows how New York's economy, in particular, is failing young people.
Cities are traditionally the land of opportunity for young people. Urban density is supposed to foster a creative energy that drives growth and helps young people launch careers. Here are four reasons why New York's young people are worse off than the generation that preceded them (and one reason things are looking up, for good measure).
Wages are down
Real mean wages for young people declined by about $6,000 annually in the 14 years covered by the study, which may have something to do with the kind of jobs that are available. Wall Street has shed thousands of entry-level jobs since 2000. McDonald's, however, is hiring.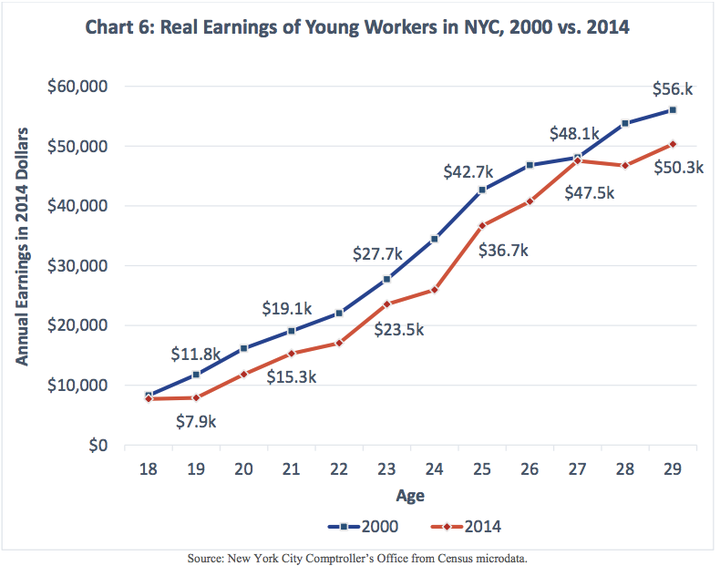 The share of young people in high-wage sectors like finance, advertising, tech, and legal services declined to 15.6 percent in 2014, from 18.6 percent in 2000. Mid-wage jobs, like media, health care, and the arts, made up 21.3 percent of young New Yorkers' jobs in 2014, down from 23.9 percent in 2000. 
The growth has been in low-wage jobs, particularly retail and food service, which each added about 50,000 young workers from 2000 to 2014. Low-wage jobs now make up 46.6 percent of employment for 18- to 29-year-olds, up from 42.8 percent in 2000.
Education is up
The problem is, this income reality doesn't line up with the increasingly well-educated young population. There are many, many more young people with bachelor's degrees living in the city than there were in 2000. By 2014, 47.2 percent of millennials in the city had a bachelor's degree. In 2000, only 36.1 percent of young people had one. That's an increase of 200,000 people with college degrees. There has been a huge drop in the share of young people with a high school diploma or less. (It's now about 28 percent, compared with 39 percent in 2000.) About one-quarter of young people in the city attended some college, which hasn't changed in 15 years.
Long-term unemployment persists
While long-term unemployment for young people never got as bad as for older generations, it has persisted through the economic recovery. There are now more millennials who have been looking for a job for more than six months than either Gen Xers or boomers.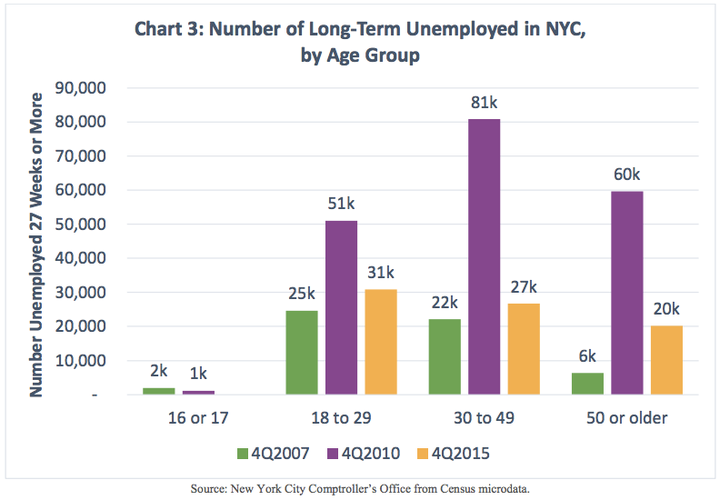 Racial makeup is shifting
The portion of the report dedicated to migration shows that New York is adding young whites and Asians, both through migration and natural growth, while the city is losing its young black population. The city's young Hispanic population has been roughly flat since 2000, although the report notes there has been a big drop in people moving from Puerto Rico.
Perhaps not surprisingly, unemployment trends by race follow the broader pattern in the U.S. The unemployment rates for black and Hispanic young people are much higher (11.4 percent and 9.3 percent, respectively, in 2014) than unemployment rates for whites (5.2 percent) and Asians (6.5 percent). While all of those percentages have fallen since the Great Recession, the big gap between blacks and Hispanics, compared with whites and Asians, has persisted through tough economic times and recoveries.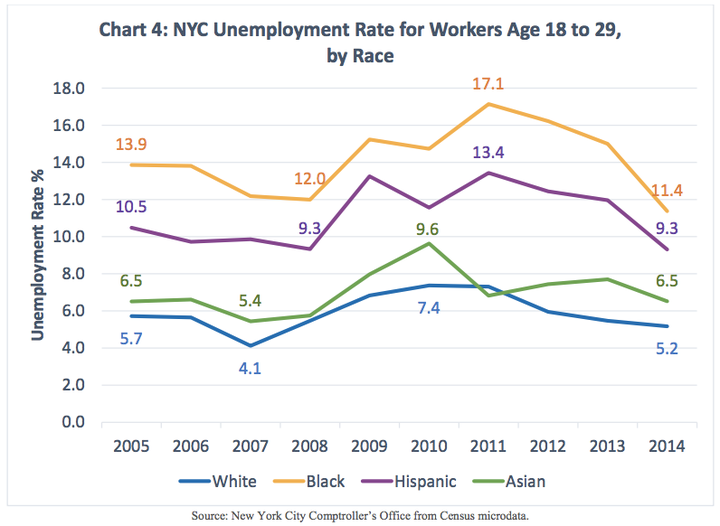 Incarceration rates are dropping
There's one bright spot in the data: incarceration rates. Drug arrests, in particular, dropped by almost half from 2011 to 2015. There isn't hard data on arrests and incarceration, according to the report, but the Comptroller's Office estimates that the incarceration rate for young people from New York City, mostly young males, was 1.3 percent in 2015, compared with 2.1 percent in 2008.
The city's millennials may be jobless and poor, but at least they're less likely than their predecessors to be in prison. If that counts as a consolation.
Calling all HuffPost superfans!
Sign up for membership to become a founding member and help shape HuffPost's next chapter
BEFORE YOU GO