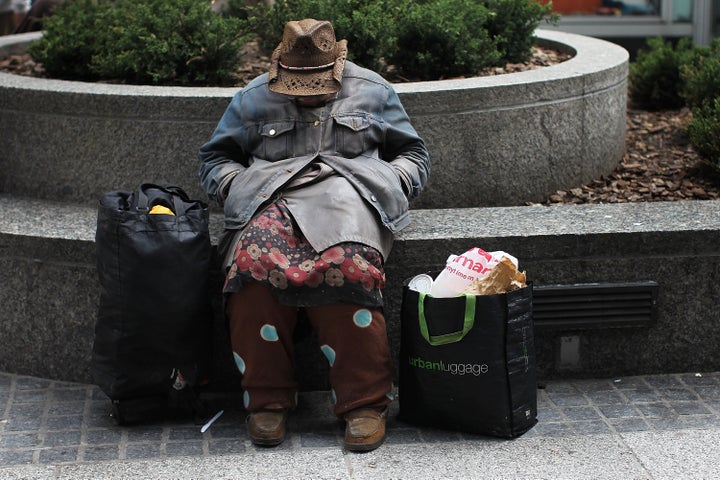 I don't have to tell you how expensive it is to live in New York City. Most New Yorkers live in households that make around $50,000 per year, significantly lower than the Self-Sufficiency Standard, which is the amount it takes to for a family to meet its basic needs without public assistance in New York City. The Self-Sufficiency Standard varies according to the composition of a family and where they live. For a family comprised of one adult, one school-age child and one preschooler, the standard ranges from $57,000 in Northern Manhattan to $65,943 in Queens (The Bronx -- $60,934; Brooklyn -- $63,166; North Manhattan -- $57,831; South Manhattan -- $91,552; Queens -- $65,943; Staten Island -- $65,695).
If you are one of the approximately 352,000 New York City residents who earn minimum wage, you're only making $15,000 per year -- a disturbingly low salary for hard working Americans on the clock full-time and year-round. Even more troubling is that the federal poverty level for a family of three is $17,922. Since the most recent increase in the federal minimum wage nearly three years ago (from $6.55 to $7.25), inflation has been eating away at it. The rising costs of food and shelter, along with other basic necessities such as transportation, health care and childcare have squandered the nominal increase of 2009.
Already this year, eight other states have increased the minimum wage and there are bills pending in Connecticut, New Jersey and Massachusetts to follow suit. New York has a long and honorable history as a model for progressive legislation around issues such as marriage equality and healthcare safety nets for the needy -- raising the minimum wage is equally important.
The Occupy Wall Street movement has drawn the nation's attention to these economic issues, starting a necessary dialogue, but we need legislative action to help those toiling away for next to nothing. United Way of New York City supports AB 9148 and SB 6413, which would increase New York State's minimum wage from $7.25 to $8.50 per hour (an increase of $2,940 per year).
As an organization that works to help low-income individuals attain greater financial stability, we know the people behind the low-wage statistics, and they desperately need this increase to move toward self-sufficiency. While some of United Way New York City's initiatives have been able to help these individuals and families to better manage their resources, a minimum wage increase will positively impact hundreds of thousands of New Yorkers instantly.
United Way of New York City has connected more than 150,000 low-income New Yorkers to Food Stamps, increasing household income by more than $1,500 annually, on average. It's a seemingly paltry sum, but it makes a world of difference to those who depend on it. We also link families to free tax preparation services and, working with them, ensure they take advantage of tax-time resources such as the Earned Income Tax Credit to further support asset building and pathways to financial security. We then provide these families with year-round financial counseling and support.
But we need to do more on the legislative side. An increase in the State minimum wage would provide a much needed boost to working families who have been hit hardest by the recession, while also providing an influx of needed revenue for local economies. A recent report by State Senator Klein states that the increase would add $600 million to the State economy and create 4,800 jobs. Putting additional income into the hands of workers who are likely struggling to make ends meet would also boost local economic activity as workers have more money to spend on necessities.
United Way of New York City applauds State Senator Klein, Assemblyman Wright and Assembly Speaker Silver for sponsoring the minimum wage legislation and urges the rest of the State Senate and Assembly to follow their lead and pass the bill.
Related
Popular in the Community