New York City Nightlife 30-plus years ago danced to a different beat. The progressive change of club hopping from one place to the next hasn't switched course. A fellow New Yorker that is an entrepreneur, film producer and nightclub owner, Noel Ashman, who has been reported by The New York Post as, "One of the five most important people in New York" knows a thing or two about where the party's at.
A product of the '70s, Noel grew up living in Manhattan with the Prep school attendance as a must, and he began his independence and interest in promotion and nightlife development early on. "We would get flyers printed up, maybe 100, and pass them out for the keg party. Once we hosted a party and what seemed like tens of thousands of these preppy kids just showed up along the streets. Then the cops came to shut it down," Noel tells me. He goes on to say that big names started to hear about the "noise" he was making and it spiraled upward from there. "It is important to keep the creativity, as well as to make sure people have a great time" says Noel.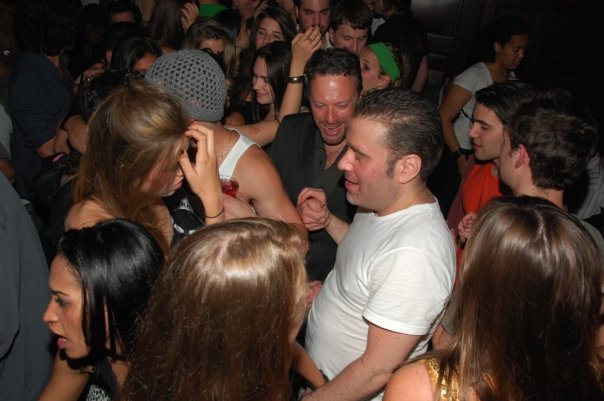 Photo courtesy Noel Ashman.
Debuting his first lounge opening in 1997 -- a place called Veruka, nestled in the quaint, artistic loftiness of SoHo -- he began his career hosting exclusive, private parties holding up to 200 people. Back in the day, Noel tells me, "At larger clubs, mega clubs like Studio 54, The Tunnel, Limelight all could hold up to thousands. People went out. People from all backgrounds mixed in. Crazy things happened." Veruka (named after the Charlie and the Chocolate Factory character of the same name), gained notoriety for its strict door policy and celebrity clientele. It was one of the first clubs to have bottle service, an innovation in nightclub management largely credited to Noel.
He talks to me about Bottle Service saying, "I was looking at Europe and how they did things over there. I wanted to change how drinks were served with waiters/waitresses carrying many drinks at once around the clubs. People made their own drinks. It was very creative." Later on, Noel tells, me the idea of "Bottle Service" caught on, but while it was once meant to be a way to creatively drink and hang out, it became looked upon as "profit" -- over time the focus in the clubs reorienting to how much one spends.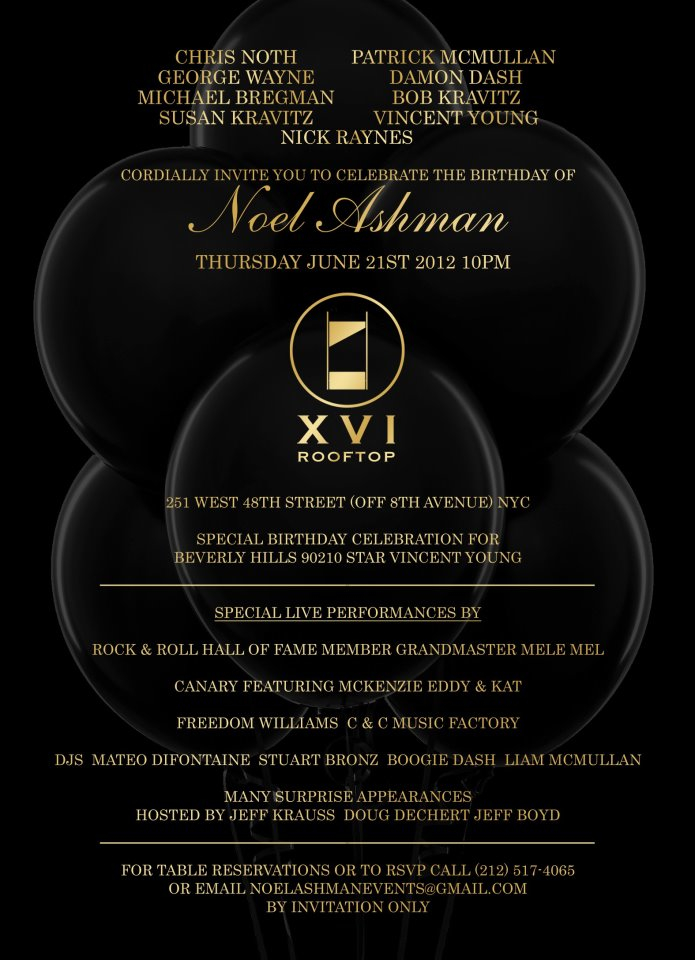 Photo courtesy Noel Ashman.

During the "Veruka years," the club attracted celebrity regulars such as Michael Jordan, Mick Jagger, Derek Jeter, Steven Spielberg, Prince, Tiger Woods, Mariah Carey, Lenny Kravitz, Colin Ferrell, Goldie Hawn, Halle Berry, Scarlett Johansson, Michael Strahan, Christina Aguilera, Lindsay Lohan, Kid Rock, Jared Leto, Russell Simmons and Heather Graham, Sean Penn, Ben Affleck, Leonardo DiCaprio, Mark Wahlberg, Cuba Gooding Jr, Nicolas Cage, Debbie Harry, Dennis Leary, Martin Sheen, and Sarah Jessica Parker. And Yankee fans listen up: It was also a consistent hangout for your team. Immediately after Veruk closed, Noel even briefly owned Studio 54. Following his tradition, Noel bought the old Nell's space, along with partners Actor Chris Noth, Samantha Ronson, Damon Dash,and Jesse Bradford, among others. He ran NA and The Plumm at 246 West 14th Street from 2004 to 2009.
The ride never stops. Noel tells me, "Yeah it was rough. I went to Boston University, then back and forth between Boston and Manhattan to promote and throw parties, then back to school and I graduated in '93." As a result of his hard work-ethic, which began as a young teen, and his focused, heart-felt, big apple passion, he went on to be responsible for all sorts of amazing memorable happenings. He has been involved in the organization of events at such legendary locals as The Tunnel, Nell's, Tatou, Club USA, Maxim's, The Roxy, Expo, Palladium, M.K., Rouge, Crane Club, Red Zone, Danceteria, Conscience Point, & Amazon in the Hamptons. Noel was also the director of the club Life. No stranger to marketing, he also worked with major corporate brands such as Range Rover, Jaguar and Sephora, among others.
So I asked him what happened today versus back then with the clubs? "People don't go out anymore like they use too" he explains. "Clubs have segregated into smaller venues where you'll have the ones for people of Fashion, The Hipsters, Celebrities and so forth." He goes on to say, "Back in the '80s and '90s it didn't matter who you were, as everyone liked to mix it up and hang out. Plus the mega clubs don't happen anymore. You can't get that back." Noel isn't trying to recreate that moment. He is trying to preserve its history by giving his clientele a mix of people, atmospherically. He caters the high-end to all types. He wants to mix it up. His venues reach up to 200 and he hope to keep drawing the crowd back -- a crowd that includes people from all walks of life just enjoying themselves and being comfortable, like back in the day.

If that wasn't enough to keep Noel busy, and in the mix of things certainly not lightly stirred, he has also garnished production and acting credits on several films. He is the co-owner of the production company Co-op. He was the associate producer for Speedway Junky, which starred Jesse Bradford and Daryl Hannah. He was the co-producer on The Atrocity Exhibition, co-written by J.B. Ballard. He was also a co-producer for Never Again, which Eric Schaeffer wrote and directed; and he was an executive producer for Mind the Gap (2004). His production credits extend beyond Hollywood, as he co-produced the off Broadway play The Dog Problem, by David Rabe. He was regular contributor to VH1 and was on the VH1 show My Coolest Years. And it is very cool that Noel was featured in Anthony Bourdain's best selling Kitchen Confidential. The man, well, he's the man! There's nothing Noel Ashman cannot do or conquer and if he hasn't done it already, and I am confident he will always find a way and get others to go along with him.
I found him very approachable, likable and honest. Talking to him, you wouldn't know he's a person who knows everyone there is to know. His humbleness shines through as he continues to work hard. And yes, he is currently getting ready to open up another amazing club. Go to his website as you'll see the magnitude and plethora of people. He is also well-documented at wireimage.com & patrickmcmullan.com. Follow him for updates here http://www.noelashman.com/ and here http://www.imdb.com/name/nm0039144/.
Popular in the Community