Every year, when the weather begins to crisp, the leaves begin to turn and the calendar turns a page to welcome October I think of sausages. I have always loved sausages. In fact my very first recollection of a sausage was from a boarding school I attended when I was four in the Swiss Alps. Luckily this school had amazing food, unlike one I attended outside of Paris years later, whereupon bowls of boiled blood sausage were placed before us hungry children much to our horror and dismay. Next thing I remember was a stampede of forks piercing the grayish skins and congealed blood spouting all over the place while other sausages took flight landing every which way. It's hard to believe that years later I did come to love boudin noir, as I have previously reported, but needless to say the latter were a much improved blood line and were properly prepared, crispy on the outside, well spiced and tender on the inside. The sausage that first won my heart however was a luscious and fluffy boudin blanc made with veal, spices, bread and cream. It was like mother's milk to me with a light and airy consistency like none I had ever experienced before. I distinctly remember thinking to myself, chew slowly, make it last, for like poor young Oliver Twist I also would not be getting any more. It was served with a boiled potato and a small pot of warm, runny cheese (possibly raclette) that we were meant to pour over the potato. It was a heavenly combination that has stayed with me all these years.
As neither boudin blanc nor noir are part of the Oktoberfest repertoire, I'm headed for the wursts -- the Brats and Weisswursts that is, and like anything else that involves good food, I always seek out natural, homemade options wherever possible. With that in mind I grabbed my beer expert pal and colleague Kylene and made a B line for DBGB (299 Bowery NYC, www.dbgb.com) to pig out on charcuterie master Aurelien Dufour's gourmet links. Dufour is half French and half German, having lived in Hamburg for 15 years, so we knew we were in the best hands for a sausage, kraut and beer tasting in this handsome and appropriately decked out sausage haven. They did not disappoint. The Bavarian specialties are highlighted on an alternating Oktoberfest menu brimming with bright flavors and subtle textures. Our first course consisted of a house made salted pretzel, perched on a pretzel tree on the bar, served with both Dijon and Whole Grain Mustard and did the job to propel our already healthy appetite. "Beer to go with your pretzels ladies?" asked our charming server. "Jawohl," we almost shouted in unison too eager to hold back our growing thirst. "One of each please," at which point two enormous steins larger than our heads with more beer in one glass than I have ever drank in my life appeared before us. The first was the Oktoberfest Weissbier by Erdinger, a hazy, golden beer with a hint of citrus considered the only great wheat beer. It was crisp and sweet, very easy to drink and not too filling. "It will take me a week to finish this," I protested to the manager who laughed admitting that his first time attending Oktoberfest in Germany he drank four of these in one day (and lived to tell us about it). The second beer featured was Victory Brewing Company's Festbier, a darker, full-bodied ale with a rich flavor. Both were fresh, crisp and ice cold and a marvelous complement to the salty brezel.
A few minutes later a Bavarian duet of Dufour's sausages arrived showcasing a hearty German sausage spiced with ginger, parsley, smoked paprika and a touch of cayenne paired with an exciting beer spätzle and pickled mustard seeds. I like to think that I like spätzle, I love the idea of it but I am almost always disappointed when I eat it finding it bland and not terribly interesting so I was delighted to find myself polishing this one off - maybe all spätzles should be made with beer! The second sausage on our plate was the Weisswurst, a traditional Bavarian pork sausage similar in flavor and texture to my beloved boudin blanc served with a German style potato salad. I was needless to say in sausage heaven at the hands of this sausage master who arrives at work at the break of dawn to roll out a thousand house made sausages a day. Next on our Bavarian dining tour was the Choucroute Royale, which had me jumping in my seat in anticipation. This classic dish is like hitting the sausage and pork jackpot and offers a tasty combination of smoked and roasted pork loin, seared pork belly, bratwurst, käsekrainer (a hearty sausage with smoked Emental cheese that runs out as you slice into it), an addictive crispy pig trotter served amidst a tangy and delicious sauerkraut. "All mine, all mine," I protested, knowing all too well that my eyes are bigger than my stomach. It was the epitome of an Oktoberfest feast and celebration.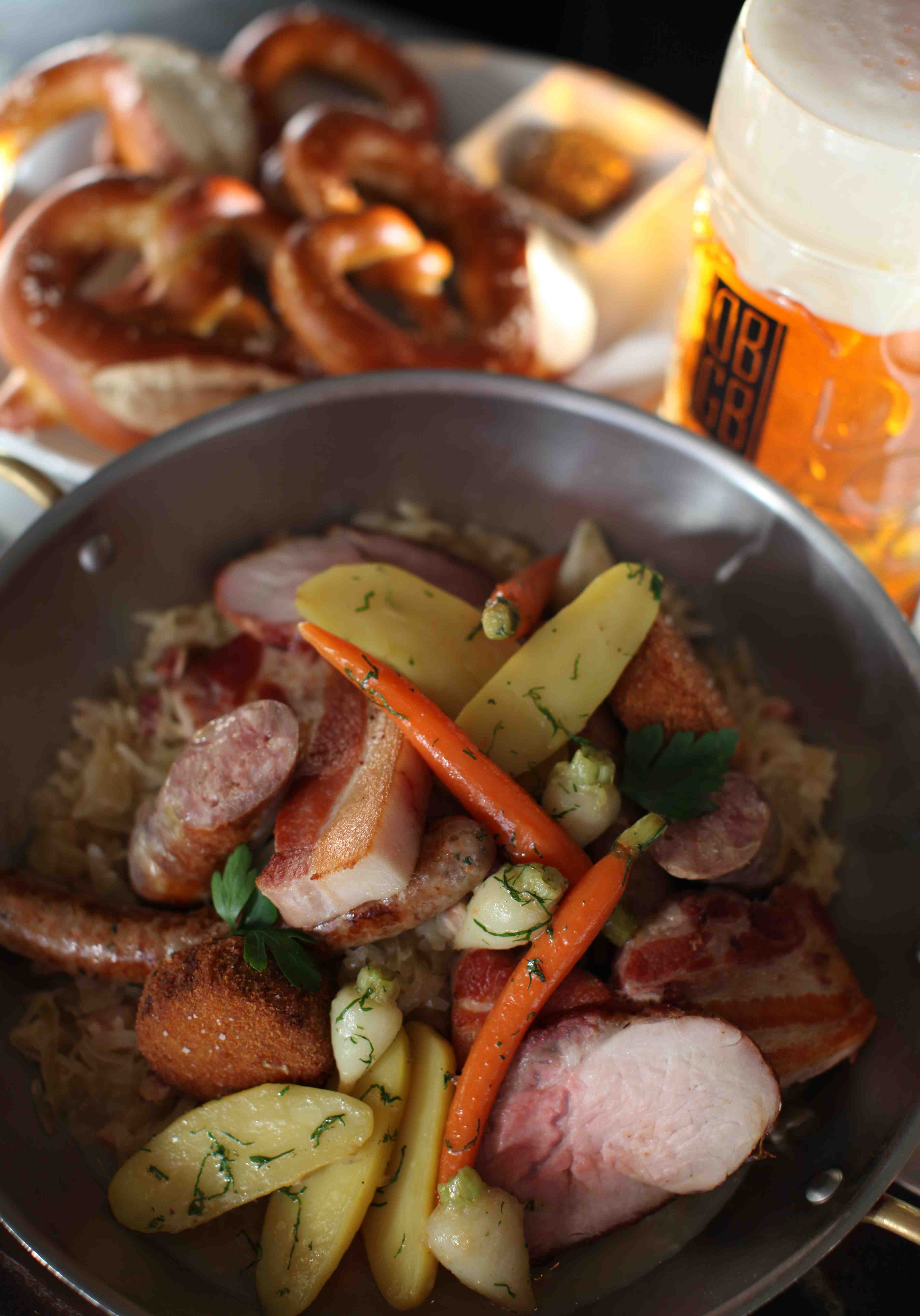 "Save room for our Pear Caramel Sundae," mused our waiter. "The pears are braised in beer." He wasn't kidding. I am rarely one to take more than two bites of a dessert, often finding them too sweet but the beer and chocolate caramel coated pretzels perfectly offset any sweetness and further elevated what was already an unforgettable trip to Munich. By the time we got up to bid DBGB "Auf Wiedersehen," we were giggling and singing like they do in Munich. Did I mention that we had all but finished those barrel sized 1 liter steins? (Sold for $8 from 5 to 7pm at the bar instead of $15, through October)
Unlike the real Oktoberfest, which ends the first week in October, DBGB and other NY establishments celebrate this happy holiday throughout the month. So strap on your lederhosen and check out Chef Jeremy McMillan's homemade sausages and buttery brezels at the Farmhouse at Bedford Post Inn (954 Old Post Road, Bedford NY, www.bedfordpostinn.com); '21' Club's (21 West 52nd Street NYC, www.21club.com) bauerwurst and sauerkraut fritter with gruyere and bacon, a must have with any one of their seasonal Oktoberfest draft beers including the Hofbräu Original; or Loreley Restaurant & Biergarten (7 Rivington Street NYC, www.loreleynyc.com) who hosts the longest Oktoberfest celebration in the United States.
This year Travel Channel's Andrew Zimmern will host the New York Wine & Food Festival's first ever Oktoberfest event on Sunday October 20th from 2pm - 5pm. This afternoon walk-around tasting will showcase cold brews and a variety of sausages at The Garden @ Studio Square NYC, a massive 30,000 square-foot indoor/outdoor beer garden in Long Island City.
Luckily, if like young Oliver Twist you want some MORE (sausages, mustard, beer and pretzels, that is), any of the above establishments will gladly oblige.
REAL LIFE. REAL NEWS. REAL VOICES.
Help us tell more of the stories that matter from voices that too often remain unheard.