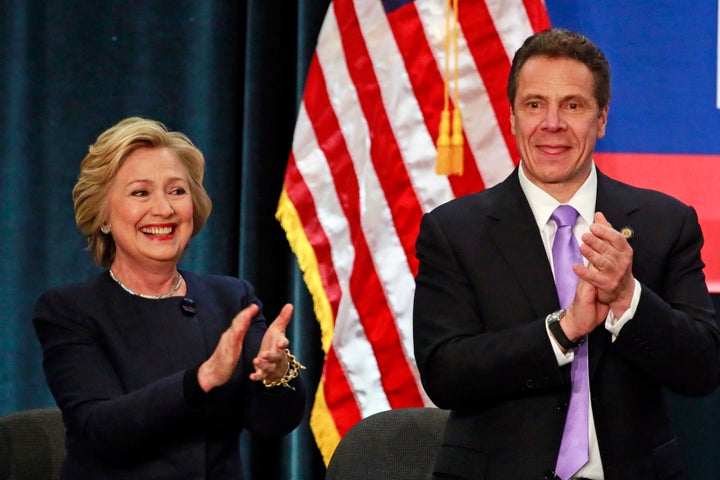 New York Gov. Andrew Cuomo (D) on Monday signed into law the most generous paid family leave policy in the United States: up to 12 weeks paid time off for new parents, as well as for those who need to take care of a family member with a serious medical condition or to handle responsibilities if someone is called to active military service.
The policy was part of the state's latest budget deal, which passed last week with bipartisan support.
Granted, it's not that hard to earn the "generous" moniker in the U.S., the only developed country in the world that has no paid time off policy for new mothers. Just three other states actually have paid leave policies. California and New Jersey offer six weeks off; Rhode Island offers four weeks. Washington passed a paid leave law in 2007, but hasn't implemented it yet.
New Yorkers like to go big, though. The new policy will phase in gradually. Beginning Jan. 1, 2018, workers can get up to eight weeks off, at 50 percent of their weekly pay -- to a maximum of about $630, which is half of the average weekly pay in the state. By 2021, they'll be able to get the full 12 weeks at two-thirds pay, as long as they have worked for their employer for at least six months.
All new parents are eligible -- men, women, adoptive parents, foster parents.
The time off will be funded by a small weekly payroll tax of about $1 per employee. That was a key selling point: Businesses will not have to pay anything to give workers this much-needed benefit. Many companies say paid leave helps them retain employees, ultimately saving money that would be spent recruiting and training new workers.
President Barack Obama praised the state's new law on Monday. "Americans shouldn't need to choose between their families and making ends meet," he said in a statement. "Thanks to Governor Cuomo's and the state legislature's leadership, New Yorkers will now move closer to never having to face that choice."
The new budget deal also includes a $15 hourly minimum wage that's getting major attention nationwide.
The governor had initially been much more gung-ho about raising the wage floor, and gave shorter shrift to paid leave. In 2014, he said the state lacked "the appetite" for paid leave. He changed his tune over the past year, as he came under pressure from a range of interest groups pushing for improvements to the policy.
"Cuomo was lukewarm on family leave just a year ago," said Ellen Bravo, the director of Family Values @ Work, a nonprofit coalition of groups pushing for paid parental and sick leave in the U.S. "But then he heard over and over that not only do we have an appetite but we are starving for it."
Cuomo then took up the case for paid leave and worked for months on a policy that would garner the approval of lawmakers on both sides of the aisle.
"Life is such a precious gift and I have kicked myself every day that I didn't spend more time with my father," he said in his state of the state address earlier this year. "I could have cut days in half I could have spent more time with him. It was my mistake and a mistake I blame myself for every day. But there are many people in this state who do not have the choice. A parent is dying, a child is sick, they can't take off of work."
Washington, D.C., Massachusetts and Connecticut could be next to pass paid leave this year, Bravo said. But there are campaigns around the country, she added.
New York's latest move basically raises the standards on paid leave for everyone, she said.
California Gov. Jerry Brown is expected to sign a bill this week that would improve the state's paid leave program, raising the amount of money that low-income workers are eligible for. And Rhode Island may soon consider increasing the amount of leave it offers.
"The bar keeps going up," Bravo said. "The problem is that in the U.S. we're so used to zero weeks, we forget what the rest of the world consider minimum. Even 12 weeks is just a beginning."
This article has been updated with statements from Obama and Cuomo.
Support HuffPost
The Stakes Have Never Been Higher
Popular in the Community