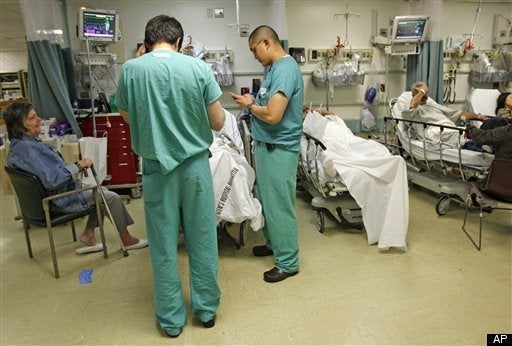 Patients in New York's emergency rooms have to wait longer than almost anyone else in the country.
It takes an average of 296 minutes, or nearly five hours, before patients are cared for in the state's hospitals. That ranks 46th in the nation, tied with Mississippi.
That number increased by 18 minutes between 2008 and 2009, according to a Press Ganey hospital survey.

New Yorkers have wait times that are about an hour longer than in New Jersey, Pennsylvania, Massachusetts and Connecticut as well as Illinois, 30 minutes longer than in Florida and 22 minutes longer than in California, the study found.

Industry sources said recent hospital closures have contributed to longer wait times. For example, St. Vincent's Medical Center and North General hospital in Manhattan shut down last year, and about a half-dozen city hospitals have shut down over the last several years.
"The patient volumes in the other hospitals are up, said Press Ganey Senior Vice President Christy Dempsey. "The patients have to go somewhere."
"Our concern is that patients receive accurate diagnoses and quality care," a spokesperson said. "Our system is not designed to be like the 12-items-or-less line at the supermarket."
Daniel Lowenstein, a spokesperson for the Primary Care Development Corps, said the report points to a larger systemic issue.
"This is another symptom of not having enough primary care and preventive care," Lowenstein said. "People go to the e.r. for things they should go to the doctor for or because they let it go for so long that they had to go to the e.r. Either way, it's another symptom of the broken system."
Calling all HuffPost superfans!
Sign up for membership to become a founding member and help shape HuffPost's next chapter