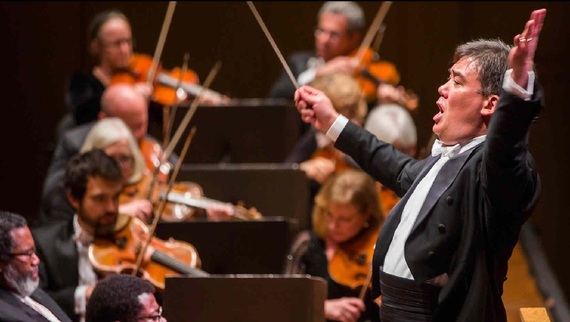 By Christopher Johnson, ZEALnyc Contributing Writer, October 5, 2016
On paper, this Philharmonic program looked fascinating and potentially revelatory, bringing together Hector Berlioz, whose concert-tours and Treatise on Instrumentation shaped the course of Russian music for much of the nineteenth century, and Nicolai Rimsky-Korsakov, whose integration of Western forms and techniques with traditional Eastern themes and performance-methods returned the favor, playing it forward through Stravinsky and the Ballets Russes, thus doing much to define the modern age.
The two works on the program--Berlioz's song-cycle Les Nuits d'été (Summer Nights) and Rimsky's "symphonic suite" Scheherazade--made an unlikely pair, the one a gossamer thing of modest proportions and delicate expression, the other a rip-snorting war-horse of the pops repertoire. Still, they have much in common. For all of Scheherazade's moments of spectacle, both pieces are essentially lyrical. While brilliantly orchestrated, both seek, not to astonish, but to bewitch, conveying all that is most essential through a web of exquisitely judged solos and small ensembles. While both are admittedly illustrative to some extent--Nuits d'été by virtue of its texts, a set of six poems by Théophile Gautier, and Scheherazade by association with The Thousand-and-One Nights--each observes classical structural norms within an elegantly-plotted cyclical plan. Finally, Scheherazade is comprehensively indebted to Berlioz, not only for its layout, in which a strongly characterized solo stringed instrument leads and shapes a complex symphonic structure--along with the sequence of movements, this is plainly derived from Harold in Italy--but also for many specific gestures and textures echoing Harold, Romeo and Juliet, The Damnation of Faust, and the Symphonie fantastique. Even its most striking modernisms--the polytonality and the non-functional harmony--have clear antecedents in Roman Carnival and in the Requiem.
The concert touched on none of this.
The Berlioz marked the Philharmonic debut of Magdalena Kožená, whose participation in the Peter Sellars-Simon Rattle production of Bach's St. Matthew Passion at the Park Avenue Armory two years ago attracted much favorable comment, and whose disc of French opera arias is one of the best things of its kind in decades. In this performance, she was vivid and energetic, and both the audience and the orchestra plainly loved her. At the same time, something wasn't working: for all their brevity, each of these songs is a fully-developed scene, and while Kožená colored individual words and clauses vigorously and often quite beautifully, she seemed to miss the through-lines. There was a lot of unspecific gesturing, especially towards the beginning, and the voice sometimes lost force in the lower register or went sharp under pressure up top. The acoustic may have been partly to blame--even reduced to chamber-proportions, the orchestra sounded loud and coarse, more Victory at Sea than "L'île inconnue"--but the tempi would have created problems in any case, so hard-pressed were they that much of Berlioz's delicate part-writing was obscured and essential moments went for nothing, including the wry little send-up at the end.
Scheherazade was the loudest thing I have ever heard, and I have lived a long time, and I have heard a lot of loud things. Apart from the cello solos, which Carter Brey played with unfailing poetry, fantasy, and delicacy of tone, everything was emphatic, uninflected, and unvaried. The strings were acidulous, the winds pushed so hard that horns sounded like trombones and trombones like tubas, even in quiet passages, and the percussion ran out of headroom long before the written dynamic climax. The solos that occur throughout the piece and give it so much of its flavor seemed uncharacterized, as if the players were just vamping until the next general outburst. Alan Gilbert, who conducted from memory, obviously loves Scheherazade--and by the way, the audience agreed, loudly and at length--but I can't help but feel that he missed a great opportunity to show the piece for what it is: a tightly-integrated symphonic structure that generates an astonishing proliferation of thematic material out of a few concise melodic gestures, much like contemporary works by Brahms with which it may reasonably be compared. (To see what can be done along these lines, and how poetic and exciting that can be, check out this recent performance by Yuri Temirkanov, with a regional orchestra roughly half the Philharmonic's size.)
Cover: Alan Gilbert conducting the New York Philharmonic; courtesy of NYPhil.org.
_____________________
New York Philharmonic in performance on Thursday, September 29, 2016 (repeated September 30 and October 1) in David Geffen Hall. Conducted by Alan Gilbert, Music Director; Magdalena Kožená, mezzo-soprano.
BERLIOZ Les nuits d'été, Op. 7
RIMSKY-KORSAKOV Scheherazade, Symphonic Suite, Op. 35
Christopher Johnson writes frequently for ZEALnyc about classical music and related performances.
Calling all HuffPost superfans!
Sign up for membership to become a founding member and help shape HuffPost's next chapter