There is a brand-new pizza craze sweeping New York City (already a town of pizza crazes, going back more than 100 years). The last craze started about five years ago, when the pizza-makers of Naples moved onto the NY scene, bringing with them the greatest style of pizza ever imagined by man or pizza deity (quick-cooked, charred and runny Neapolitan pizza, a change from New York's longer-cooked, 1950s version of Neapolitan pizza). But that was just the beginning. Within the last year, the new Neapolitans have pushed the envelope, exhuming something their grandmothers made, adapting it, and driving pizza-mad New Yorkers madder still with -- are you ready? -- deep-fried pizza, called montanara.
Why would you ever deep-fry a pizza? And what does that even mean?
The more you dig into the background of the montanara, the more mysterious the story becomes, shot through with missing information and conflicting tales. So I went to the two transplanted guys in New York who, by all accounts, are responsible for the montanara craze, in search of the purest info.
Happily, the stories they tell, at least, are recognizably drawn from a shared history.
Giulio Adriani of Forcella Pizza (Brooklyn and downtown Manhattan) and Roberto Caporuscio of Don Antonio by Starita (theatre district, Manhattan), Neapolitans both, agree on the origins.
"Montanara is something that, traditionally, in Naples, was only made at home," Adriani says. "Two hundred years ago, there were no apartments with ovens... because there was no electricity, no gas. People who wanted to have pizza at home fried the dough, then put the room-temperature toppings on it and served it: tomatoes, Parmesan and basil. No mozzarella."
"My mom would make it all the time at my house when I was a kid," adds Caporuscio. "Mothers and grandmothers would buy the leftover pizza dough from the pizza-makers, and then they'd fry it at home for dinner."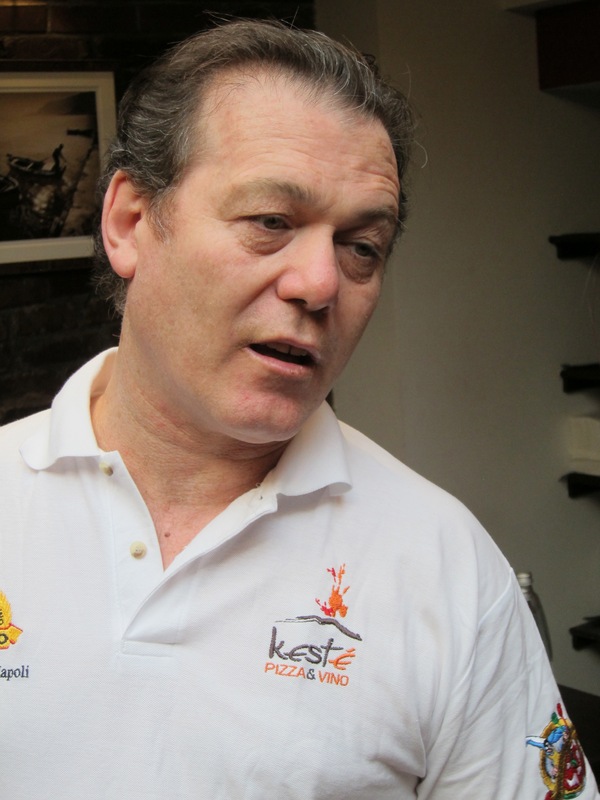 Roberto Caporuscio at his NY restaurant (with names on his jacket of other NY pizzerias he started).
The very special thing, however, about the newfangled New-York-style montanara (though its origins are shrouded in mystery) is that after the deep-frying of the dough and the topping of the disc (a topping that includes cheese!), the montanara is placed for a very short time in a blisteringly hot pizza oven, which gives a little char and crackle and flavor to the crust.
The result, for me, is the most delicious pizza crust I have ever tasted, with old-world airiness about it, thrilling crunch, fetching internal softness and a subtle richness that comes from the deep-frying. Plus, "when you put it in the oven," Caporuscio says, "the oil is evaporated, and the montanara is not greasy."
The timing of it all is surprising. Both Adriani and Caporuscio fry the dough for 30 seconds only, just enough to make a noticeable difference.
Then, the fried dough gets a thin topping of tomato sauce, plus cheese and basil.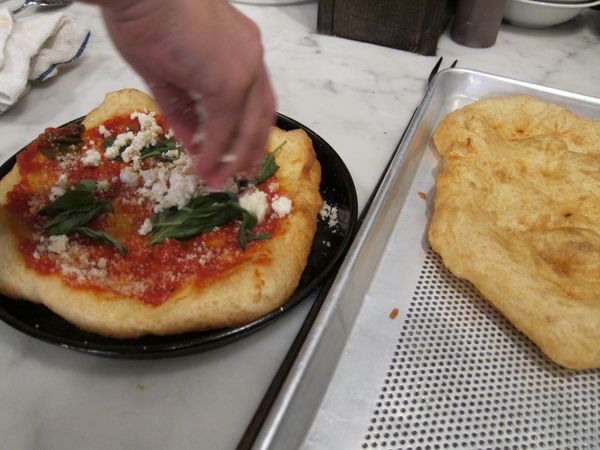 At Don Antonio by Starita, for the montanara Caporuscio uses a fabulous smoked buffalo mozzarella made in Capua, near Naples.
At this point, the dough goes into the inferno-level oven. Caporuscio, at Don Antonio by Starita, likes to use a slotted pan for the pizza, which enables oil to drip through.
Astonishingly, given the amount of charred crust you see on a montanara, the pie cooks in the oven, at both restaurants, for only 30 seconds!
So... the big questions for pizza historians is, is this version of montanara a New York creation? When did it begin? And where does the name come from, anyway?
The last question has no definitive answer. Clearly it's a reference to "mountains," but what does that indicate? "They tell me it was started in the part of Campania (the Naples region) that has mountains," Caporuscio says, without a lot of certainty. Adriani plays with a different theory: "The dough comes out of the deep-fryer puffy, in the shape of a mountain." But he adds: "I don't really know. I have heard too many different stories to know which one is true."
The origins of the fry-then-bake variation? Both montanaraistas have strong feelings.
"It was first done at the Starita pizzeria in Naples, ten years ago, by the owner of Starita, Don Antonio." Definitive? Well, we do have to take into account that Starita in Naples owns Don Antonio by Starita in New York, and that Don Antonio himself is Caporuscio's boss.
Adriani of Forcella shares the belief that this version of montanara did start in Naples pizzerias, but is not sure where. "I did see it in a number of places over the last decade. But, interestingly, in Naples, they didn't really market it as in important thing. Nobody paid much attention to it." That's certainly not the case in New York City!
So who was the first to make this style of montanara in the U.S.?
Caporuscio baldly states that he doesn't know. But he claims that he was consulting for a restaurant in New Jersey called A Mano that put it on the menu four years ago. "Unfortunately," he says, "no one knew about it... because it was New Jersey."
Adriani tells a different story. "I was the first to make montanara, at Forcella in Williamsburg, in July 2011." "First in New York?" I ask him. "No," he replies, "first in America!" Then he relents a bit: "Well, if there were other restaurants doing it, I have no information on that."
Whatever its genesis here, it may well be here to stay. Caporuscio is swamped at the New York Don Antonio by Starita with Americans -- and Italians -- who show up regularly for the deep-fried pie. "I started this place as a showcase for authentic Naples pizza... but today the montanara accounts for 60% of my sales," he says.
Adriani has taken it a step further. Recognizing that for him, too, a "majority" of his Forcella sales are montanara, he has just opened a pizzeria called La Montanara in downtown Manhattan that serves ONLY montanara pizzas, with various toppings.
In my opinion, the craze will last. Americans are deeply conflicted about deep-frying: they claim it's the devil, but they consume tons of deep-fried foods every day. The montanara has one advantage over many others: though it is deep-fried, you'd never guess just by tasting it. An enrichment of flavor and texture takes place, for sure, but the last thing it tastes is fried.
That will surely encourage many Americans to order it a second time.
Related