It was an exceptional moment to hear the renowned New York poet Ron Padgett read his poems to an eager audience at the Lisbon & Estoril Film Festival. The poet gripped his audience with his clear dramatic delivery and streak of self-effacing humor. "Don't worry," he quipped to us, indicating the pages of his poetry on the podium. "I won't be reading too many!"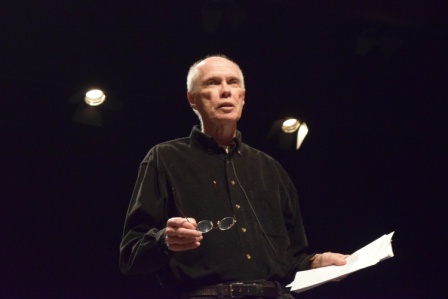 Padgett's are the kind of poems that put one in a good mood: each is based in wonder about existence, which always returns to the concrete and everyday. Wonder about mortality turns to musing about one's shin. The simplicity and dramatic strength astonishes: "The windshield wiper blades starts to squeak. The rain has stopped. It stops. I stop."
"You've lifted my spirits," I told the lively intense poet after the reading. "Especially after hearing the news of Trump this morning. Do all your poems come from such a happy place?"
He jovially smiled: "Many of them do."
Jim Jarmusch's new film Patterson, also screening at the Lisbon Estoril festival, features a bus driver who writes poems, they too unassuming celebrations of the quotidian. The poems are--all except for two--written by Padgett, who is a long-time friend of the film director. One memorable poem is a paean to a matchbox that begins "We have plenty of matches in our house" and then delves into the fiery virtues of a certain brand. Condensed in that "matchbox" is a passionate love story "stubbornly ready to burst into flame."
"Did you like seeing your father's poems in Jarmusch's film?" I asked Wayne Padgett, the poet's son, with whom I shared a spirited shuttle ride at the festival.
"Of course I did! Especially since those poems were written to my mother," the son said with a beaming smile equal to his father's.
Later I asked Jim Jarmusch about his interpretation of the philosophy of Padgett's poems, and how this philosophy intersects with his own.
The director spoke glowingly: "Padgett is one of New York School of poets. He edited the anthology of New York Poets with David Shapiro in 1975, which includes poets such as John Ashbery, Kenneth Koch, Frank O'Hara and James Schuyler These are my favorite American poets. What characterizes the New York Poets is that they write their poems as if writing to one other person. It's not about proclaiming something to the world. They embrace humor, self-effacing humor. The idea is not take yourself so seriously. To love the form. They are joyful poets. Often they have exclamation points at the end of a sentence."
One of Padgett's poems ends: "O! O! O!"
Calling all HuffPost superfans!
Sign up for membership to become a founding member and help shape HuffPost's next chapter