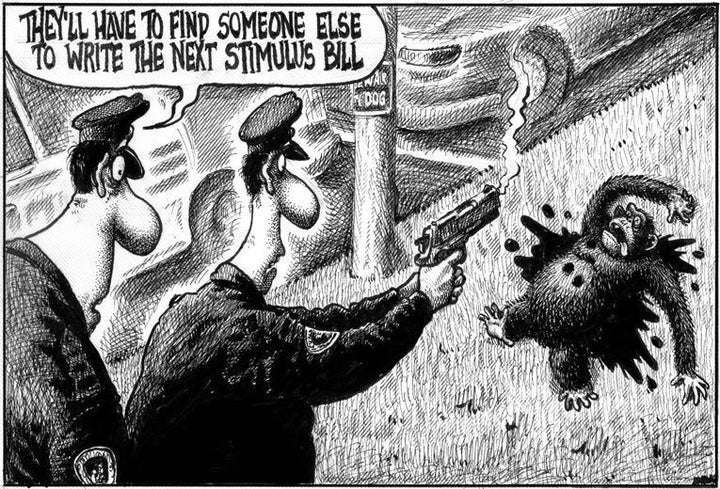 The mood inside the New York Post, it seems, is a mix of anger and bewilderment that the paper published a cartoon depicting the authors of the stimulus as a dead, crazed chimpanzee.
On Wednesday, an employee of the paper told the Huffington Post that the phone lines had been inundated with complaints over what was interpreted as a racially charged jab at Obama. "As they f--king should be," said the source.
Today, meanwhile, the Post's Associate Editor, Sandra Guzman, sent out an email to other reporters distancing herself from the paper's cartoon and acknowledging that she has talked to management about her disapproval.
"Thank you for your feedback," reads the email. "Please know that I had nothing to do with the Sean Delonas cartoon. I neither commissioned or approved it. I saw it in the paper yesterday with the rest of the world. And, I have raised my objections to management. --Sandra Guzman."
The Post has stood by the cartoon, saying that it was meant to mock the contents of the stimulus by comparing the legislation to a now-infamous chimpanzee who attacked a woman in Connecticut.
White House press secretary Robert Gibbs was asked about the image on the Air Force One, Wednesday and had the following to say: "I have not seen the cartoon, but I don't think it's altogether newsworthy that I don't spend a lot of time reading the New York Post."

Support HuffPost
The Stakes Have Never Been Higher
Related
Popular in the Community