In a setback for the New York Post, a district judge on Tuesday dismissed an effort to dispatch a lawsuit from a former employee alleging that she was harassed while at the paper and unlawfully fired.
The suit, brought by onetime Post editor Sandra Guzman, will now go to trial, Guzman's lawyer told The Huffington Post.
"We are extremely pleased with Judge Schofield's thoughtful opinion and look forward to holding the NY Post and Col Allan responsible at trial for their discriminatory actions," said Guzman's lawyer, Douglas Wigdor.
The Post's parent company, News Corp., will not be part of the legal proceedings, as the judge granted its motion for dismissal. But both the Post and Col Allan, its editor-in-chief, had their motions denied.
"We are pleased that the claims against News Corp were thrown out," a New York Post spokeswoman said in a statement. "We look forward to presenting the truth about the remaining charges -- which are completely unfounded -- to a jury."
Guzman sued the Post in 2009 alleging that she had been repeatedly harassed in the newsroom and eventually fired for speaking out against a highly controversial cartoon about President Barack Obama. The cartoon depicted the author of Obama's stimulus package as a chimpanzee shot dead.
Additionally, she alleged that higher-ups at the Post had fostered a hostile work environment for minorities like herself -- a black, Puerto Rican female. Allan, she said, showed her and other colleagues a cell phone picture of a "naked man lewdly and openly displaying his penis," while other editors and colleagues repeatedly used misogynistic or racist language.
The Post had sought to halt the case before it began, on the grounds that Guzman had not raised these concerns while employed the Post. A judge dismissed that motion in September 2010.
In June 2012, a Manhattan federal judge ruled that Allan could not invoke "editorial privilege" to avoid answering certain questions about the controversial chimp cartoon and "one related to a photo of a nude man published in connection with former New Jersey Gov. James McGreevey's divorce," according to Reuters.
Allan had refused to answer those questions during a seven-hour deposition in February 2012. The federal judge ordered Allan to take part in two more hours of deposition.
Allan's future with the Post has been the source of speculation in New York media circles.
The money-losing tabloid has long been subsidized by News Corp.'s television and film entities. But a corporate split in June pushed the Post into a separate publishing-focused company that no longer includes lucrative properties like Fox News and 20th Century Fox.
Allan was summoned to his native Australian over the summer to provide editorial guidance to Murdoch's papers there -– a move that insiders suggested could be a one-way ticket. But Allan returned to New York earlier this month and continues to helm the Post.
Tuesday's ruling by Judge Lorna Schofield is another setback for the conservative-leaning paper and its longtime editor.
"The record here contains sufficient evidence of harassment to create triable questions of fact on Ms. Guzman's hostile work environment claims on the basis of sex, race and national origin," Scholfield wrote. The judge added:
Defendants invoke the affirmative defense against an employer's imputed liability and argue that Ms. Guzman did not adequately notify her supervisors of the alleged harassment, and did not avail herself of the Post's anti-harassment policy. However, Ms. Guzman testified that she used the company's procedures for reporting harassment by complaining to Jennifer Jehn in Human Resources in February 2009. She also testified that she complained to three members of the Post's executive management team. Plaintiff has adduced sufficient evidence to raise an issue of fact about the adequacy of her complaints of sexual harassment. For all of these reasons, her claims of sexual harassment raise sufficient issues of fact that a reasonable jury could find in her favor.
It is not yet known when the trial will take place, though since the discovery process and depositions have been completed, Wigdor hopes the proceedings will start by the end of the year. Guzman has not listed the remunerations she is seeking as a penalty, Wigdor added, though that will come once the trial begins.
Before You Go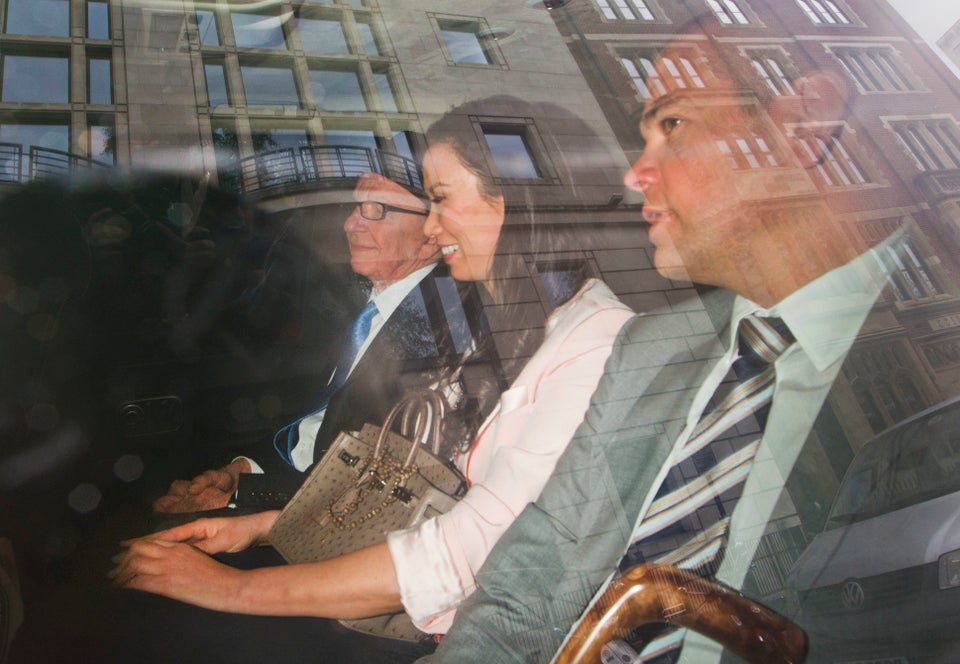 The Murdochs
Popular in the Community