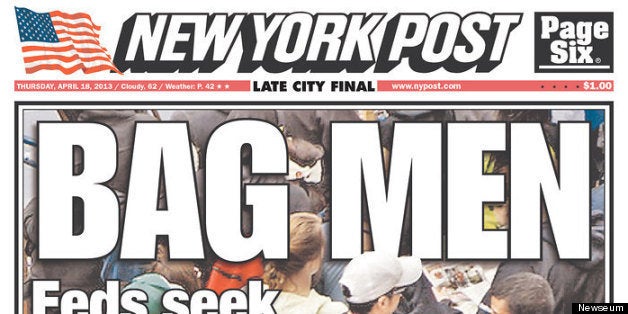 NEW YORK -– For the second time this week, the New York Post came under fire for its Boston bombing coverage after publishing a photo Thursday of two men under an ominous headline: "Bag Men: Feds seek these two pictured at Boston Marathon." The Post's website blared, "Men In Sights," alongside a close-up shot of the two men from a different angle.
"We stand by our story," Post Editor-in-Chief Col Allan said in a statement to The Huffington Post. "The image was emailed to law enforcement agencies yesterday afternoon seeking information about these men, as our story reported. We did not identify them as suspects."
It's true the Post didn't claim the two men were "suspects," and they reportedly aren't. But in publishing photos of these two men alone -- and not others carrying bags near the finish line that authorities are likely trying to identify -- the paper recklessly raised suspicions that the pair could've been involved in Monday's deadly attack.
Allan didn't respond to a question from HuffPost as to whether Post reporters did any online research into the two men's identities before publishing the photo across the tabloid wood and online, and the three Post reporters sharing a byline on the story didn't respond to calls and emails. Several sites, including Reddit, Gawker and Deadspin, found details online about one of the men, a 17-year-old Moroccan-American high school runner with a Facebook page. Salah Barhoun, the teenager in question, told ABC News on Thursday that he went to the police to clear his name after seeing his photo circulating online.
In the Post article, the writers suggested that the second man's backpack, visible in one photo, is not visible in a later photo taken on Monday -- fueling suspicion as to what he may have been doing near the finish line. However, the backpack in question is clearly visible in both photos published Thursday in the Post.
The paper's decision to publicize a Moroccan-American teenager's image follows Monday's report that a Saudi national, who was nearby during the explosion and questioned by police, was a "suspect" in the attack. The Post also went out on a limb Monday in reporting that 12 people died in the attack, while other news organizations were reporting two or three deaths -- the latter being the final tally. The Post hasn't answered questions about those reports.
The Post's unwillingness to engage in any back-and-forth about its Boston marathon reporting can partly be attributed to an old-school tabloid sensibility that hasn't adapted to the proliferation of instant media criticism online, whether professional or amateur. Reporters and editors at other news outlets will often respond directly over Twitter to questions, or speak in interviews -- both sanctioned and not -- about their editorial process. Post reporters and editors rarely do. And unlike The New York Times, which employs a public editor to investigate coverage, the Post doesn't have any such newsroom watchdog.
Still, the Post is consistent in avoiding discussions about the reporting process. Recently, Post editors declined to comment for a HuffPost story that portrayed the paper in a positive light for having diligently investigated a rumor but declining to publish the unsubstantiated claim.
The Post's reaction to criticism or coverage questions is not unlike other Rupert Murdoch-owned media outlets. For instance, Fox News didn't respond to questions Wednesday about misreporting that an "arrest" had been made in the bombing investigation, while CNN did.
Throughout his career, Murdoch has never seemed to care what the elite journalism community thought about his media outlets. His faithful lieutenants, like Col Allan, can share a similar swashbuckling attitude, according to interviews.
"We like being pirates," Allan once told New York magazine. "We don't like conforming. I don't want to go to the fanciest cocktail parties. I don't care for it. I'm not interested. There's a broader culture within the company that encourages creativity, encourages freedom. And speaking particularly for the Post, I like the idea of a sword and a patch over the eye."
Related
Before You Go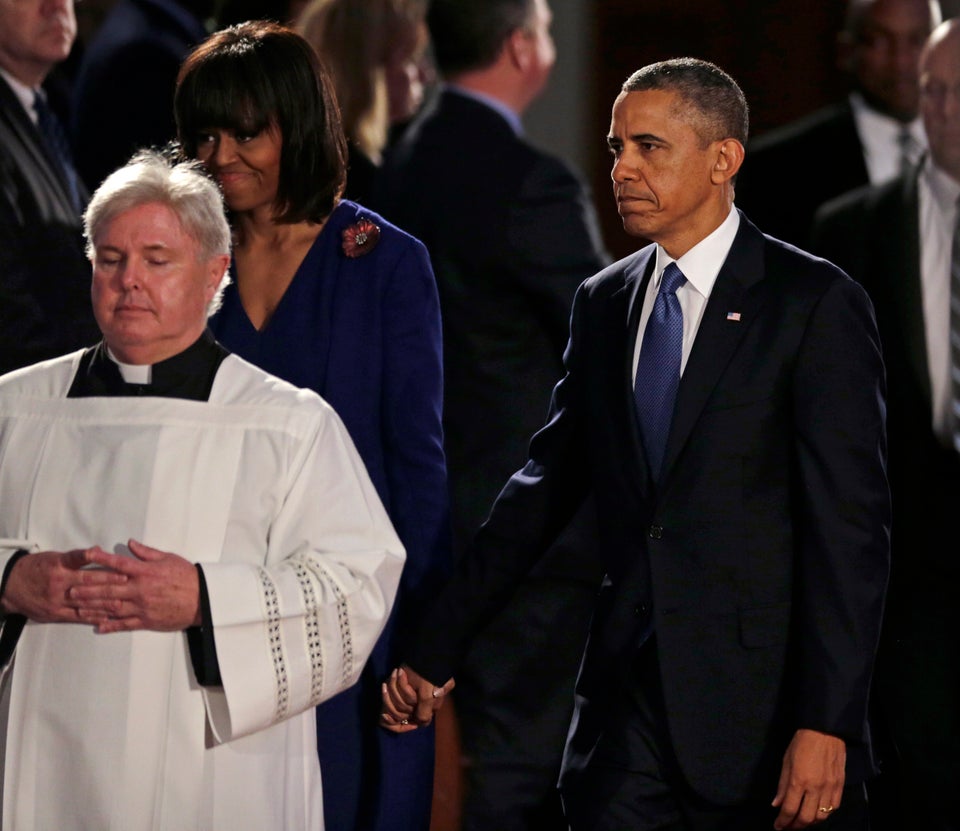 Boston Vigils
Popular in the Community