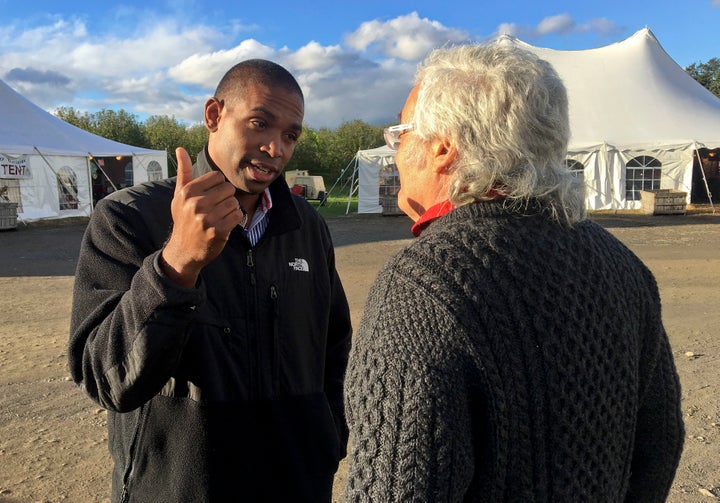 The New York Post appeared to steal a page from state Republicans' playbooks with a story this weekheadlined: "Rapping Dem raised $3.8M for campaign against Republican."
Briefly, the "rapping Dem" isAntonio Delgado, who is running as a Democrat to represent New York state's 19th district in Congress. He received a prestigious Rhodes scholarship to attend the University of Oxford in England, where he earned a master's degree in philosophy and political science after completing undergraduate studies at New York's Colgate University. Then he went to Harvard Law School, where hemet his wife.
The $3.8 million his campaign raised was "eye-popping," as the Post put it, considering that his opponent, incumbent Republican Rep. John Faso, only collected around $1 million in the same period.
Also eye-popping, though, was the Post's headline, which narrowed in on perhaps the least consequential aspect of Delgado's resume: That time he tried to make it as a rapper.
The headline is oddly in line with messaging from New York Republicans, who have exhibited a mild obsession with the lyrics that Delgado, who is black, wrote in the mid-aughts.
A mid-September attack ad attempted to portray Delgado as a hypocritical un-American thug, interspersing wholesome shots of the candidate with the decade-old lyrics he wrote under the name A.D. the Voice. One such line, "God bless Iraq," is intended as a chilling coda.
Another attack ad, released in late September, is much more restrained yet still refers to Delgado as a "big-city rapper."
Delgado achieved professional success not as a rapper but as an attorney before announcing his bid for Congress. He told The New York Times that he saw the ads as attempts to "otherize" him in his home district, which is largely white.
The race between Delgado and Faso is tight as Democrats seek to flip the House and Republicans fight to hold onto their majority. Voters in the state's 19th district ― which covers part of the Hudson River Valley area ― have been less than consistent in recent years, electing Barack Obama to the White House twice but also going for Donald Trump in 2016.
Delgado bought a house in Rhinebeck, New York, last year and currently lives there with his wife and two children.
Requests for comment from Delgado's campaign and the New York Post were not immediately returned.
Popular in the Community