The New York Post front page Tuesday insinuates that three black New York lawmakers (Senators Kevin Parker, Bill Perkins, and Eric Adams) wearing hoodies in solidarity with Trayvon Martin are "race hustlers."
"TRAYVON HOODWINK" the headline reads, with the dek, "Tragedy hijacked by 'race hustlers.'"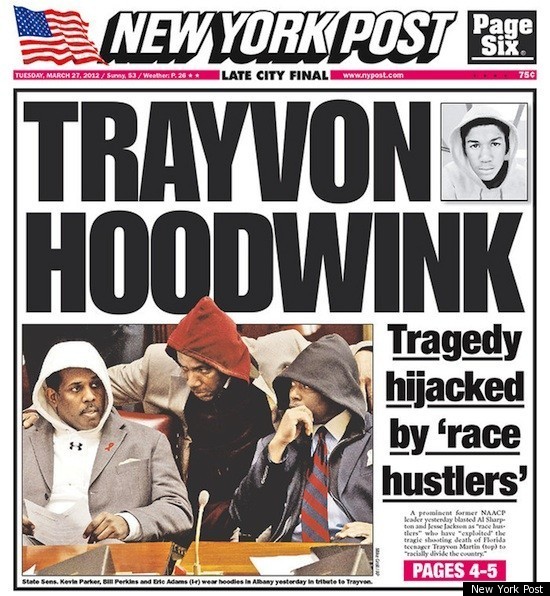 The phrase "race hustlers" is not The Post's however, but rather that of former NAACP leader C.L Bryant (now a Tea Party member) who accused Jesse Jackson and Al Sharpton in The Daily Caller Monday of "exploiting" the killing of Trayvon Martin "to racially divide this country."
"His family should be outraged at the fact that they're using this child as the bait to inflame racial passions," the conservative black pastor told The Daily Caller, adding that Jackson and Shartpon are "race hustlers" who are "acting as though they are buzzards circling the carcass of this young boy."
But they're not the only ones. Across the country people of all races have flipped up their hoods in protest. And, as Buzzfeed notes, "By the Post's logic, this means that the other hoodie-wearing famous people like Clay Aiken, Jennifer Granholm, and the entire Miami Heat are also 'race hustlers.'"
Also notably omitted by The Post's front page photo, are the three other New York lawmakers who sported hoodies in Albany Monday, two of whom were white.
Tom McGeveran at Capital New York has a theory about the Post's curious front page:
That Bryant represents the most marginal possible faction among African American leaders is part of why he's given such prominence; also, I suspect, because John Podhoretz and Bob McManus and other Post bigs would love to say what he's saying, but feel they can't because they are white.
Anyway, assuming that it is not possible for the Post to express its disapproval of the mounting national reaction to the Martin case, today it manages something very like that, and quite absurd. The Post, speaking through Bryant through The Daily Caller, would have you believe they are outraged at African-American leaders on behalf of Martin's family.
REAL LIFE. REAL NEWS. REAL VOICES.
Help us tell more of the stories that matter from voices that too often remain unheard.