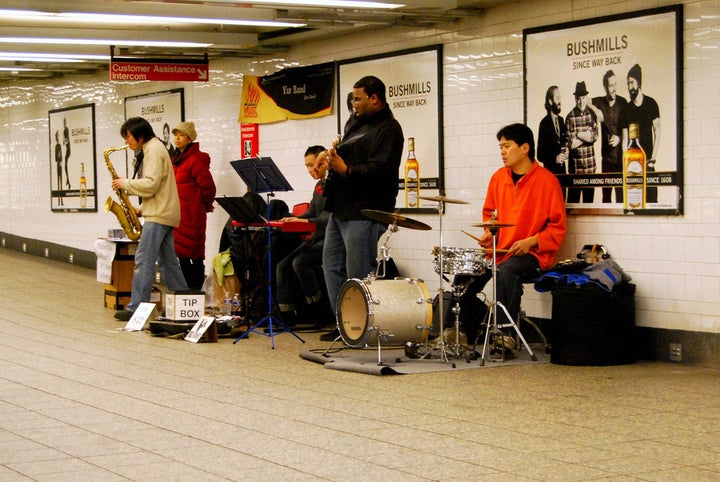 I stomped and tromped myself down into the subway today in a funk. A mean mood. Something like mild frustration that slipped into a raging headache and made the thought of hearing some joyful accordion make me want to break something. But as I headed down into 34th St station at 6th Ave and started hearing a familiar tune, I noticed a crowd gathered around the main escalator and watched about thirty or so people of all ages jam out -- dancing, clapping, swaying -- to a band covering what sounded like a Meters song. The whole scene put a smile on my face and a little pep in my step. I jumped on the escalator down to the train platform humming along and by the time the band had completely faded away, heard a delicate violin strain. It was pleasant enough until I turned and saw the violin being played by the cutest little Asian toddler you've ever seen, playing with whom I assumed to be his father. The scene threw me over the top with elation! As I realized that my headache was completely gone, I became acutely aware of the transformative power of art -- to heal the mind and its perception, focus, and function.
Then, I wondered if the Arts for Transit program was specifically designed to help enhance what can be a stressful commuting experience. If music can be used to diffuse anger, create happiness and bring together people with little other in common besides proximity, why can't music and other arts be strategically used to aid communication and facilitate mutual trust -- and even true accountability -- between strangers?
Our society is growing and maturing at an exponential rate, yet in our growth we are more individually oriented than ever before. Our challenge remains to communicate effectively within an ever-widening community -- with needs and values as diverse as the individuals -- to bring about systemic social change. We must communally interpret universal concepts -- peace, non-violence, acceptance, tolerance, health, prosperity, success, liberty, democracy, environmental responsibility, human rights -- unto true and measurable progress that accommodates our ever-plural society. Art is a powerful tool for making complex ideas simple and facilitating easy, non-verbal communication around abstract ideas. Art, and the process of making it, must be preserved as a communication tool essential to healthy child development. Recognizing art as a valid communication tool for adults can help galvanize meaningful discussion about the ideas and values that shape our lives.
As individual artists and arts organizations struggle to maintain funding for their work, we must find more essential functions in which to employ artists and to allow their god-given gifts to be a valued service to our communities, and not just in niches or ivory tower isolation. Smart artists recognize and are driven by this crisis to innovate into new techniques and technologies, new products and services in a blend of social entrepreneurship and interactive arts techniques, forcing meaningful interactions between people by engaging them in participatory art.
One brilliant example of a game-changing individual artist who is breaking down barriers is Randy Mason, a guitarist, emcee, poet and comedian who I watched engage an entire subway car in a Michael Jackson sing-a-long. His only stated goal was to have some fun and put a smile on someone's face, but he ended up making a five-year-old moonwalk and walked away with a fist-full of cash, having actively exposed 50 more people to his music and performance. He made himself relevant and valuable in that moment by pressing through awkward tensions with artistic prowess and compassion to provoke a response. I have watched many highly paid, popular performers hide behind the fourth wall of the stage and never command the rapt attention of such a diverse group.
Another brilliant example of game-changing art is from a dance company that has been heralded for over 20 years. Urban Bush Women is a performance activism organization that uses storytelling and movement to engage and empower communities of color. Complex ideas of identity, self-worth, love and self-love, family, heritage, community, respect and many others manifest themselves through vibrant tableaus of dance, acting, and vocal expression. Their mastery of the performance technique has led to the company's transition into an institute that uses performance methods to train and facilitate effective conversation and understanding between people of varied backgrounds. Theirs is but one of many worthy organizations striving to improve the human experience through the transformative power of art. In full disclosure, I'm a board member; but my enthusiasm for their mission was the impetus for my participation.
Art in all its disciplines must not become an antiquated media relegated to the halls of museums and other archives. Yet, we must find new applications and interpretations of art that recognize and play to our 21st century, digitized, distracted, overstimulated lives. Utilizing art as a tool to get people to connect with each other in real life could be the key to solving our communication problems -- in politics, in business, and in life in general.
Know of a great organization or individual using art as a functional tool for business or community engagement? Spread the word (here). We can use art to change the world!