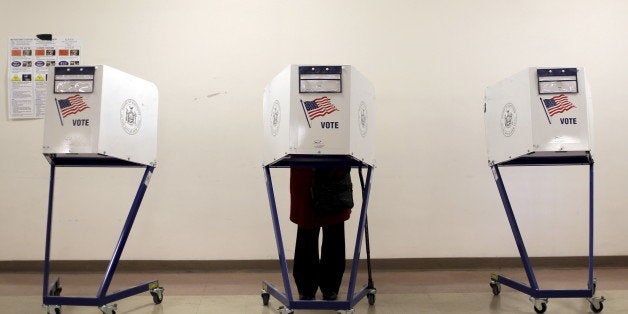 Now that the dust has settled on New York's Democratic primary and Hillary Clinton's decisive victory, it's time to step back and try to make sense of the city's core political and economic interests. Fortunately, both the New York Times and WNYC radio make it possible to track such interests at the local and even neighborhood level. To be sure, one should approach the maps with a certain degree of caution. In light of Election Day "irregularities," including 126,000 people who were "purged" from Democratic voting rolls in Brooklyn alone, it's not clear if we can entirely trust such maps. What is more, it's a bit simplistic to argue that people simply vote on the basis of their own "class interests," as rich folk may vote for progressive candidates and poor or working class people may shoot themselves in the foot by voting for candidates who represent elite interests.
Nevertheless, it's difficult to escape the conclusion that grittier, "cutting edge" white hipster and youthful areas tend to vote for Bernie, and more established, family-oriented and gentrified neighborhoods vote for Hillary. Maps may elicit other clues as to the underlying allegiances of specific groups such as Jews. In a previous article, I suggested that Bernie might want to pursue the "Jewish vote" in New York, but maps seem to suggest that Jewish folk weren't very amenable to the Vermont senator's overall message. Lastly, maps tend to confirm wider, national trends suggesting that Bernie does better amongst white working class voters than other minorities such as blacks and Latinos.
Manhattan Votes Class Interests
Looking at the maps, one is immediately struck by the drastic correlation between gentrification and the Hillary vote. It's no secret that Manhattan has become almost the exclusive preserve of upper class people in recent years, with precious little space for the middle class which has been priced out of neighborhoods due to soaring real estate prices. While it's no surprise that Hillary won the Upper East Side, long associated with established old money, the former Secretary of State's victories on the Upper West Side and even Lower Manhattan including Soho and Tribeca are telling.
If Bernie had run for president in the 1970s, when the latter two neighborhoods were more "cutting edge" enclaves made up of pioneering artists, the Vermont Senator probably would have done pretty well. But now, few can afford to live in these areas save Wall Street bankers and stock brokers. Not surprisingly, then, Soho voted overwhelmingly for Hillary save a few pockets here and there. The picture is even more extreme in neighboring Greenwich Village, former home to the Beat generation and folk music. According to the results, Hillary secured huge victories in the neighborhood, swamping Bernie by thirty or even forty percentage points in some areas.
The only bright spot for Sanders was historic working class enclave Stuyvesant Town and the East Village, a neighborhood which still preserves a vestige of its old "counter-cultural" 1960s feel. To this day, St. Mark's Place and the environs display a more youthful atmosphere and perhaps Bernie even picked up some of the off campus NYU student vote, which wouldn't be too surprising in light of Sanders' large pre-Election Day rally in nearby Washington Square Park. Still, the East Village has been greatly transformed in recent years through successive waves of gentrification, and Bernie's overall margin of victory here wasn't as large as Hillary's margins over Sanders in many other districts of Manhattan.
Gentrification = Complacency
The electoral map of Brooklyn is even more illustrative of the politics of gentrification. In my previous article, I noted how Brooklyn stepped up to the plate quite early by laying the groundwork for the Sanders campaign both in New York and farther afield. As I discussed, the liberal "crunchy granola" enclave of Park Slope played a pivotal role by providing the greatest number of volunteers. Yet such statements only tell part of the story, since it was technically people from the "South Slope" who played more of a role than folks from Park Slope proper.
These distinctions may seem a little arcane, but they make sense in terms of the overall contours of social and economic change within New York City. "South Slope" is full of Latino families and white millenials who live in more affordable apartments. "Park Slope," on the other hand, is home to affluent white families and rents tend to be much more expensive, particularly near landmark Prospect Park. Even though Park Slope is gentrified, the neighborhood sanctimoniously prides itself on being somehow more liberal and caring. The local Park Slope Food Coop, which practices socialism in action, may serve to reinforce such views (for more on the Coop, see my earlier article here). On the surface at least, the neighborhood would seem to be well aligned with Bernie, a candidate who favors economic cooperatives.
Despite this history, the electoral map doesn't lend credence to Park Slope's revolutionary potential. Indeed, the neighborhood voted for Hillary by thirty points in affluent areas lining Prospect Park, suggesting that local families are perfectly happy with the political status quo and don't much care about tackling inequality. Once again, however, the map charts the local extent of gentrification, with hipper millennial areas located farther away from Prospect Park voting for Bernie. Take, for example, the cutting edge Gowanus area, where hipsters have taken over warehouses, refashioning the latter into music venues. There, it was Bernie who won by thirty points over Hillary.
The pattern is much the same all over the Brooklyn map: wherever young white millenials are moving in, Bernie tends to do much better, be it in the Gowanus, Red Hook, Ditmas Park, Windsor Terrace, Carroll Gardens, Williamsburg and particularly Greenpoint. The trends suggest that single, unencumbered millenials are much more partial toward Bernie. Indeed, Politico notes that Hillary won married voters in New York, while Sanders ran better among single folk, particularly unmarried men.

Jewish Vote Fails to Materialize
So much for millenials, but what about New York's important Jewish vote? A hundred years ago, Manhattan's Lower East Side was known for left-wing Jewish political activism though the area bears little resemblance to its former self. According to the electoral map, Hillary beat Bernie in the district very decisively, sometimes even by a whopping forty percentage points. While it would be too simplistic to ascribe such results to gentrification, it's undeniable that the neighborhood's character has been eviscerated as of late by condos and homogenization with only a few bygone Jewish landmarks peaking through.
But while the Lower East Side may not come as a surprise, primary results on the Upper West Side raise eyebrows. This Manhattan neighborhood too has been known for its Jewish residents and the area has a history of leftist political activity. Unlike the Lower East Side, which lost many of its Jewish folk long ago, the Upper West retains a great number of Jewish people. The fact that Jewish socialist Bernie failed to win here seems a little jarring. But perhaps, many Jews no longer identify with the left with its outside tradition, having traded in such antiquated notions for insider white privilege and the status quo.
It's a little difficult to say, since there's "relatively scant concrete data about how, exactly, the Jews voted" in New York's presidential primary. So says the Jewish Daily Forward, though the paper adds that it's possible "to make some educated guesses." In heavily Jewish Borough Park, Brooklyn Clinton cleaned up and the story was much the same in nearby Hassidic areas of Crown Heights and Williamsburg. Interestingly enough, Hillary did even better on the Upper West Side of Manhattan, which is home to more secular-oriented Jews. The Daily Forward, however, adds that "it's hard to surmise anything about the Jewish vote" on the Upper West Side "because the Jews are mixed in with non-Jews."
Brooklyn and Queens Misfire
If Bernie's showing amongst the Jews was slightly disappointing in some locales, his share of the minority vote was even more dispiriting. According to National Public Radio, Hillary won New York's non-white voters by thirty six points, scoring particularly well with black men and women as well as Latinos. Indeed, Hillary racked up victories in Harlem as well as the Bronx, home to African-American and Latino voters.
Such developments also come as a bitter pill for Bernie supporters in Brooklyn, where volunteers invested a lot of effort canvassing minority neighborhoods. In Sunset Park, for example, Bernie supporters put in months of work leafleting and going door-to-door, yet official results declare Latino sections of the neighborhood voted for Hillary, albeit by somewhat small margins. In African American central Brooklyn, as well as East New York, Hillary racked up huge victories. All of this is somewhat ironic given that Brooklyn's African American voters are a very liberal-minded constituency within the Democratic Party.
Looking at Queens on the electoral map provides an even starker indication of gentrification's political leanings. Within younger, white millenial enclaves such as Long Island City, Astoria and Sunnyside, Bernie did quite well. Moving out along the number seven subway line, however, and the picture becomes bleaker with mixed immigrant Asian and Latino communities such as Jackson Heights, Elmhurst and Corona voting heavily for Hillary. In the heavily African-American neighborhood of Jamaica, Hillary won by whopping margins in some areas.
New York's White Working Class
Further ironies abound, however, in New York's electoral map. Indeed, Bernie racked up significant victories in white working class areas in south Brooklyn, including Dyker Heights, Bensonhurst and Bay Ridge. The situation was much the same out in blue collar Staten Island of all places, where Bernie did surprisingly well in historically conservative districts. Such developments mirror upstate trends, where Bernie did similarly well among white working class voters, particularly in rural areas and depressed cities like Buffalo. Unfortunately for Bernie, however, only one out of ten Democratic voters lives in rural areas.
Just what this unlikely electoral map means for Bernie supporters in future is a little unclear. For whatever reason, minority voters do not seem to be the most receptive constituency for Sanders' "political revolution." Whether the white working class of Bensonhurst constitutes particularly fertile ground seems a little doubtful as well though Bernie supporters might want to consider what the primary result might mean. Is the white working class voting for socialism or simply voicing dissatisfaction with Hillary and the political establishment?
Decades ago, the white working class constituted a reliably liberal voting bloc, but such folk have been steadily drifting away from the Democratic Party. These "Reagan Democrats" have some legitimate reasons for abandoning the party and some more questionable motives. Can Bernie's youthful white "millennial" base forge an alliance with the blue collar working class? Moving forward, New York's electoral result may force Bernie organizers to think creatively about how to foster effective political coalitions within the city.
Popular in the Community