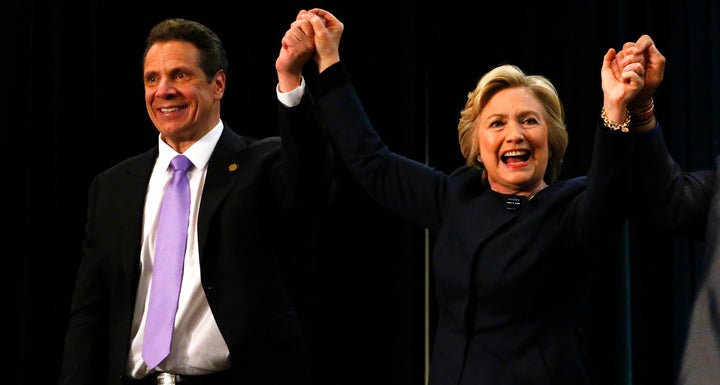 The upcoming New York election may be one of the most consequential primaries to date, with both Hillary Clinton and Donald Trump fighting to avoid embarrassing losses on their home territory. 
Sen. Bernie Sanders (I-Vt.) has now won seven of the last eight contests, although he still trails Clinton in delegates. For Democrats, New York's April 19 primary will be the biggest prize to date with its 291 delegates. 
Sanders grew up in Brooklyn, although he's spent his entire political career in Vermont. But it's Clinton who is now most closely associated with the state; she was elected to two terms as its U.S. senator and has used that experience as part of her case for why she is best positioned to be president. Losing the state, even if it doesn't hurt her significantly in the delegate count, would be a mighty symbolic blow. 
Clinton set her sights on New York even before the Wisconsin primaries were over, underscoring the importance of a win there and the reality that Sanders has been catching up in the polls. 
On Monday, she joined Gov. Andrew Cuomo (D) in New York City for a rally celebrating a new law raising the minimum wage to $15 an hour in much of the state. And on Tuesday, instead of finishing up campaigning in Wisconsin, she was back in New York appearing on "The View" on ABC, holding a women's event in Brooklyn and attending a high-dollar fundraiser in the Bronx. 
She and former President Bill Clinton will also be campaigning in upstate New York, an area that tends to be more conservative but where she did better than expected during her Senate campaigns.
Sanders, meanwhile, has set up a new office in Brooklyn. While he will be campaigning in other states over the next couple weeks, he'll be returning to New York "most nights" to focus on the race there, The Washington Post reports. 
Sanders also sat down with the New York Daily News editorial board for a wide-ranging interview. The resulting coverage likely wasn't what he and his team wanted, with some criticism about his answers on both domestic and foreign policy. It also resulted in a tough Daily News front page.
Sanders spokesman Karthik Ganapathy told Politico recently that the campaign felt good about New York because Sanders has "the wind at his back" after the string of wins. 
"New York is an opportunity for us to head into a state Secretary Clinton represented for years in the Senate, and continue connecting with voters by spreading Bernie's message about the need for a political revolution that finally fixes a rigged economy and a corrupt system of campaign finance," he said.
Trump is on firmer ground in New York. He's lived there his whole life and his golden, gaudy brand is inextricably tied to Manhattan. He's also resonating in upstate New York, where his messages on trade and the economy have rung true with workers who have seen jobs disappear from the Rust Belt. His first congressional endorsement came from Rep. Chris Collins (R-N.Y.), who represents the suburbs and rural areas outside of Buffalo. 
Trump has also passionately defended New York against his main opponent, Sen. Ted Cruz (R-Texas), who has lambasted the real estate mogul's "New York values." 
"We don't really like Cruz, and Donald is one of us," John Catsimatidis, a billionaire talk radio host who owns the largest grocery store chain in Manhattan and ran for New York City mayor in 2013, told The Washington Post. "He's a happy-go-lucky guy. He's not seen as extreme. He's seen as the guy who gets big things done and saves money when he does them."
Calling all HuffPost superfans!
Sign up for membership to become a founding member and help shape HuffPost's next chapter
BEFORE YOU GO
PHOTO GALLERY
Scenes Of Hate At Donald Trump Rallies