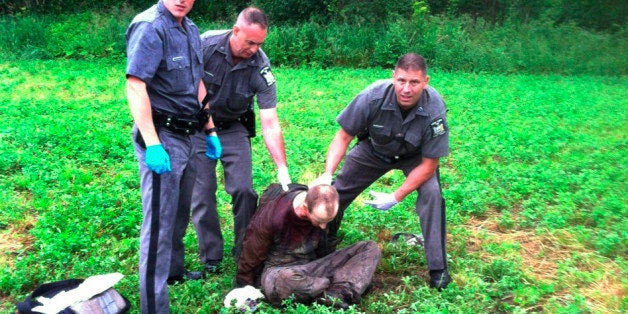 Two escaped murderers planned to travel to Mexico after their stunning upstate New York prison break three weeks ago, the survivor revealed, but they headed toward Canada instead after their getaway driver -- a prison worker -- backed out, New York Gov. Andrew Cuomo said Monday.
The massive manhunt for the killers ended Sunday near the Canadian border, in Constable, New York, with the capture of David Sweat, 35, who was shot twice in the abdomen. His partner, Richard Matt, who turned 49 on the run, was shot to death Friday near Malone, New York.
Sweat, hospitalized for his wounds, told investigators he and Matt had planned to flee south with the help of prison worker Joyce Mitchell, who has been arrested.
"Apparently the original plan was for both Matt and Sweat to go to Mexico, which is where Matt had been, if you recall," Cuomo told WCNY's Capitol Pressroom on Monday. "They would have killed Mitchell's husband and then get in the car and drive to Mexico on the theory that Mitchell was in love with one or both of them, and then they would go live happily ever after, which is a fairy tale that I wasn't read as a child -- but we all believe what we want to believe.
"When Mitchell doesn't show up, the plan gets foiled and then they head north toward Canada," Cuomo said.
Listen To Gov. Cuomo Describe Inmates' Escape Plan

Cuomo said the pair split up about five days ago because Matt had fallen ill -- possibly from tainted food or water -- and was slowing Sweat down.
Autopsy reports show Matt was shot three times in the head and died of severe skull fractures and brain injuries, according to NBC News. His body showed evidence of insect bites and blisters.
"He had maps, he had a certain amount of tools, he had bug repellent, he had wipes, he had Pop-Tarts," Cuomo told CNN.
The Albany Medical Center, where Sweat was being treated, said in a statement that the fugitive did not need surgery and would remain there "for at least a few days while his condition stabilizes."
Prosecutors are waiting until Sweat recovers before charging him. Clinton County District Attorney Andrew Wylie told CNN that wherever Sweat ends up, "he'll basically be on 24/7 lockdown for the rest of his life."
Sweat was already serving a life sentence without parole for killing of a sheriff's deputy. Matt was doing 25 years to life for the kidnap, torture and hacksaw dismemberment of his former boss. The two cut their way out of the maximum security facility using power tools that Mitchell and guard Gene Palmer allegedly provided.
Palmer was charged with smuggling the tools inside raw hamburger meat and passing it to the prisoners, who were allowed to cook as a privilege of living in the prison's honor block.
Reuters and The Associated Press contributed to this report.
Calling all HuffPost superfans!
Sign up for membership to become a founding member and help shape HuffPost's next chapter
BEFORE YOU GO
PHOTO GALLERY
Shawshank Redemption-style prison break