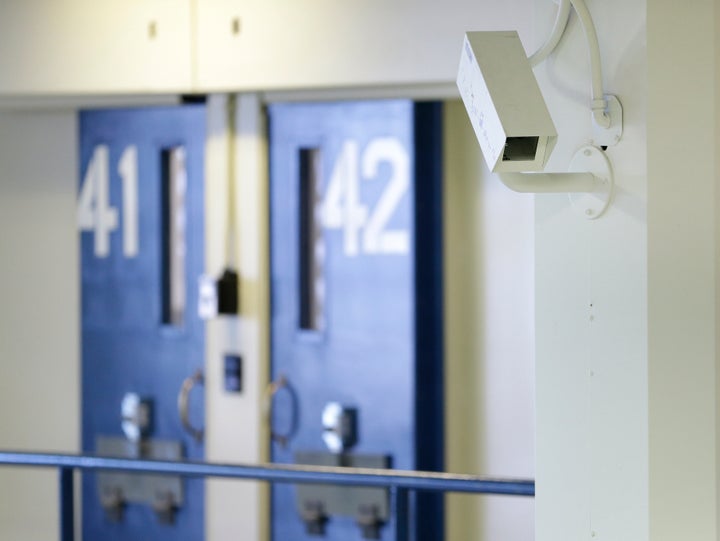 A suspended guard at New York City's Rikers Island jail complex pleaded guilty on Tuesday to charges that he tried to cover up an assault by a fellow officer that led to the death of an inmate in 2012.
Byron Taylor, 32, entered his plea in Manhattan federal court to charges including conspiracy to obstruct justice and perjury, one month before he and the other guard, Brian Coll, were to face trial over the death of Ronald Spear.
In court, Taylor apologized for obstructing the investigation into the death of the 52-year-old pretrial detainee. Taylor said that since his June 2015 arrest he has sought "to make this right and move forward in life."
"Today is me accepting responsibility for my wrongdoing," he said.
As part of a plea agreement, Taylor agreed not to appeal any sentence of 21 months in prison or less. His sentencing is set for Dec. 20.
The case is one of a string of prosecutions targeting Rikers employees in recent years, as authorities seek to stem violence and corruption that has long plagued New York City's main jail complex.
Mayor Bill de Blasio has sought to implement a number of reforms to help rectify problems at Rikers Island, which with about 10,000 inmates is one of the country's largest jail facilities.
Prosecutors said on the morning of Dec. 19, 2012, an altercation took place between Coll and Spear, who had kidney problems, after the guard told the inmate that a doctor he had sought to see was not available.
Prosecutors said Coll punched Spear several times in the face and stomach, and then repeatedly kicked him in the head while he was on the ground and restrained by two other officers, Taylor and Anthony Torres.
Spear was pronounced dead soon after, prosecutors said.
Coll, Taylor and Torres subsequently sought to cover up the cause of Spear's death by filing false reports and by lying to investigators. In Taylor's case, that included lying to a federal grand jury, prosecutors said.
Torres is cooperating with authorities after pleading guilty to one count of conspiracy to obstruct justice and file false reports.
In 2014, New York City agreed to a $2.75 million settlement with Spear's family.
Coll, 47, has pleaded not guilty to charges including one count of death resulting from deprivation of rights under color of law, which carries a potential life sentence. His trial is scheduled for Oct. 24.
PHOTO GALLERY
The Huffington Post's Jail Deaths Project
REAL LIFE. REAL NEWS. REAL VOICES.
Help us tell more of the stories that matter from voices that too often remain unheard.